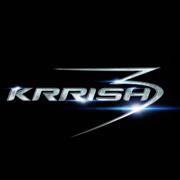 Of course one of the most highly anticipated films to come in 2013 is Krrish 3, the continuation of the story from Koi Mil Gaya and Krrish starring Hrithik Roshan directed by Rakesh Roshan. The director has been hard at work on the post production of the film which he says, "is one of the most extravagant and difficult films being made in India." Check out what else he said to say when he talked directing, Krrish 3, Hrithik, and more!
You are 60-plus, but have skin that glows. How do you manage it? 
I must thank my friend Jeetendra for it. He is 70 and in the best shape. He is such a disciplinarian. For the last eight years, he has not touched a drop of alcohol. Of late, he has turned vegetarian also. And the best part is, he will not touch carbohydrates. All of us in the group try our level best to emulate Jeetu, but we can't match his willpower. Yet, exercising and eating right has become a way of life for me too.
But you have the best gymnasium possible in your own home and a son who is a fitness guru, right? 
Yes, Hrithik is very conscious about his physique. I go to the gym at least five times a week. Actually, if you come to my gym, you can meet my entire family — wife Pinky, daughter Sunaina, granddaughter Suranika, daughter-in-law Sussanne, grandsons Hrehaan and Hridhaan, and of course, Hrithik. The gym opens at 8.30 am and goes on till noon because everyone has different timings.
Talking of friendships, Jeetendra, Rishi Kapoor and you were chums. But your sons — Hrithik, Tusshar and Ranbir — are not so friendly…
I don't think they have the time. Today's actors are very serious about their commitments. We were not that serious back in our day. Though they do only one film at a time, they are doing several endorsements. They are also fitness conscious and spend a couple of hours in the gym. Their involvement with their career is so deep, they do not get time to meet each other. Why ask about his friends? Though Hrithik and I stay in the same house, to meet him at home, I have to make an appointment! I have to tell him I'm going to meet you day after tomorrow at eight o' clock. Keep yourself free. And I do this because, otherwise, someone or the other is always there. During our days, Chintu and I would start drinking as soon as pack-up was announced. We were not bothered about our physique. We never went to the gymnasium then.
Amitabh Bachchan, Rishi Kapoor and several other senior actors have flourishing careers in front of the camera. Why haven't we seen you step into those father roles? 
I don't wish to deviate. I truly believe one should do what one is good at. I'm a filmmaker and I should only experiment with filmmaking. I don't want to be an exhibitor, distributor or start making television software. I don't want my mind to be diverted. Most actors have made the mistake of starting their production houses when they are at their peak. Producing films takes its toll on your face. Filmmaking is about upsets and success. Most of the time, it is upsets. When an actor's production faces some hassle, the stress shows on his face. So imagine, if he is shooting on some set and he gets a call saying, the film he is producing has an issue, it does affect him. I believe actors should do at least four films at a time when the going is good and venture into other aspects later, when they can concentrate on it. God has given an actor a face and physique, which he must use in front of the camera, at least in his youth.
Are you saying you will never wear pancake again? 
One must never say never. However, I'm not tempted to act anymore.
You are not on any social networking site, nor are you a party animal…
I admire people with boundless energy like Amitabh Bachchan and Karan Johar. They are very active on social networking platforms. They work so hard — be it in films or television, they are there for social causes; they are just amazing. I have not even gone beyond texting people. If I have to reply to too many text messages, I get tired.
Where does all your time go? 
Right now, I'm only breathing Krrish 3. It is one of the most extravagant and difficult films being made in India. There are a lot of special effects involved. And I am looking into everything, from merchandising to supervising the visual effects etc. We have given the VFX work to Shah Rukh Khan's company and the entire project will take 18 months to complete with a budget running into several crores. SRK's VFX studio is one of the finest in the country. Three hundred technicians are working on the effects.
After directing Hrithik, is it difficult for you to work with other actors? 
Hrithik is a perfectionist. For him, 110 % is 100 %. For me, 90% is 100%. He sees everything minutely. After every shot, I look at him to find out if he is okay with it. He assisted me for five years and knows everything from screenplay to direction and editing. We understand each other well. So, when I am directing him, I know exactly how he will perform and accordingly, I place the camera. Hrithik is one of the finer actors we have. Having said that, I am equally charged about directing other actors. For example, Vivek Oberoi is the villain in my film and he showed the same level of discipline and passion as my son. Also, if there is a two-hero project, I'm game for it.
Stay tuned we will be bringing you all the cool Krrish 3 news!