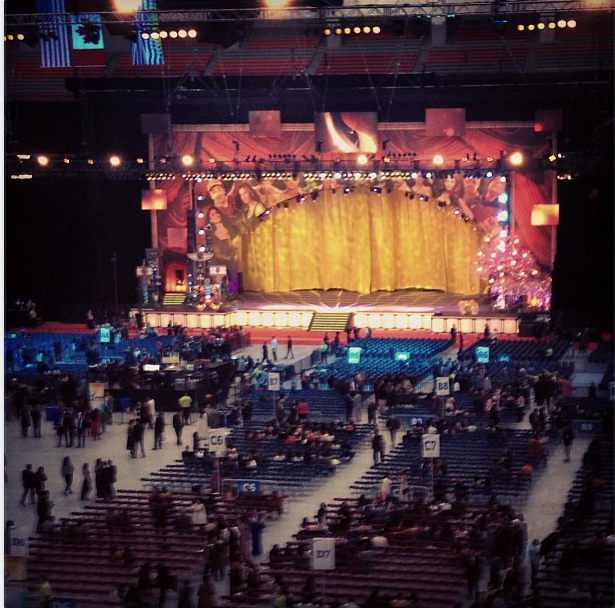 BC Place was flooded with gold, spangles, and legions of fans dressed in their finest saris and suits to celebrate the inaugural Times of India Film Awards. The fans braved the rain and cold to get a glimpse of the Bollywood royalty that managed to come on time to grace the red carpet.
Aishwariya and Abhishek Bachchan caused a frenzy, when they walked down the carpet, stopping to sign autographs and chat with hosts Chunky Pandey and Shreyas Talpade. Aishwariya Rai Bachchan looked resplendent in a mint-green Sabyasachi anarkali suit and Abhishek in a navy blue outfit, they both looked so chic and classy as they waved to their adoring fans. Shah Rukh Khan and Gauri Khan decided to match with their red outfits, though Shah Rukh's velvety maroon jacket gave him a bit of a Hugh Hefner look. Neha Dhupia decided to accessorize her Sabyasachi lehenga with a belt that tucked her chuni in and looked quite constricting. The stars all upped their game with their shiny and elegant outfits that complemented the glamourous events ahead.
The award show started on the usual "Indian" timing, a full 50 minutes after the expected time. It began with a hopeful and inspiring video by Arjun Sablok, the director at Yashraj films and Vancouver native, which celebrated Indo-Canadian life from the first immigrants to the gregarious Punjabis dancing at a wedding. It was all very thoughtful, albeit a calculated move to acknowledge that the largely Punjabi audience that they truly belonged to the fabric of BC life with their contributions as business-owners, farmers, and as committed citizens. Near the end of the video, dancers of all ages from bhangra groups across Surrey and Vancouver brought the house down with their boisterous performance.
The political side of the show reared its head right after this section. Premier Christy Clark wearing a blue salwar kameez came on with Shiamak Davar to address the crowd. Admittedly, the reception was quite mixed as Clark garnered some audible boos across the stadium. She highlighted that the event was only part of "what's going to inject millions into our economy," managing to deflect attention away from the $11 million spent for the event. Clark stressed the inclusivity and multiculturalism of the city.
Clark noted that, "I hope that all of you from around the world who have come here have found that you are at home in British Columbia…a province that welcomes with open arms people from all over the world," she said. Let's use this wonderful celebration of Indian film to continue to build more bridges of opportunity between us. More trade opportunities, more tourism and definitely more Indian films shot right here in B.C."
After this political speechifying, the show got underway with Ranbir spoofing the years films to the tune of Barfi theme song. Kapoor and Anushka Sharma had an easy banter, with squabbling moments that were quite humorous and forced at other times. The onslaught of guests continued in the same tradition of announcing the category by the first hosts, bringing out new presenters, displaying their banter, and then finally announcing the winner. The first award of the night was for Best Actor in a Negative Role won by Rishi Kapoor, for his Agneepath performance. Ranbir accepted on behalf, dedicating it to his father's long and illustrious career.
The biggest whoops of the night went to Jimmy Sheirgill's appearance to present Best Debut Female Ileana D'Cruz, shouting out to his huge Punjabi fanbase in the crowd. In general, the evening was best summed up this way; whenever Punjabi was used the crowd went wild and hollered out.
Fans rushed towards the barricades and danced along the aisles as Abhishek Bachchan rode in on a dolly in the middle section of the stadium. Riding on a dollied cart, Abhishek did his signature moves in shaking that head around and swinging those hips alongside his entourage of bhangra dancers. Rocking out to some Punjabi Mc, and then a medley of his hit songs from Bunty aur Babli and Bol Bachchan, Abhishek was clearly having tons of fun even if he let his dancers do much of the heavy lifting. Bachchan also landed the Best Actor in a Comic Role award, bringing on stage his co-actor Krusna Abhishek to share the award and guiding his own performance in that film. It was a very endearing moment in the evening for both the Abhisheks!
When Boman Irani took the stage for his hosting duties, he called upon the Minister of Finance, Mike De Jong to announce the winners for Best Supporting Actress and Actor. Now this banter was just so awkward and cringingly bad, with Irani trying to teach the fumbling De Jong how to be a Bollywood hero. It was like watching your drunk uncle show off his tricks when he started mouthing the stilted Dabangg dialogues and doing pelvis thrusts. It was a big night for Vicky Donor stars, Dolly Ahluwalia and Annu Kapoor who took home the two awards. Kapoor's speech was truly one of the highlights of the evening, as he made some sly digs at De Jong announcing his Toffee award, and prefacing his speech by saying he'll be taking in the 'foreign language' that's Hindi and Punjabi. His speech was so deadpan and witty that you couldn't begrudge his long speech since it was so full of heart and fun.
Katrina Kaif took to the stage, with a thumping and thunderous set of her songs like 'Sheila Ki Jawani', 'Mashallah', and 'Chikni Chameli' with the camera cutting to shots of her belly dancing moments and chest heaves. In spite of this, Katrina pulled off an electrifying set that made the crowd go wild especially in the dhol sections of Sheila where she interacted with Shiamak's dance troupe a bit more.
For the playback female and male category, there was a bit of confusion as to who should accept for Sonu Nigam for 'Ab Mujhme Nahin' – Agneepath. Presenter Mughda Ghose announced Karan Johar to come up, but music directors Ajay and Atul pipped him to the post and thanked Sonu for giving them a chance on the song. It was a touching moment that was followed up when they emerged as the underdog winners for Best Music, beating out Pritam for both Cocktail and Barfi. Atul addressed their utter surprise at even winning and the honour of being nominated in such a category. He highlighted how thankful they were to Riteish Deshmukh for recommending them to Karan Johar based on their extraordinary Marathi output. A poignant and heartfelt speech that will hopefully solidify their position in the music industry.
However, if that win was a deserving surprise then the big upset of the night was Deepika Padukone's win for Best Actress in the critics' choice. Irrfan Khan also collected the Best Actor Critics award, along with Gangs of Wasseypur winning for Best Film. Manoj Bajpai accepted on Anurag Kashyap's behalf, stressing Kashyap's influence on his career and his vision in creating such an ambitious saga.
However, all the awards were almost nothing in comparison to the enthusiasm and love in the air for Aishwariya Rai Bachchan's first stage performance since having her daughter, Aaradhya. Starting with 'Khwaja Mere Khwaja', Aishwariya looked stunning in a black lehenga suit and managed to keep up for the most part. Yet when 'Crazy Kiya Re', and 'Barso Re' came on, the Davar troupe got into the swing of it and sped up their dancing to match the tempo, Aishwariya was left floundering. What she lacked in pace and tempo, Aishwariya more than made up for it with her charm and grace.
Shiamak Davar and Christy Clark came back to present the Best Director award, complete with more political positioning as Clark said Davar exemplified the global citizen of Vancouver and Mumbai, crossing borders and enhancing the culture scene of Vancouver with his dancing. It was rather fawning and thankfully, Anurag Basu's win cleared that schmaltz out of the way. It was a hilarious moment, as Ranbir Kapoor ran across the stage to congratulate him and then got a piggyback ride on Basu to the podium, and Kapoor held Basu's dhoti that was getting tangled on the way up there! It was a nice moment of physical comedy that lightened up the long evening. Barfi was the clean sweep of the night, nabbing Best Actor for Ranbir, Best Actress for Priyanka Chopra, Best Film, and Best Debut.
Chopra's speech was an emotional one as she brought up her ailing father who were assisted by Ranbir Kapoor and Karan Johar to the stage. Chopra thanked her father for traveling 30 hours to be with her for the event, which brought the audience to a standstill and gave us all an AWWW moment.
All the best things are left right till the end, so as the clock struck midnight Shah Rukh Khan finally took the stage for his performance. He apologized in advance for not being able to dance as energetically as he'd hoped, but the audience soon forgave as he unleashed that signature 'With Arms Wide Open' move. I'll admit that I did melt into a puddle at this moment, because somehow Shah Rukh seems transcend all of our cynicism and grumbles when those arms are lifted. So many hit songs like 'Suraj Hua Madham', 'Dard-e-Disco', 'Chaiya Chaiyya', and 'Main Hoon Don' make up so much of our cinema experiences so the audience responded on such a visceral level to seeing their icon in their vicinity. While the performance wasn't quite as painful as his IIFA performance, Shah Rukh did sweat up a storm by the end of the medley, but he did what he came for: to entertain the hell out of us.
The TOIFA's were quite a good event that brought together Bollywood stars and adoring fans to celebrate the 100 years of Indian cinema with the maiden awards ceremony. The political machinations behind the show were overt and obvious, but it delivered the glamour and spectacle that it aimed to do. It may result in some trade relations and economic gains, but for that one night, we revelled in that spirit of mirth and celebration of Bollywood cinema.
Check out these exclusive pictures!
Full Winner's list:
Best Playback – Female- Shalmali Kholgade Ishaqzaade
Best Playback – Male- Sonu Nigam Agneepath
Best Lyrics Gulzar Jab Tak Hai Jaan
Best Music Director Ajay Atul Agneepath
Best Debut – (Female) Ileana D'Cruz Barfi!
Best Debut – (Male) Ayushman Khurana Vicky Donor
Best Actress – Supporting Role Dolly Ahluwalia Vicky Donor
Best Actor – Supporting Role Annu Kapoor Vicky Donor
Best Actor – Comic Role Abhishek Bol Bachchan
Best Actor – Negative Role Rishi Kapoor Agneepath
Best Debut Director – Critics Gauri Schinde English Vinglish
Best Film – Critics – Gangs of Wasseypur
Best Actor Female – Critics – Deepika Cocktail
Best Actor Male – Critics – Irfaan Khan Paan Singh Tomar
Best Director – Popular – Anurag Basu Barfi!
Best Actor – Female – Priyanka Chopra Barfi!
Best Actor – Male- Ranbir Kapoor Barfi!
Best Film – Popular- Barfi!