Media scrums are an extended part of a journalist's job, but the scrummage in the press room at TOIFA was a fascinating look into the disorganized proceedings around this event. Given around 3 minutes each, tv channels and magazines like ourselves had to throw out one or three questions in this shortened time period. Thankfully, I managed to speak to the candid Manish Malhotra, who addressed his answers to all of us journalists in the room, and the shy Prabhu Deva, who enjoying the Vancouver scene around him and the lovely Aditi Rao Hydari.
The designer was at his candid best musing on celebrity endorsement, his charity work, and his unwavering passion for creating iconic fashion moments to add to the pantheon of Indian cinema's 100 years. Malhotra also described this evening's fashion show segments at the TOIFA Technical Awards, "I think for the people of Vancouver, it's going to be a rediscovery of Indian cinema and seeing that nostalgia, with the colours of the 60s, the funk of the 70s, and the bling of the 80s. We then come to 2013, with a spring/summer collection, which is very modern, it's very Indian in origin and Indian in thought, but its influences are very modern and young." Malhotra spoke about how busy this weekend will be since he is coordinating tonight's fashion show as well as designing outfits for the major stars tomorrow. Malhotra was gracious and lovely enough to let me squeeze another question in at the ire of the PR company! But bringing you the spiciest scoop, we got talking about his charity work and the difficulties on the admin side of the fashion world.
How has the charity work with Mijwan played into the social responsibility of designing and how has it helped your aesthetic?
I think it just adds that layer to you, which I am enjoying doing, whether it is the chicken curry of Mijwan or the Kashmiri embroidery and the phulkaris. The fact of getting a little bit of focus on forgotten crafts is interesting. I'm enjoying doing it, because when I put it out there at a fashion week and make an actor or someone like Nitha Mani wear it, then it is followed. I want to take that opportunity of being today at that position where I can influence and using those patterns. I come with such a big Bollywood tag that if you didn't see me for six months you're going to assume that he's sitting with Kareena Kapoor someplace. Maybe it's because of that, that I do so much fashion work. recently I did a Mills India Fashion Week in Delhi, I did a show for HTC Style Awards, I did Lakme Fashion Week, and I'm here in Vancouver doing a fashion show. When I go back to Bombay, I go to Nagpur for a fashion show. So I do a lot of fashion work, because the good side is the Bollywood tag, and the bad side is that I think for the fashion industry, it's so convenient to say: Manish Malhotra is just Bollywood. And there are so many actors, but my question again and again is, not a single filmmaker, actor, or today an evolved client is going to just wear an outfit, because I'm around. No. They're going to wear it because I'm changing, working out, and evolving and I'm discussing every makeup, meeting, traveling and meeting lots of people, pouring it all into your work.
Would you say it is harder to design for men or women?
I think if there's one point that's hard for me is the administration and the business part of it. That, I find very hard. What is exciting is the youth around you and you reinventing and keeping face for that. But, I mean I lose it, i'm always in a mood with my brother, who handles the business aspect of it and the taxations and all that discussion is what stresses me out!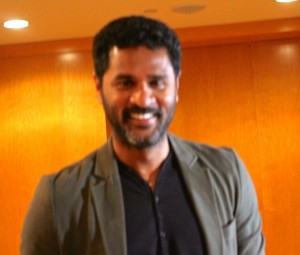 Prabhu Deva
The most unassuming guy in the room was Prabhu Deva, who was quite shy and reticent with his answers. Nipping in an out of the room for interviews, Deva was nonplussed and that charming grin was apparent for each similar question. The barrage of questions before asked of his upcoming ventures, Ramaiya Vastavaya and Rambo Rajkumar, but we took a step back to touch on his moment in the sun right now with his success as a director for Rowdy Rathore and as an actor for ABCD.
How do you feel about the 100 crore club, that everybody tags you in since the Rowdy Rathore success?
Haha, 100 crore. I'm a little bit scared of it actually, because they will expect. More than happiness, scared only!
So you worked with reworking the Tamil version and the Hindi one in Rowdy Rathore, did you have work on adapting the material to suit the audience?
A little a bit, for the actors for the emotion portion. But the comedy portion, the romance portion, and songs we changed it up.
How has your love as a masala fan helped with your work?
Of course, I love to watch films that are very masala. Everything must be ready in it, the comedy, romance, fights, and emotion.
How fun was it working with Ganesh Acharya, Saroj Khan, and Remo for ABCD?
Very good, too good. I'm missing it actually, because when I was on that first moment, we had so much fun.
How do you feel dancers have evolved these days?
Dancers nowadays are superb. Before 10-15 years it was just one, nowadays each and every house has a superb dancer. They're dancing very well these days,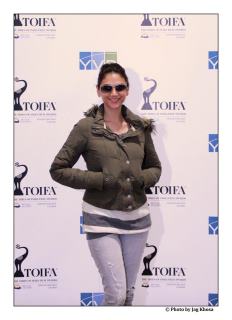 Aditi Rao Hydari
Aditi Rao Hydari seemed a bit flustered that journalists couldn't pronounce her name, but that was smoothed down as she fielded questions about her transition from Murder 3 to a big banner film like Boss with Akshay Kumar, and her own fashion choices. We chatted briefly about her Bharat Natyam background informing her work ethic and screen presence.
Does your Bharat Natyam background helped for you acting and professionalism?
You know I think it's helped me in ways I don't even know. Dance makes you quite uninhibited whether it's with your body or the way you express yourself. Like a lot of people say that I can never hide what it is I'm thinking, because it all shows on my face. And I've got a very transparent face, which can get me into a lot of trouble, but in front of the camera it helps. That's how I act, and if I think about a certain situation then I believe that especially for a camera that's so close to you, so you don't actually have to act, you just have to be and be something so that it shows and looks effortless. So I don't actually think about it too much, because I think that's just what I do! And I don't like the effort that comes into it, so you're work should be behind the scene. so when you come in front of a camera or in front of an audience, you have to just give!