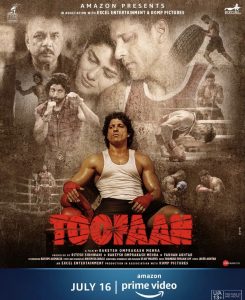 Toofaan (Amazon Prime)
Starring Farhan Akhtar, Mrunal Thakur, Paresh Rawal
Directed by Rakesh Omprakash Mehra
This week, Amazon Prime has a lot to be proud of . Two outstanding feature films Malik in Malayalam and Toofaan in Hindi, although the language in both cases is the least vital component in its vibrant validity and renewable vitality.
Toofaan, I have to admit, starts off sluggishly . As the triumphant underdog's saga of a goon from Dongri who becomes a national boxoffice champ, Toofaan takeson all the typical tropes of the sports genre: gruff coach, elitist decision-makers, supportive girlfriend and what–have-you.
But then suddenly Toofan changes tracks to become something much more than a sports drama, something far more relevant moving and vital. It become a testament to the power and pain of love in a growingly intolerant society powered by toxic levels of prejudice and suspicion. Following the intercaste marriage of the boxer Aziz Ali and the love of his life Ananya Prabhu, the screenplay(Anjum Rajabali, Vijay Maurya) speaks to us in a language that's at once ineradicably topical and deeply moving.
On many occasions I found myself teary-eyed as we follow the craggy cruel path of the love story. Akhtar and Thakur bring a lot of warmth and empathy to their screen relationship. They understand love. More importantly they know what lies in store for their forbidden liaison. To our relief director Mehra doesn't dwell on the ugly underbelly of communal anxieties. But yes, we do see the couple facing the hardships that arise when they cross into another community through marriage.
Some of the familial interaction in the second-half are so translucently dramatic I was completely bowled over by the sheer sincerity and , yes, innocence of vision revealed in the unalloyed emotions . There is not a disingenuous bone in the body of the storytelling.
Farhan Akhtar and Paresh Rawail deliver knock-out performances in this pugilistic drama. Rawail's journey from rabid communalism to compassion and acceptance is convincing because , well, he is that kind of an actor. And given the integrity of the director's vision no actor can afford to go wrong.
The interactive scenes between Paresh Rawal and his little grand daughter are moving in a very oldfashioned way. More than anything else, Toofaan reminds us how far our cinema has moved away from its roots. Why are we so shy of crying, singing and dancing in our films? Toofaan is an unabashed tearjerker . But the emotions are never manipulated, never insincere.
I wish some of the brilliant supporting cast had more to do : Mohan Agashe(who as Paresh's lifelong friend just fills the frames with a fund of fond emotions), Vijay Raaz(whose role begins and ends abruptly), Supriya Pathak(so charming but so little to do) and Hussain Dalal(playing Farhan's bestie, watch him in the full-on lip-sync song—a first in a Rakeysh Mehra film—dancing with Farhan imitating all the celluloid greats).
But no one is shortchanged in this heartfelt melodrama filled with a kind of aching nostalgic yearning that I thought I would never see in mainstream Hindi cinema again.
And yes, Mrunal Thakur the only important female character, holds her own in a film that is really about the men, their egos and their defeats, their conflicts and their inability to come to terms with socio-political changes individually and societally.
Put this film on your-must see list this weekend. It is Rakeysh Mehra's best since Rang De Basanti. And that's saying a lot.