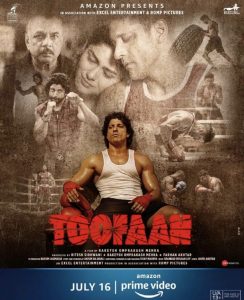 Toofaan, Rakeysh OmPrakash Mehra's newest epic boxing drama starring Farhan Akhtar, Paresh Rawal, and Mrunal Thakur is currently streaming on Amazon Prime Video. Toofaan tells about the journey of a young thug and street fighter Ajju Bhai, who through the encouragement of his love Aanaya and his coach becomes the boxing champion Aziz Ali. It is a story of resilience, passion, perseverance, the drive to succeed, and love.
Rakeysh OmPrakash Mehra is known for incredible movie albums… think Rang De Basanti and Delhi 6 by A.R. Rahman and Shankar Mahadevan, Ehsaan Noorani, and Loy Mendonsa aka S-E-L's tracks for Mirzya and Bhaag Milkha Bhaag. These soundtracks are known to include some of the best songs in Hindi film music ever.
For the music of Toofaan, Mr. Mehra once again worked with the fab trio of S-E-L to create the essence of the sound and the main core of the soundtrack. Also on the album's playlist are composers Samuel and Akanksha and hip-hop producer and electronic beat-maker Dub Sharma from Gully Boy. The roster of amazing singers includes Shankar Mahadevan, Siddharth Mahadevan, Divya Kumar, Himani Kapoor, D'Evil, Vishal Dadlani, and Arijit Singh.
So, is the OST a knockout? Read on to find out!
The first time I heard the hard-hitting Toofaan Title Track was the sneak listen stanza in the teaser, I really, really liked it and it certainly made me want to hear more of the song and see this movie. Listening to the full S-E-L track, sung brilliantly by Siddharth Mahadevan, made me really, really, really love it and excited to see Toofaan even more. I have been a fan of Siddharth Mahadevan since 'Zinda' from Bhaag Milkha Bhaag. Since then, his voice, inflection, and overall performance have gotten even better! He has such richness and tone to his voice whether singing a lyrical piece, a soft ballad, growling in a rock song, or belting it out in a strong vocal line. He is outstanding in this track. The more melodic music, in the beginning, is splendid but then it builds to a 'turn it up to 11' full-on rock jam both vocally and musically! This song is a highlight on the album and is on my "this song ROCKS" playlist. Sing with me now… 'Tooofaaan Oh Oh Oh…'
The genre and mood changes up with the modern beats of Todun Taak composed by Dub Sharma. It has a very cool groove backed with a strong percussive beat. It is more hip-hop flavored but it also has this Indian music line that grounds it into the film. My head began nodding to the beat and then I found that I was "dancing" to the track at my computer. 'Todun Taak' is sung by rap artist D'Evil, who also wrote the lyrics. D'Evil spits the lyrics with power and you feel the character even if you have not seen the film. When the video was released, I said this song slaps. I stand by that, but now hearing the full track I have to add it is full-on fire!
A celebratory song, Star Hai Tu, composed by S-E-L with lyrics by Javed Akhtar is sung by Divya Kumar, Himani Kapoor, and Siddharth Mahadevan. Rooted in Indian beats, it features brilliant performances by the musicians. The percussive, rhythmic section drives the song. And yes, that got my shoulders dancing and made me want to join in the dance celebration. Add in the shenai, the mandolin, and saz and the song sings even without the singers. Divya Kumar dazzles with his vocals, he is fab and IS the track. Siddharth Mahadevan impresses with this different avatar of his vocals. Hirani Kapoor comes in and adds an even more classical tone with her brilliant vocals. In the video, we see this joyous celebration of a song that takes place in the middle of a street. Here is an interesting tidbit, Mr. Mehra, explained in a special press conference, that this track was shot on location in a hugely populated neighborhood in Mumbai. What makes it even cooler is that instead of using extras, he used the people who lived there as part of the crowd in the song sequence. By the way, there was only an hour of prep with them. He revealed with hand on heart that shooting this track with how the people took part and opened their hearts is a memory that will stay with him forever.
Jo Tum Aa Gaye Ho is composed by the great pair Samuel & Akanksha ('Tum Se' – Jalebi). The song features vocals by the always excellent Arijit Singh. He once again is excellent in this track that really lets his voice shine. He presents such feeling in every note he sings in 'Jo Tum Aa Gaye Ho'! There were some notes where he sounded a bit strained but only a few lines – however that is nitpicking. Musically, it is a soft rock track with pounding beats but the inclusion of the orchestral instrumentation that makes the song full of sound. Getting back to the rock tempo, the stand-out electric guitar is performed phenomenally by Ehsaan Noorani. He totally shredded. Another great track!
Shankar Mahadevan features on the traditional tinged Purvaiya and of course, he is excellent. S-E-L switches it up by taking the classic feeling of the song and transpose it, at times, to a more modern track with a strong rock hue. The chorus is perfect and brings a deeper layer to the song. Mahadevan (Shankar) really excels as his voice soars in the last stanzas. I cannot imagine what might be going on onscreen but as is always the case, once I see it within the film, this background track will bring even more to the scene as it plays out in Toofaan.
From the first amazing acoustic guitar line of Ananya, I was entranced, hooked, and absolutely loved it. I am always a huge fan of tracks that feature this instrument… it feeds my music soul! A S-E-L composition, the song is a beautiful love ballad to Mrunal Thakur's character Ananya. Arijit Singh brings every emotion in his perfect performance. His vocalization is so impressive on this track. Singh has so many flavors to his vocals…but what comes throughout the entire song is the love. He is too good. The song does get even better as the song plays on with violins and the addition of an orchestral line. This is one of my favorite Shankar-Ehsaan-Loy tracks. I immediately put it on my playlist of brilliance. As I said in the beginning the guitar line fed my musical soul, but in fact, by the end the entire track got into my soul and heart. To me, this is pure musical art full of beautiful verse, superb singing, and a brilliant composition. It is everything that makes music so, so good and adds to my huge appreciation and yes love of Hindi film music!
With Dekh Toofaan Aaya Hai, we are onto a new beat both musically and vocally. S-E-L composed the track that features lyrics by D'Evil who once again lays down the rap instilled vocals. D'Evil slays with his lyrics and delivery. There is a rock tilt in sections that is cool. My only negative and this is very nitpicky is there is a small line that can be discordant and hard on the ears to hear and this takes away from his performance at the mic. However, the track ramps up with a wicked beat drop and continues with killer music that really hits hard! It enhances D'Evil's electrifying, strong flow. I was not sure about this song but by the end, I was so into it!
The devotional Ganpati Vandana is sung traditionally and perfectly by
Meenal Jain and Vedanti Satyajit Prabhu. The addition of the chorus is a perfect layer and adds to the impact. S-E-L also brings in the tabla and flute and it boosts the significance of the verse and emotion you feel while listening. Every musical element evokes the feeling of the spirit of the puja for Ganesh. It certainly makes you want to know what is happening with the story and especially in Aziz Ali's (Farhan Akhtar) life. A meaningful and moving addition to the album.
I have to mention Gehre Andhere, sung by Vishal Dadlani, with lyrics by Javed Akhtar. It is a version of the song, titled 'The Warrior Song' originally done by Audiomachine and composed by Daniel Lozinski. The track was not technically part of the OST, but we heard a sliver in the trailer. The song video was released later, to much applause and praise. Farhan Akhtar, when the song was released, wrote on social media, "'Gehre Andhere' If you truly want something from the heart, the universe conspires to get you it." The full composition is absolutely magnificent! Javed Akhtar's verse, which tells the story of Farhan Akhtar's character's fight and journey in Toofaan makes the song even more special! Then Vishal Dadlani's superb, full of emotion, powerful delivery makes you want to turn the volume up to 11… actually as high as your volume can go. With Vishal Dadlani's vocal, this is another one of my favorite songs and is of course on that playlist! I have hit replay many times!
The Toofaan OST once again proves that Rakeysh OmPrakash Mehra knows what music he must have for his films. The tracks, be them song sequences with lip-synching or background music, always add to the story, never take away. Every song on the Toofaan soundtrack is good, but the songs that stand out are the 'Toofaan Title Song', 'Gehre Andhere', and my favorite 'Ananya'. I highly recommend you listen to this amazing OST. Then see them within the context of the film, I imagine you will love them even more. Plus, of course, experience the incredible tale and brilliant performances in Toofaan!
Though the rating says 3.5 stars, the OST strongly leans to a 4 so I will round it up and say 3.75 stars!
Toofaan is streaming on Amazon Prime now!