To celebrate the 70th birthday of Mr. Amitabh Bachchan and also to pay tribute to his contributions as an actor, we have compiled a list of the ten greatest films which this Bollywood legend has starred in. We hope this will entice you to watch some, if not all these films if you have never encountered them before. This list has aimed to promote some of Amitabh Bachchan's films where he has been able to demonstrate his wide-ranging abilities as a professional actor. This includes the years when he was dubbed 'the angry young man' of Hindi cinema, as well as some of the films where he has played comedic, romantic and senior characters. We hope that by highlighting some of his key films, this will verify for you why Amitabh Bachchan is widely regarded by many as one of the greatest actors to have emerged from the Indian film industry ever since the first moving picture was made in 1913. It should be stressed that the list is chronological. Therefore, there is no numerical preference made here as we consider all of these films to be great on an equal level. So let's take a look at which films have made it onto this special list!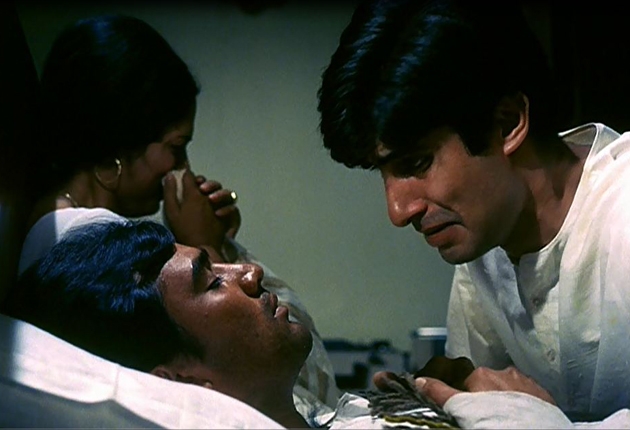 1. Anand (1971) –  Director: Hrishikesh Mukherjee
Although Anand really belongs to Rajesh Khanna for his tragic performance as a dying cancer patient, Amitabh also gave an equally memorable performance in this film. He plays the role of Bhaskar Banerjee, who is one of Anand's (Khanna) doctors and he eventually becomes his confidant during his final months. Khanna's character incessantly refers to him as 'Babu Moshai,' meaning 'Sir' in Bengali. It has become a popular term in India and South Asia ever since it was used in this film. Though Amitabh did not become the 'angry young man' until much later on, you will see in this film early signs of a firm and masculine personality which eventually develops at a radical level post-Anand. Amitabh was a new face to the Bombay film industry during the time this film was being made and he went onto win a Filmfare Award for Best Supporting Actor for his gripping performance in Anand. This is also one of the best films to have ever been made by the notable Bengali filmmaker Hrishikesh Mukherjee, who has entertained everyone with an assortment of films from the 1960s up until the 1990s. If you are curious to see a good Amitabh film which he starred in during his early years as an actor, then Anand is definitely a must watch! It is a tear-jerking film which will make you appreciate the gift of life on a whole new level.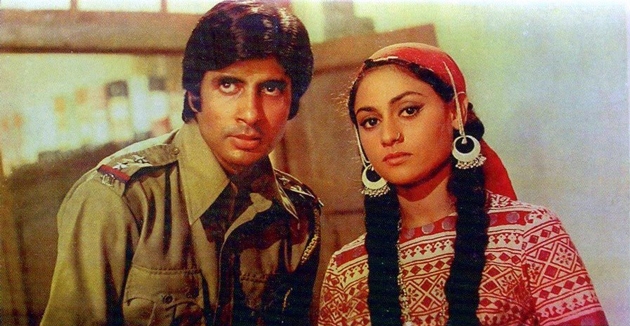 2. Zanjeer (1973) – Director: Prakash Mehra
Without holding any reservations, it can be said that Zanjeer was the film which saw the making of Amitabh Bachchan as an actor. This was the film that catapulted him to superstardom and conferred him with the title of the 'angry young man.' Without giving too much away, the film is based on a police officer named Vijay (Amitabh) who is on a mission to end the crimes of the vindictive 'goonda' (hooligan) Teja (Ajit Khan), who is responsible for selling poisoned goods to locals, who eventually die from it as a result. Zanjeer was a ground-breaking moment for Hindi cinema. For decades the audience had seen male protagonists in largely romantic roles. Therefore, this meant that many had to exude politeness and chivalry towards their co-stars. With Zanjeer, however, Amitabh plays a character that is aggressive and hot headed and this was something which the audiences had rarely seen before. This is what significantly contributed to his increasing popularity. Furthermore, Zanjeer was the film which inaugurated the 'action era' in Hindi cinema. After the release of this film, a sting of other action/violent oriented films (many of them starring Amitabh himself) followed and continued to do so for many years. Zanjeer is one of the few films where Amitabh and his real wife Jaya Bhaduri (who is the female protagonist) displayed fantastic on-screen chemistry. Though they have done many films together, Zanjeer is perhaps their best collaboration to date. We strongly recommend that you guys give Zanjeer a chance. After watching it, you will be left asking the following question: 'The film is perfect so why is this being remade?'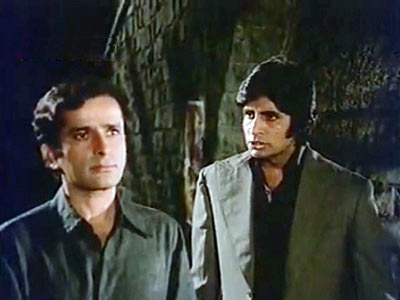 3. Deewaar (1975) – Director: Yash Chopra
If I was forced to choose only one Amitabh film where I think he delivered an exceptional performance, this would be definitely be Deewaar. It is a crime drama which focuses on two brothers who follow two different paths in life. Ravi (Shashi Kapoor) is the law abiding and benevolent police officer, whereas his brother Vijay (Amitabh) turns to crime and smuggling in order to acquire wealth and status. Their difference in social norms and values is what makes them turn against each other and a metaphorical wall ultimately creates distance between the two brothers. Deewaar is not only the best non-romantic film which Yash Chopra has made during his long career, but he forever transformed Amitabh's image as a male protagonist with this film. This is the film where Amitabh truly lives up to the title of the 'angry young man' and he delivers a riveting performance as the anti-hero. No one could have played this role any better. It was destined for Amitabh and Amitabh only! By taking some time out to watch Deewaar, you will gain a better sense as to why he is one of the most revered figures in Bollywood. Watch it for Amitabh's historic performance, as well as for its exhilarating storyline and great direction. In three words: A BOLLYWOOD MASTERPIECE!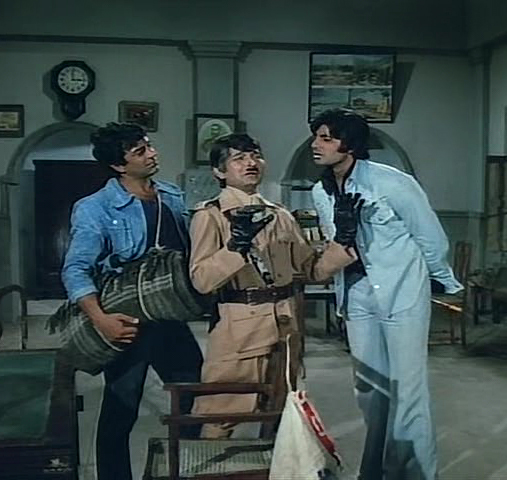 4. Sholay (1975) – Director: Ramesh Sippy
I can just imagine the countless number of complaints we would be getting from Amitabh fans if Sholay (one of India's greatest films ever) was not included in this list. Amitabh was fantastic in this masala action epic where he was able to illustrate a masculine image to a great extent. In this film Amitabh plays the role of a delinquent called Jai, who along with his associate Veeru (Dharmendra) are assigned on a mission by Thakur Baldev Singh (Sanjeev Kumar) to catch the notorious bandit Gabbar Singh (Amjad Khan). Sholay is honestly one of the most entertaining and adrenaline-fueled films you will see in Bollywood! It acquired the designation of being the highest-grossing film ever at the time of its release. It is a film that will leave you wanting more, despite its mammoth 180 minute run time. Amitabh especially stands out towards the end of the film when he is tackling Gabbar's associates on his own with the minimum ammunition that he has left. Yet Amitabh was also very comedic in this film, especially when he thwarts Veeru's attempts at wooing Basanti (Hema Malini). He therefore offers variety to those who want more from him than just someone who engages in 'dhishom dhishom' scenes. Although this is one of the defining films of Amitabh's career, the rest of the lead actors in this film were also equally brilliant. Hence, it is difficult to pluck out one particular performance as they all displayed an eclectic range of personalities, which adds much needed spice to this film. It can be safely said that you are not a true Bollywood or Amitabh fan until you have seen the magnificence that is Sholay! A MUST WATCH!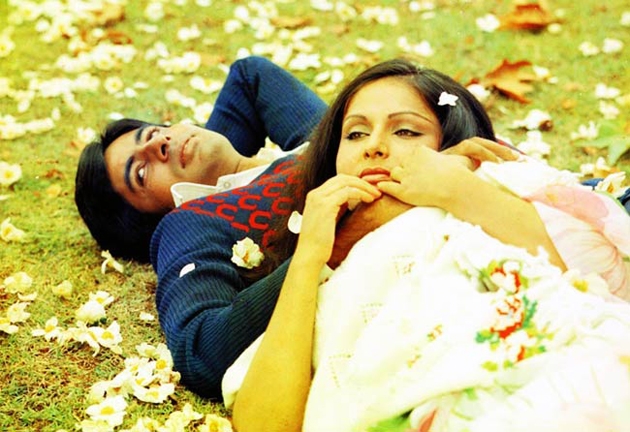 5. Kabhi Kabhie (1976) – Director: Yash Chopra
Just after he had wowed the audiences with his aggressive roles in Deewaar and Sholay, Amitabh displayed a completely alternative side to him by playing a romantic character in Yash Chopra's classic Kabhi Kabhie. In this film, Amitabh enacts the role of a poet named Amit who falls in love with Pooja (Rakhee Gulzar). They both drift apart as Pooja is duty-bound to marry Vijay (Shashi Kapoor) due to her parents' wishes. They both cross paths again when there is a generation change and their children are now the ones taken aback by the power of love. You will have to watch this eternal classic to see for yourselves the events which transpire and how Vijay reacts when he uncovers his wife's previous relationship. There is also another significant element to the story where Amit's wife Anjali (Waheeda Rehman) encounters her illegitimate daughter Pinky (Neetu Singh) for the first time. She conceived Pinky through pre-marital relations with another man before she met Amit. You will be completely blown away with Amitabh's performance when you see how his character reacts to his wife's previous doings. Kabhi Kabhie is a beautifully composed film which contains a progressive structure and narrative that will leave you impressed for sure. Moreover, at a time when the audience was besotted with seeing Amitabh in violent films, he was not afraid to show his soft side and took a successful risk with this particular film. His character is both romantic and dramatic and you will be left asking the question: "Is this really the same guy who gave us Deewaar and Sholay?"  The song 'Kabhi Kabhie Mere Dil Mein' is perhaps one of the best songs you will see picturized on Amitabh and he showcases the precise emotion and facial expressions which makes this a truly memorable melody. Watch Kabhi Kabhie for Amitabh's splendid performance, its advanced storyline, its breath-taking Kashmiri locations, as well as for the beautifully composed soundtrack which accompanies this film.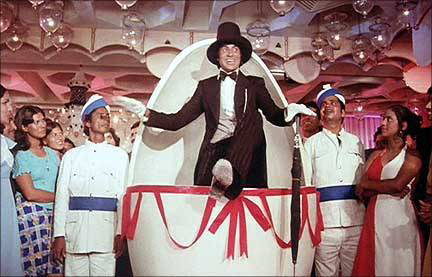 6. Amar Akbar Anthony (1977) – Director: Manmohan Desai
Amar Akbar Anthony is a film which, if anything, helped to consolidate Amitabh's position within the Bombay film industry. The film's overwhelming commercial and critical success proves that audiences just could not get enough of this immortal hero. Starring Amitabh, Vinod Khanna and Rishi Kapoor in the leading roles, Amar Akbar Anthony is based on three brothers who become separated at birth as a result of their father (Pran) abandoning them. They are each raised in three separate families who follow different religions (Hinduism, Islam and Christianity). A series of events which also involve their mother (Nirupa Roy) reunites the three brothers but you will have to watch the film to find out what happens and how it ends. The last thing we want to do is dish out spoilers which will minimize the impact this ever-growing popular film will have on you. Amar Akbar Anthony is also the film which won Amitabh his first ever Filmfare Award for Best Actor (definitely an award that was long overdue and which he should have won years ago). Amitabh is a true entertainer and shows a great deal of charisma, as well as some comedy in this film! Perhaps the highlight of this film is when he dances to the song 'My Name is Anthony Gonsalves'. This is a perky number which sees Amitabh coming out of a giant egg! If you are looking for a Bachchan starrer that will dazzle you from beginning to end then look no further: Amar Akbar Anthony does just that!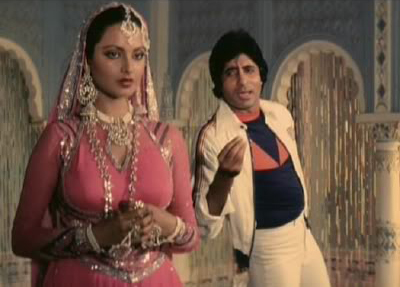 7. Muqaddar Ka Sikandar (1978) – Director: Prakash Mehra
Muqaddar Ka Sikandar is a quintessential Amitabh Bachchan starrer which roars commercialism to the highest degree. It has an intense storyline, spellbinding music and an excellent performance by Amitabh which makes him the showstopper of this film. The narrative is quite complex so it is difficult to sum it up in just a few lines. However, it is a film which focuses on the dramatic events affecting Sikandar (Amitabh), the ups and downs of his life, as well as his love for his childhood sweetheart Kaamna (Rakhee Gulzar) and his various encounters with Zohra the courtesan (Rekha). Muqaddar Ka Sikandar transformed into a blockbuster hit at the time of its release. It is one of the key films which define Amitabh's career and contains everything you would expect from one of his films during that particular period and more. This includes action, violence, drama, romance and tragedy. The film has memorable melodies such as 'O Saathi Re', 'Salaam-E-Ishq', 'Dil To Hai Dil' and 'Rote Hue Aate Hain Sab'. Muqaddar Ka Sikandar is a must see film if you cannot get enough of Amitabh as Bollywood's ultimate action hero!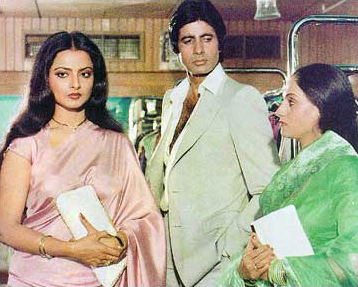 8. Silsila (1981) – Director: Yash Chopra
Along with Kabhi Kabhie, Silsila is one of the best films which starred Amitabh as a romantic hero. It is also one of the early films to touch on the issue of adultery. Therefore, the film's brave storyline and Amitabh's remarkable performance is why we have chosen this to form a part of our top ten list of his must see films. Silsila is based on a writer named Amit (Amitabh) who falls in love with Chandni (Rekha), but they soon separate due to forthcoming events. Amit discovers that his brother and Air Force Pilot Shekhar (Shashi Kapoor) has died in a plane crash. He therefore feels compelled to marry Shekhar's lover Shobha (Jaya Bachchan) who is carrying Shekhar's child. Shobha loses the baby after she and Amit are involved in a car accident. Amit and Chandni meet again at a hospital where he and Shobha are being treated from the accident by her husband Dr Anand (Sanjeev Kumar). Soon both Amit and Chandni profess their deep love for each other and an affair begins whilst they are both are married to other people. You will have to watch Silsila to see what happens next and how this great film comes to an end. Although Silsila was a box office failure at the time of its release, it has become a cult classic over time. Amitabh gave a solid performance in this film and he managed to strengthen his romantic persona as a result of him playing the leading man in Silsila. He displayed eye-catching on-screen chemistry with Rekha and the great melodies in this film such as 'Dekha Ek Khwab' and 'Yeh Kahan Aa Gaye Hum' only helped to reinforce this. Watch Silsila if you would like to see an Amitabh film where he plays the ROMANTIC YOUNG MAN, rather than the angry young man!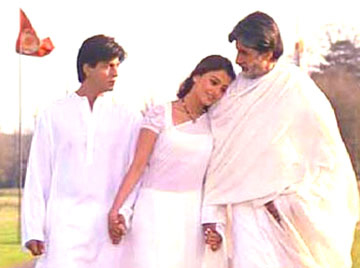 9. Mohabbatein (2000) – Director: Aditya Chopra
Aditya Chopra can be credited for re-launching Amitabh as an actor in his second directorial venture Mohabbatein. The film is based on a university principal named Narayan Shankar (played by Amitabh in his first major senior role) who does not have any faith in the concept of love. The university's new music teacher Raj Malhotra (Shahrukh Khan) sets out on a mission to prove to Narayan that love is something which should be embraced rather than it being tossed aside. Narayan is later filled with anger when he discovers that Raj was the very student whom he had expelled from the university many years ago for forming a relationship with his daughter Megha (Aishwarya Rai), who commits suicide as a result of her dad tearing them apart from each other. Raj ultimately decides to bring an end to the unreceptive attitude Narayan has towards love and to those who are in love and finally mend his ways. Does Raj succeed? You will have to watch Mohabbatein to find out! Although we are aware that this is an unusual choice to include in a list of must see Bachchan starrers, nevertheless, this is one of Amitabh's best performances in a senior role. He has played many senior characters in the past and continues to do so today. Yet Mohabbatein is arguably one of Amitabh's best and he won a Filmfare Best Supporting Actor Award for his powerful performance in Mohabbatein. It is a film where Amitabh takes the anger and bitterness which he has exhibited on the big screen for many years and imports it into a senior character. Though the film has a colossal 3 and a half hour runtime, Amitabh's dramatic performance gives you the stamina to watch it until the very end. Watch it if you want to see Amitabh enact the role of a MISERABLE OLD MAN!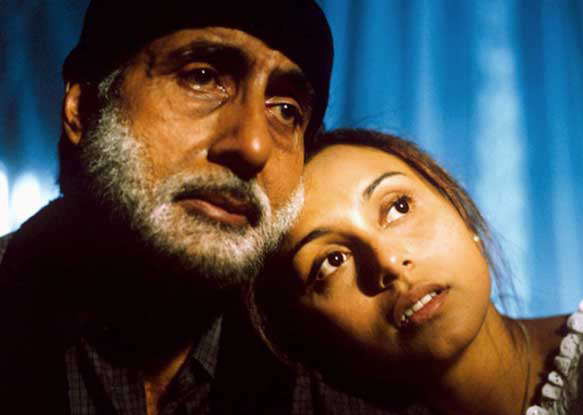 10. Black (2005) – Director: Sanjay Leela Bhansali
Five years after Mohabbatein, Amitabh wowed the critics and the audiences again with his ground-breaking performance as a senior character in Black. The film is based on a man named Debraj Sahai (Amitabh) who becomes the teacher of a deaf-blind girl named Michelle McNally (played by Ayesha Kapoor as the young Michelle and Rani Mukerji as the older Michelle). As Debraj gets older, he begins to develop Alzheimer's disease. You will have to watch this Bollywood masterpiece to uncover what happens to Debraj as well as Michelle, whose aim is to get a university degree despite her visual and hearing losses. Black was a revolutionary moment for Hindi Cinema. We have seen many films where a character is either blind or deaf, but we have never seen a character that possesses both these unfortunate disabilities. In addition, Amitabh showed his dramatic side like never before in this film and no doubt you will find his, as well as Rani's and Ayesha's characters very moving to watch. Amitabh won both the Filmfare Best Actor Award and Best Actor (Critics) Award for his strongly commendable performance in this film. To an extent, Black can be classified as an art-house film rather than a commercial film due to its bold content. Hence, we advise you to watch Black if you have never seen it before. It is perhaps Amitabh's most triumphant attempt at doing an art-house film!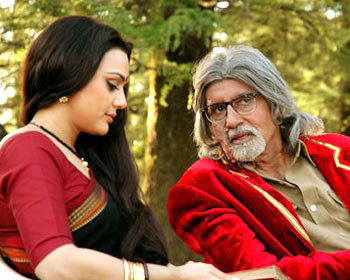 11. A special mention of three Amitabh Bachchan performances which did not make it onto this list.
We would like to mention three key films which have not made it onto this top ten list, but which we would like to highlight anyway. Another Amitabh Bachchan starrer titled Don (1978) is considered by many to be one of his most significant films and it has become a classic hit ever since its release. Yet since quite a few action films with Amitabh as the leading man have already been included on this list, we felt this would restrict us from strongly recommending films where he has exemplified variety as an actor. Hence, although Don is not officially on this list nevertheless, give it a watch anyway as this is another Bachchan starrer which you will find exhilarating to watch! We would also like to add that a few years after the release of Black, Amitabh played another great senior role. This would be his first English language film titled The Last Lear (2008). Although it has not officially made it onto this list as we have already included two films which feature Amitabh in a senior role, we would like to give this film a special mention anyway. Amitabh delivered a spellbinding performance as an ex-Shakespearian theatre actor in The Last Lear and he received unanimous praise for it. Finally, this feature piece will feel incomplete if we did not refer to his noteworthy role in Paa (2009). Amitabh gave a very emotional performance as a boy suffering from progeria, a rare disease which makes him age at an extremely radical level. Apparently, Amitabh spent HOURS during each day of shooting for Paa in putting on and taking off the make-up which he wore in order to ensure his character looked authentic. His efforts eventually paid off and he went on to win his fifth Filmfare Award for Best Actor alongside many other awards, which he won for his unique performance in Paa. Therefore, if you are still hungry for more great films with Amitabh as the leading man, we recommend Don, The Last Lear and Paa also!
Before finally bringing this feature to an end, we would like to wish Mr Amitabh Bachchan a very Happy 70th Birthday!!!! We hope that he will continue to delight us all with more cutting edge and entertaining films! We can't wait to see what he will bring us next!