Bbuddah…Hoga Tera Baap mark a return for Amitabh to his Angry Young Man roots, so expect some cracking dialogue with plenty of dishoom dishoom from the original maverick! This revisionist masala films definitely warrants a look back at the many roles Amitabh Bachchan has unleashed his righteous fury. However, with each of these roles, Bachchan offered a different interpretation of his most iconic persona. You could say Bachchan's Angry Young Man was a successor to the Disillusioned Young Man of the 50s played by Raj Kapoor, Dilip Kumar, and Guru Dutt. Aided by great screenwriters Salim Khan, Javed Akhtar, and directors who knew how draw the best out him; Amitabh Bachan's iconic persona is a perfect fusion of all these elements in creating a lasting legacy for Indian cinema. Though the Angry Young Man that Bachchan embodied became an increasing staple in masala films, he echoed many of the frustrations during the Emergency period of the 70s. So here are some of the many Angry Young Men or I'd coin it, Vigilante Vijay's he has portrayed: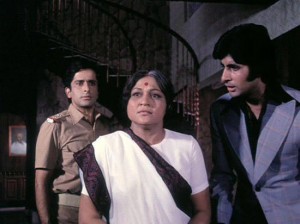 Vijay Verma in Deewaar – A list would simply be incomplete without mentioning one of Bachchan's key roles! When he lounged in the dockyard chair in that iconic pose with a cigarette dangling from his mouth and glaring at the henchmen, an indelible moment of cinema history was created. Just from that scene, Bachchan created a hero who would willingly get into fights and launched a fashion craze of flares and tight shirts revealing a macho hairy chest! This Vigilante Vijay's fury over the injustice against his parents by society sends him on a vengeful ascension to the top of  Mumbai's smuggling ring. Ever since Mother India to Ganga Jamuna, one good son and one wayward wastrel and a noble maa is a recipe for masala success, but Salim and Javed's script blurred the lines of good and evil and you couldn't help but sympathize with Vijay. With this film, Bachchan perfected one of many of his memorable death scenes, cradled in his mother's arms and revealing his innocence, which is in direct contrast from his material wealth. It helps if someone so positively Byronic would attract another damaged soul in Parveen Babi's character. The Angry Young Man's luck with the ladies would improve down the years, but this key role Bachchan makes empathize with such a doomed man and stealing the thunder from his upright brother Ravi (Shashi Kapoor).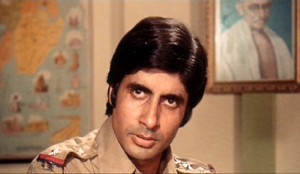 Inspector Vijay Khanna in Zanjeer – "Yeh police station, aap ke ghar nahi!" (this is a police station, not your home!) growls the most famous Vijay to a prisoner. If Deewar fashioned a tragic and stylish persona that shaped all other heroes to come then Zanjeer launched Amitabh Bachchan as an aggressive alternative to voice the collective angst. When his parents are killed, Vijay focuses his obsessive energy onto all the criminals who land up in his jail. This was a hero defied the law to satiate his own rage. Tired of society and its rules, this Angry Young Man was all about the individual which is why it must have been heartening to audiences to see such a rebel on screen. Zanjeer was definitely a star-making role for Bachchan as he was so unconventional to other actors at the time. He was not muscley like Dharamendra, far too busy for romance unlike Rajesh Khanna, and his acting style harkened back to the method style. Bachchan is a physical actor using his body language to suggest his upset, just look at how energetic the fight scenes are or the quiet intensity that recalls Hollywood method actor John Garfield. Even when the love story elements cropped up, Bachchan's searing and yearning gaze in the song "Deewano Ko" lets the obvious known that all an Angry Young Man needs is some lovin'!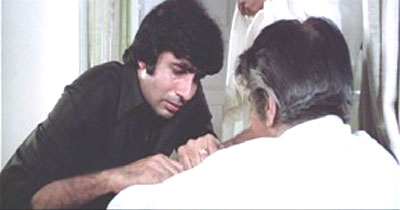 Vijay Kumar in Shakti – One of Amitabh Bachchan's most overlooked interpretations of the persona is his most matured performances. This toned down revisionist masala film places Bachchan against another titan Dilip Kumar, and it is incredible to watch two of the most talented actors of Indian cinema face off. Kumar and Bachchan match each other and compete too, and it is a revelation to watch their two very different acting styles mesh. They play father and son, but the film delves into their psychological grievances with each other. The neglect and scorn Vijay feels from his father fuels his new lifestyle as a criminal and to look for a father figure in his gangster boss. It is as if the 70's Angry Vijay that Bachchan played had mellowed a tad and become far more sullen and bitter for the 80s. It is remarkable to watch Bachchan transition his iconic persona by ushering him into a new grey are and a new decade.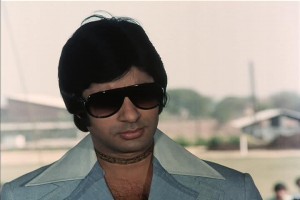 Vijay Kumar in Trishul – Hell hath no fury like a Vijay scorned, is likely the motto of Amitabh Bachchan's pairing with scriptwriters Salim and Javed and director Yash Chopra. Trishul is no different but loosely based on Karna in the Mahabharat's struggle for power against his family and it falls aptly in the Angry Young Man mould. On her deathbed, Vijay's mother reveals he is the illegitimate son of RK Gupta (Sanjeev Kumar) who ditched her before he was born. Vijay vows to become his father's competitor and destroy his construction business out of sheer revenge. This was a startling switch from a hero who turns to crime for his parents or devoted to them, as this Vijay does not care for his father. Bachchan plays this amoral Vijay with maniacal glee complete glaring at everyone around and angry tirades directed at his father ending each with a terse 'Yes Mr RK Gupta' before storming off.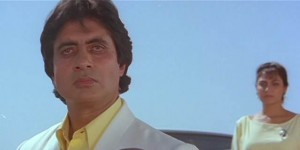 Vijay Dinanath Chauhan in Agneepath – Mix in a bit of Scarface, a lot of gravely voiced Brando posturing, and a whole lot of Vijay fury and we get Amitabh Bachchan's most seething performances. When his father is framed and killed by corrupt town members and a bad man called Kancha Cheena, Vijay becomes a much feared and ruthless don to the chagrin of his mother and sister. This one of Bachchan's later roles and after a string of duds he started the 90s off with a bang and let everyone know he was still in the top of his form. With his eyes lined with kohl and bloodshot, and repeating his famous line 'pura naam Vijay Dinanath Chauhan' he struck in an image of terror. Critics have been divided over Bachchan's performance, which is stylized at times and very near copies Marlon Brando's Vito Corleone intonation. You do get the sense that Bachchan was putting everything on the line for this film and a little experimentation with his iconic persona certainly helped him land the National Award for this film. Whatever we may think, Bachchan's performance was the real spark in his stagnated period, and it remains to be seen if Hrithik Roshan can top such a fearless role.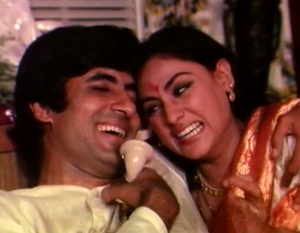 Subir Kumar in Abhimaan – Rarely do critics cite some of Amitabh Bachchan's pre-Vijay films as key in his oeuvre. However, the sparks felt in this film and others like Namak Haram or Anand are previews to the fuller actor Bachchan became after his iconic roles. This film by Hrishikesh Mukherjee looks at the marriage of two singers played by Amitabh and Jaya Bachchan as his star is on the wane and she overtakes him on the charts. The film, which echoes 'A Star Is Born', allows Bachchan to find his own interpretation of a Norman Maine character as Frederic March, James Mason, and Kris Kristofferson have attempted. The jealousy and downfall, each of the talented actors has their own spin on the hurt pride of a once popular star. Bachchan definitely comes closest to Frederic March's sensitive portrayal as Subir is genuinely pleased for his wife till he sees that his own career is being eclipsed as his contacts and fans flock to his wife instead. Bachchan makes a dislikeable character into such a humane tragic person character that the audience feels for him as he alienates all those around him. The early signs of a darker side and buried resentment, which Bachchan portrays so well in this film can all be seen in his key roles.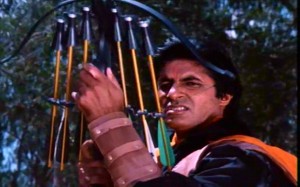 Toofan/Shyam in Toofan – There has to be one cheesy role in this list where Amitabh Bachchan gives his anger turned up to 11 in a very nutty and implausible film like this! Bachchan plays really a Power Ranger superman of sorts called Toofan and his magician twin Shyam, who is out for revenge against a bandit who framed and killed his father many years ago. Sound familiar? The film was one of a string of shamefully good films Amitabh did in the 80s, thankfully Agneepath followed. However, Toofan is one angry man using his trusty arrow kit and jumping onto helicopter skills to avenge his father. The fact that Amitabh Bachchan mouths such silly lines and turns on the Angry charms for such a cheesy film is a testament to durability and reliance on the Angry Young Man archetype which it had become in those days. Each of these above Angry roles, Amitabh has stretched the parameters and challenged the very persona he created, but it is nice to see him sometimes be angry in the most silly of storylines like this one!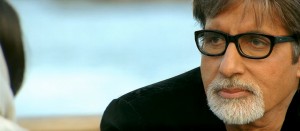 Buddhadev Gupta in Cheeni Kum – You could call this Amitabh's transition to Grumpy Old Man roles, but it deserves a place from this list for Bachchan's commitment to reinventing his persona. Bachchan is the original Angry Young Man but he did have time for romance and humour and R Balki's script allows him to mesh together all our favourite traits in our idea of Amitabh Bachchan. Balki gives us grizzled chef Buddhadev who wastes no opportunity insulting his staff but lets his guard down around his elderly mother and young neighbour. These sweet moments reveal the softie inside all of the Angry Young men Bachchan may have played, they do all have a yearning for love but keep up the macho defence, which is why Tabu can see through his façade.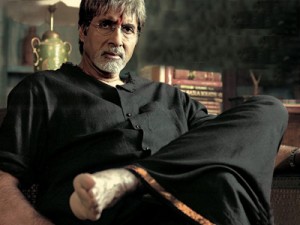 Subhash 'Sarkar' Nagre in Sarkar – Another brilliant revisionist take by Ram Gopal Verma who knew how to capitalize on the persona and the public's appetite to see Bachchan in a negative role. For the 10 minutes when Bachchan played the original Don, he was menacing and curt, and Sarkar can be seen in the same light. In one moment drinking his tea from the saucer with villainous glee or comforting an upset father seeking justice, Bachchan is clearly enjoying subverting his persona and it's positive to see that in an actor who is constantly challenging himself. Certainly, it is the most stylish presentation of Bachchan with menacing camera angles and utilizing the baritone voice for sinister speeches and it completely works in synergy. Playing the Vito Corleone in this film, this Godfather only loosens up around his family but as his wayward son Kay Kay Menon finds out even they are not spared from his wrath.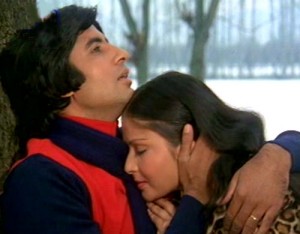 Amit Malhotra in Kabhi Kabhie – This one might seem out of place on a list of the top 10 angry roles by Amitabh Bachchan, but an Angry Young Man is most definitely Byronic too! When Pooja (Rakhee) leaves him for another man, Amit is spurned and tortured by this decision all his life till it affects his current marriage to Anjali (Waheeda Rehman). All of those eloquent and sad poems he reads out and harbouring resentment for the world is something a Romantic poet would approve of! There is an overflowing frustration in Amit that Bachchan portrays so effectively. The construction business he owns and his pensive stares into space, Bachchan gives a stock character a lot of depth. The fact that he blames his wife for her indiscretion in the past shows that he has not left his own past behind and carries the rejection with him. It is one of Bachchan's most poignant and mature performances as he plays a man lost in ennui and of a life and love he was deprived from.
These are only some of the many roles Amitabh Bachchan has done that covey that Angry Young Man persona in different interpretations. The fact that Bachchan experiments and constantly reinvents himself with each role drawing on his public's love of his image and his own strengths within that image is a testament to his longevity. So here's to more anger and fury to come!