It was not a year for the classic Bollywood comedy but still we got several giggles, even some guffaws and truly Laughed Out Loud with some of the films this year. 2011 saw David Dhawan's son Rohit make his debut with Desi Boys, both Aamir Khan with Delhi Belly and Madhur Bhandarkar with Dil Toh Baccha Hai Ji, attempted the comedy genre as producer and director respectively. The Deol family came together again in Yamla Pagla Deewana to deliver a hit and Yash Raj even managed to give us a couple of funny features with Mere Brother Ki Dulhan and Mujhse Fraaandship Karoge proving to be popular. We not only polled our team we also took into account the scores the films got on IMDb!
So here's our top 10 funniest films of 2011
10. Ready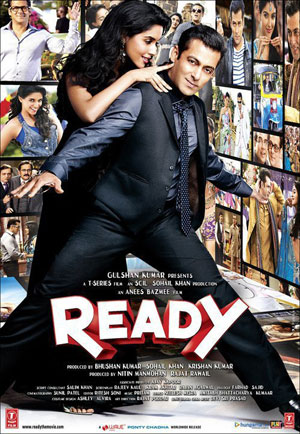 Salman Khan's first release of the year had high expectations following 2010's smash hit Dabangg! Ready was as masala as it comes – comedy, romance, action, item songs – the full works. A made to order film, it had Salman on true form playing to his audience. The interval was even described as a 'pee-break', whilst Salman urinated on a haystack! Perhaps not everyone's cup of chai, but Salman fans lapped it all up!
9. Dil Toh Baccha Hai Ji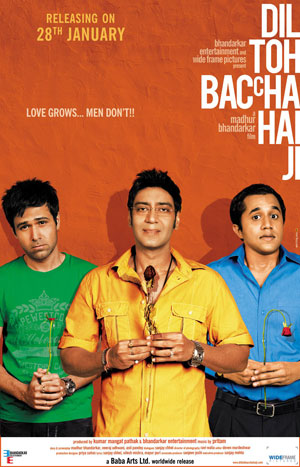 A recently separated Naren (Ajay Devgan) takes on two flatmates to help pay the bills – casanova Abhay (Emraan Hashmi) and aspiring-geeky poet Milind (Omi Vadiya), with all three in search for true love. This was an adult comedy and certainly something different from Madhur Bhandarkar, unlike his earlier hit Fashion, which many found fresh but left others wanting the usual Madhur back. Either way the film was different and packed in quite a few laughs.
8. Desi Boys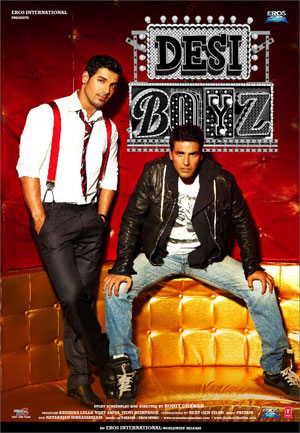 Desi hunks Akshay Kumar and John Abraham reunited after Garam Masala, directed by first timer Rohit Dhawan. Rather than a complete leave your brains at home comedy, Rohit tied in a bit of  realism, using the backdrop of the global recession. This was a story of two friends who turn to male escorting and the moral impact this has on their lives and loved ones. Great chemistry between the lead actors, an abundance of comic gags and a slightly fresh script, which for many resulted in a good bit of comedy from Akshay Kumar after a long time.
7. Mere Brother Ki Dulhan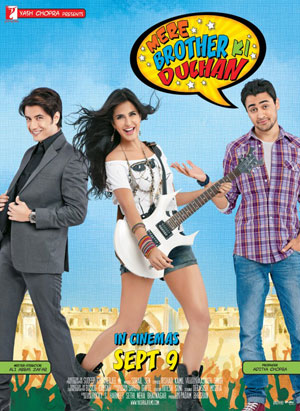 Young guy (Imraan Khan) sets out to find a bride (Katrina Kaif) for his brother (Ali Zafar) and ends up falling for the very girl he chooses…nothing new or groundbreaking as far as a story was concerned. However, this Yash Raj movie definitely delivered a few laughs. Watching Katrina Kaif deliver a ten minute drunken monologue from Sholay was enough to keep fans laughing, oh and who can forget the bhaang scene: "You're da bhaang boy!"
6. Tanu Weds Manu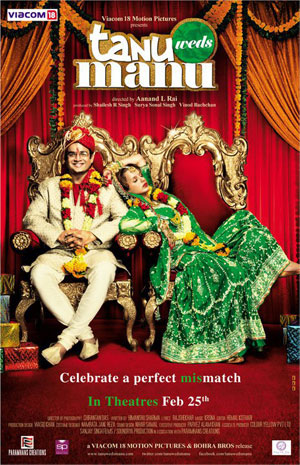 NRI doctor Manu (R Madhavan) goes back to India to find a bride, ends up selecting and falling for a complete mismatch girl : drunken, foul-mouthed, smoker and drinker Tanu (Kangana Ranaut). Set mostly in Punjab, against the backdrop of weddings, the characterisations and comic dialogues made this anything but a re-visit of Dilwale Dulhaniya Le Jayenge. Kangana's rebellious character Tanu brought in the laughs and in part made this simple romcom a watchable affair.
5. Yamla Pagla Deewana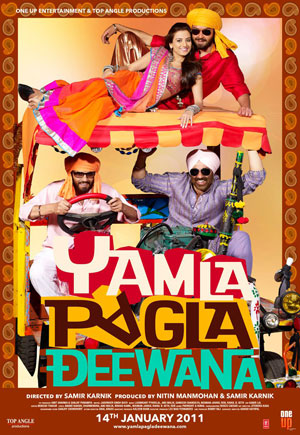 Canadian NRI (Sunny Deol) travels to India to reunite with his estranged father (Dharmendra) and younger brother (Bobby Deol), whom both happen to be conmen. This second outing of the Deol family was much more successful than their first film Apne, mainly because it was a comedy. The trio gave crowd pleasing performances, which were both entertaining and funny. Yamla Pagla Deewana pulled in the crowds and was perfectly described as a complete time-pass and paisa vasool affair!
4. Chalo Dilli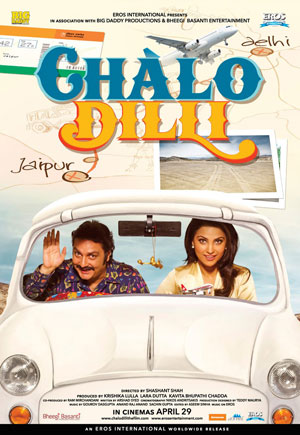 A business executive (Lara Dutta) misses her flight and through a number of incidents ends up making her journey with auto-rickshaw passenger Manu (Vinay Pathak) by road using a number of methods! The fresh pairing and entertaining acting made the film enjoyable to watch, with Vinay playing his character realistically as always and Lara doing well against him in the comic scenes. Although a copy of Planes, Trains and Automobiles the pair made this Desi version a fun one to watch.
3. Mujhse Fraaandship Karoge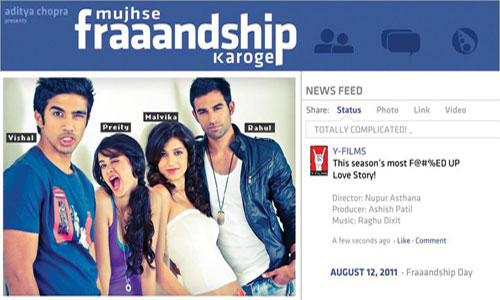 Facebook, social networking, fake ids and college reunions – this was a fresh offering from the youth wing of Yash Raj films. The result was a smart, light, funny and entertaining movie. A film which many of the y-gen took a liking to, with some of the lines cracking people up and some of the scenes tickling the funny bone, such as the drag sequence. Despite it's not so innovative script, it was nevertheless presented in a fun and modern way.
2. Chillar Party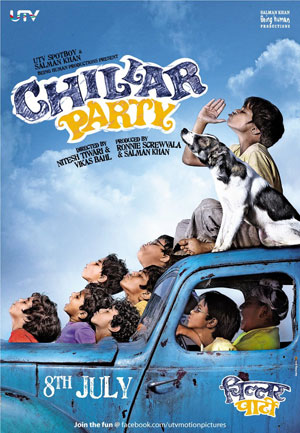 Produced by Salman Khan, here was another fine example of an intelligent film with a strong message, presented in a light and comic way. Seen through the eyes of a group of children, this immensely enjoyable film looked at multiple issues of class, empowerment and politics. The antics, acting and dialogues of the children were brilliant, which made Chillar Party the indie-surprise of the year, much like Udaan the year before. If you still haven't managed to catch it – make sure you do!
1. Delhi Belly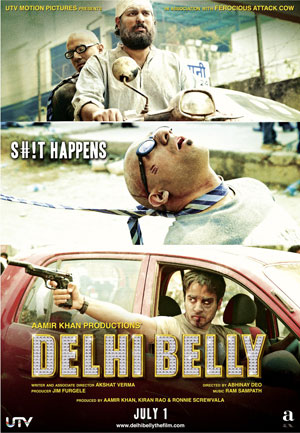 Misunderstandings, blackmailing, gangsters, diamond heist, love dilemma – oh and a guy who has diarrhoea, sorry I mean  'Delhi Belly'…this was the summer hit of 2011. Clearly not one for the family audiences, the sophistication of this roller coaster was appreciated by many that went to see it. Delhi Belly needs a particular appetite to watch, but what made it so successful was it's approach – extremely bold and mostly in English. There's quite a few comic moments and dialogues to reminisce, but the one I'll leave you with is the "Ja churail" number – frigging hilarious!!