Every year BollySpice likes to celebrate the year that was by bringing you the best of the best in our countdowns. One of Bollywood fans' most favourite pastimes is enjoying the monthly magazine issues that release with their favourite stars on the covers. Have a look as we count down the most sizzling and memorable filmi magazine covers of 2011!
10. Sonam Kapoor – Hi! Living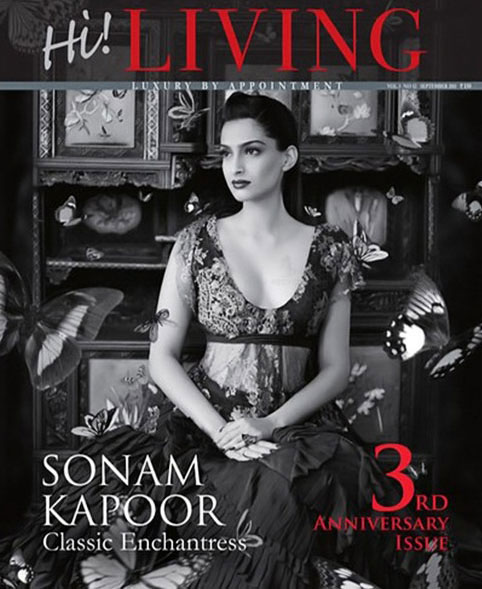 Sonam Kapoor is known for her impeccable fashion sense and wonderful magazine covers, but this year it was her black & white classic portrait that set her apart from the typical.
9. Hrithik Roshan and Katrina Kaif – Filmfare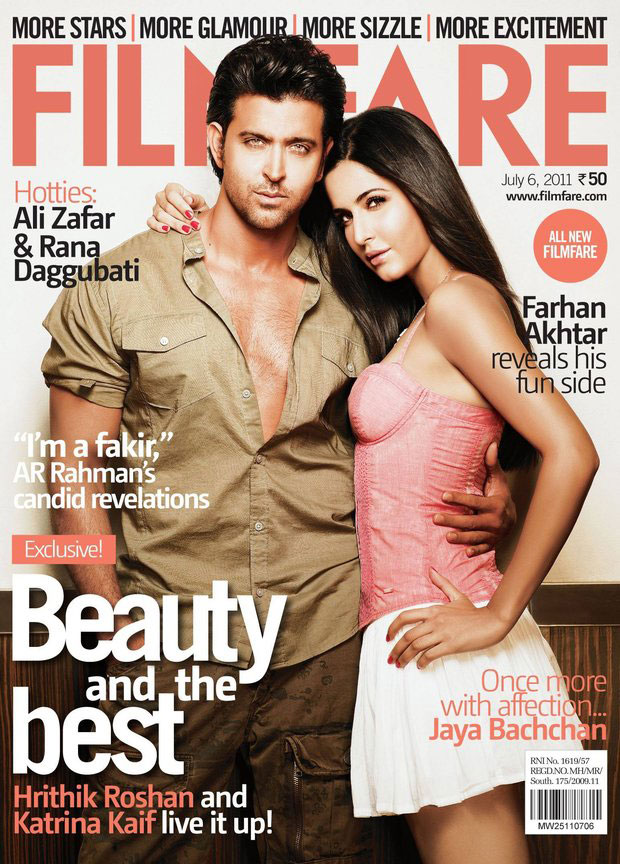 Hrithik Roshan and Katrina Kaif have grown from strength to strength this year, gaining incredible popularity. Their fresh pairing gained accolades for its sizzling chemistry and this Filmfare cover reflects just that.
8. Aishwarya Rai Bachchan – Verve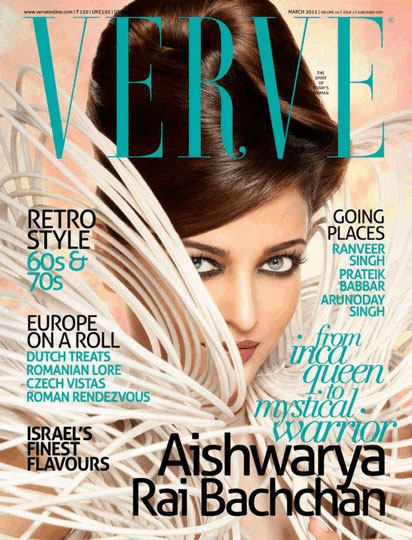 Aishwarya Rai Bachchan has always been a favourite for magazine covers and this out-of-the-box look for Verve garnered praise for the most beautiful woman in the world.
7. Amitabh Bachchan, Saif Ali Khan and Prateik Babbar – Filmfare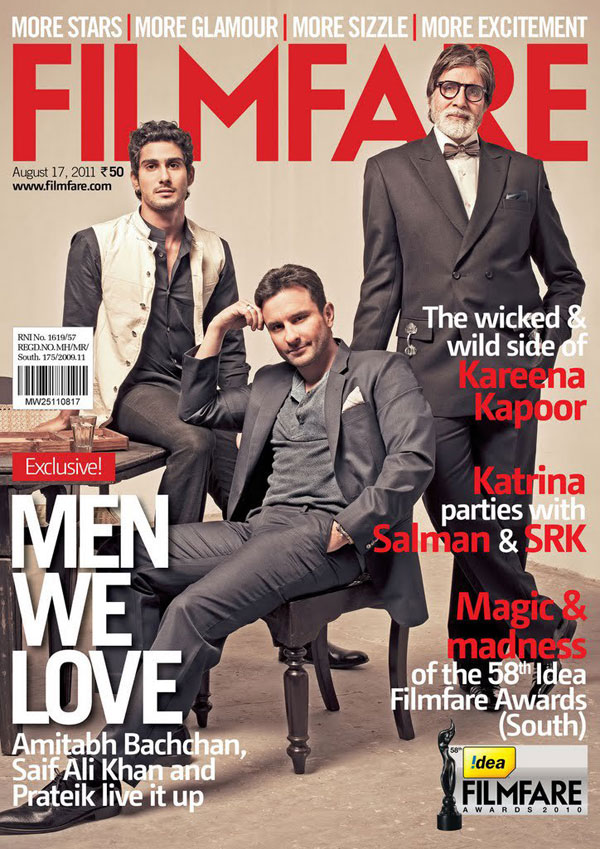 Seeing living legend Amitabh Bachchan on the Filmfare cover alongside his Aarakshan co-stars Saif Ali Khan and gen next Prateik Babbar was a treat for fans young and old.
6. Imran Khan and Anushka Sharma – Hi! Blitz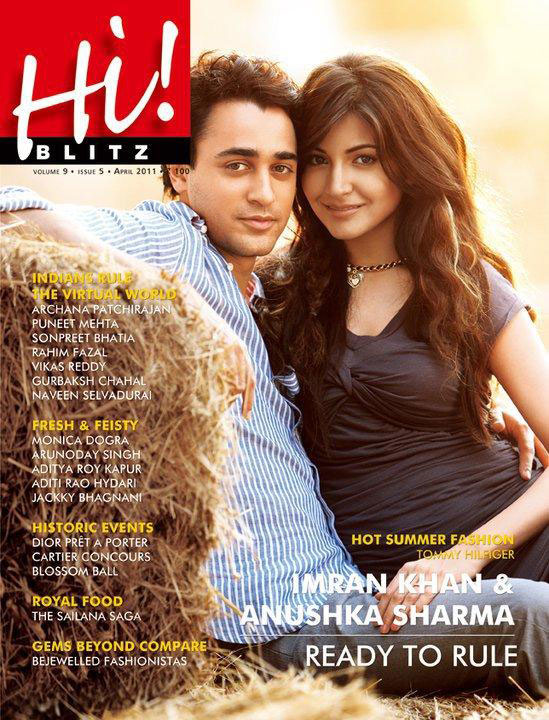 Though Imran Khan and Anushka Sharma have yet to star in a film together, this Hi Blitz cover had all of their fans wanting more of this sweet and fun jodi. Needless to say Vishal Bharadwaj's next Matru Ki Bijlee Ka Mandola with Imran and Anushka is being impatiently anticipated.
5. Katrina Kaif – Vogue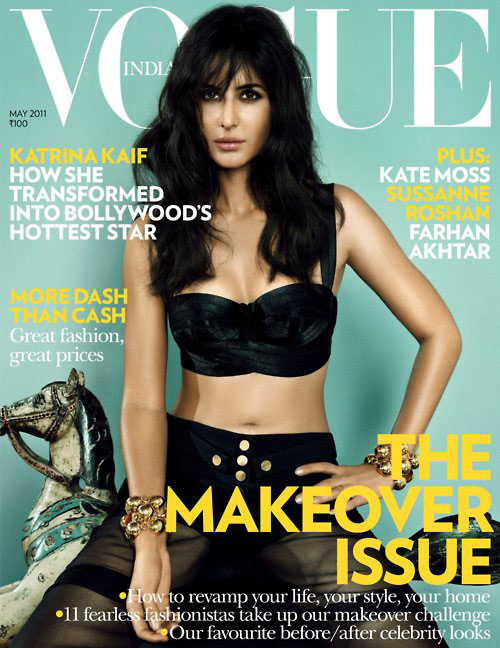 Katrina Kaif has captivated the audience with her roles in Zindagi Na Milegi Dobara and Mere Brother Ki Dulhan and more recently her 'Chikni Chameli' item number. This Vogue cover remains memorable for giving Kat a darker edge with a sexy grunge styling.
4. Farhan Akhtar, Hrithik Roshan and Abhay Deol – Man's World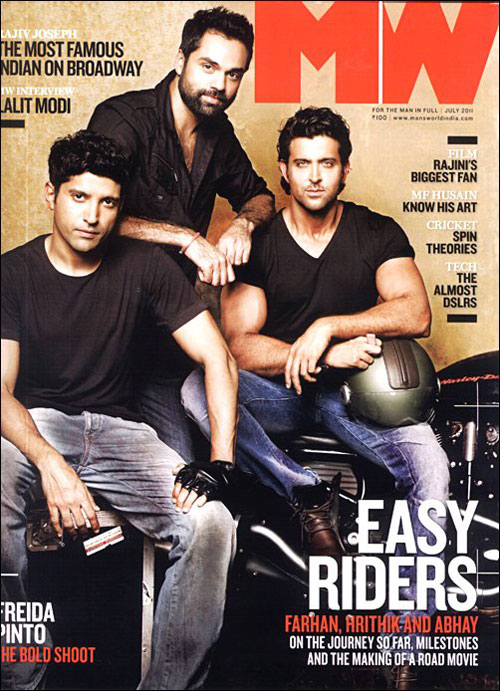 The boys of Zindagi Na Milegi Dobara captured our hearts and this cover united the three heroes Hrithik Roshan, Farhan Akhtar and Abhay Deol. Just like the film, this cover was a fan favourite in 2011.
3. Amitabh Bachchan, Madhuri Dixit, Sharukh Khan and Kajol – Filmfare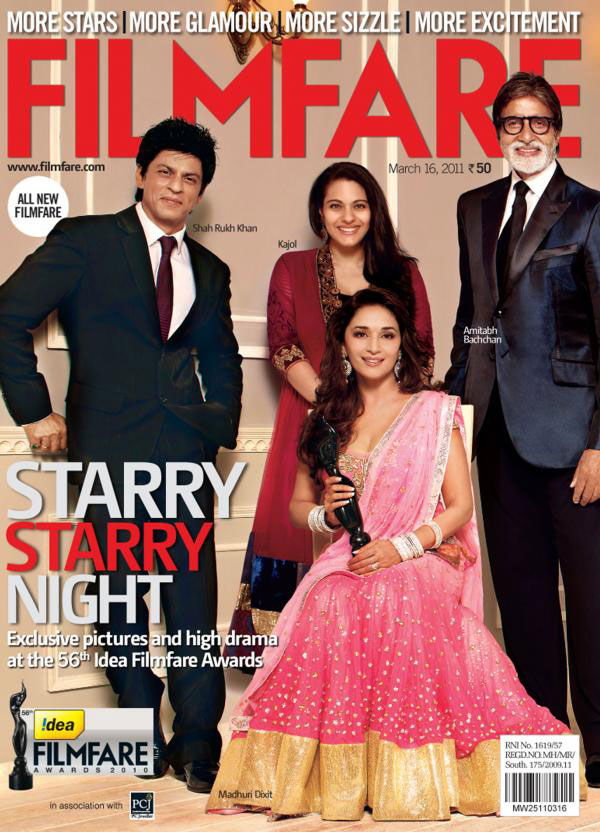 The Filmfare Awards are always a high-point during the year for the industry. This year the award issue cover was graced by some of the greatest actors of our time – Shahrukh Khan, Madhuri Dixit, Kajol and Amitabh Bachchan. To get these four superstars all together for a shot is memorable indeed!
2. Shahid Kapoor and Sonam Kapoor – Filmfare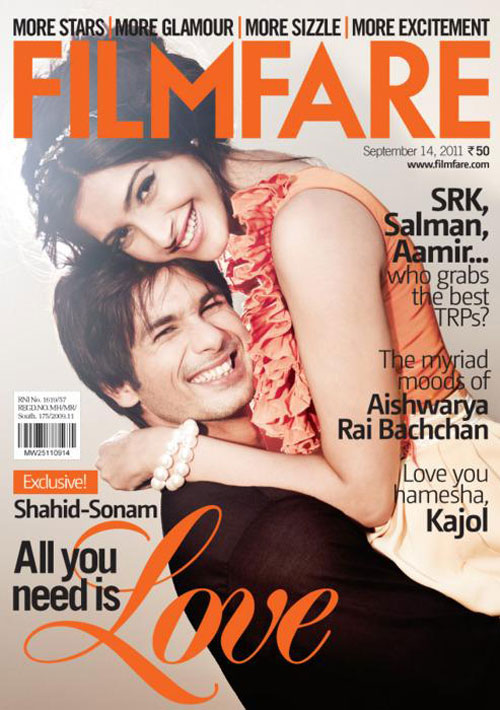 Though the film Mausam may not have set cash registers ringing, the pairing of Shahid Kapoor and Sonam Kapoor was greatly appreciated. The Filmfare team had fans vote to choose which of three potential Shahid-Sonam covers would ultimately become the cover shot for this issue and fans smartly chose this adorable capture of the pair.
1. Hrithik Roshan – Filmfare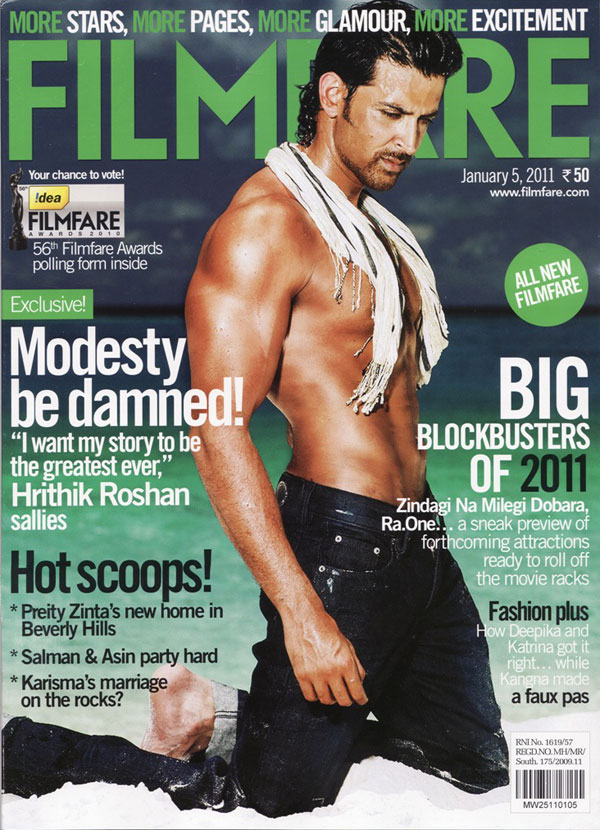 Almost a year later and this extremely hot Filmfare cover of Hrithik Roshan still sticks in our minds. Maybe it`s the Greek God good looks, or maybe it`s his continued success throughout the year with both Zindagi Na Milegi Dobara as well as his television show Just Dance, but we haven`t been able to get Duggu – or this fabulous magazine cover – out of our minds!