Every year Bollywood comes up with the most beautiful, amazing, heartfelt and rocking melodies that will make you dance, laugh or cry. And with those songs comes a picturizations that can capture the true meaning of the song and take you into the world of the characters and into the story of the film.
BollySpice takes a look at some of the most beautifully picturized songs of the year which stay with you, even after the film has ended.
10. 'Allah Jaane' – Teri Meri Kahaani
'Allah Jaane' is one of the most romantic songs of the year. It has a sufi feel to it and depicts the era of 1910 in the film Teri Meri Kahaani.
Shahid Kapoor plays a poet and we see him serenading Priyanka Chopra with beautiful Urdu poetry. The romance between the couple is portrayed as shy as they gaze in each other's eyes continually and show their true feelings only in letters and poetry. It's a delight to watch a romance like this.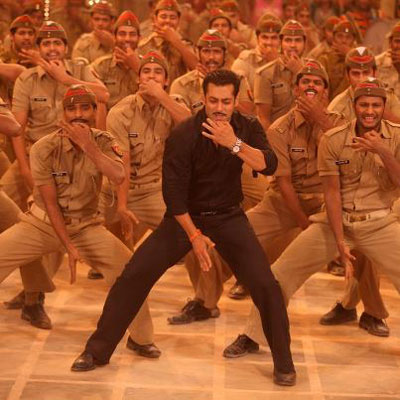 9.  'Pandeyjee Seeti' – Dabangg 2
Salman Khan is back as Chulbul Pandey. Pandeyjee brings back the feeling of folk song like earlier with 'Humko Peeni Hai'. This time he dances on a song inspired by the popular folk song 'Chalat Musafir Moh Liya' from the movie Teesri Kasam.
Choreographed by Chinni Prakash, the setting reminds you of 'Humko Peeni Hai' and the energy is very high. This song makes you want to dance along with Chulbul Pandey.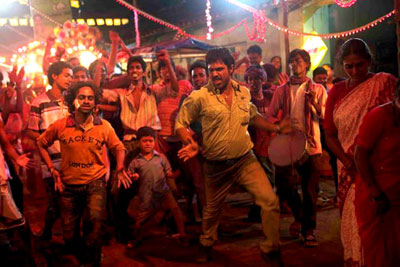 8. 'Bharat Mata Ki Jai' – Shanghai
This song celebrates violence and injustice. The song talks about the good things but also the bad things of India. It's a very aggressive number which contains the street sounds of India.
The picturization has a certain rawness to it as it shows how Indians actually dance and enjoy a party. If you have ever seen a baraat or any party which starts on the Indian streets, this is the closest you can get to it in terms of picturizations.

7. 'Abhi Mujh Mein Kahin' – Agneepath  and 'Jee Le Zara' – Talaash
There were two songs this year that just touched you right in the soul with their beautiful lyrics, fantastic singing and outstanding picturizations. Those are of course 'Abhi Mujh Mein Kahin' from Agneepath and 'Jee Le Zara' from Talaash. Both songs appear in their respective movie at a time when you have completely identified yourself with the lives of the characters.
Both songs are heart wrenching when you listen to the lyrics, especially when you have experienced loss from up close. The pain is felt through the voices of Sonu Nigam and Vishal Dadlani. Then when you think it can't get any more sad, it does as the picturization of both songs just breaks your heart.
The way they have handled the emotions with so much love and care is amazing.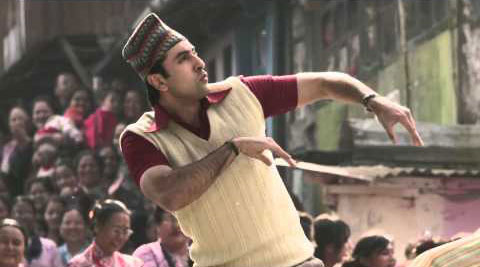 6. 'Kyon' – Barfi!
The movie Barfi! is filled with many beautiful songs and equally beautiful picturizations. It was very tough to actually just choose one as each in their own way has a beautiful meaning.
'Kyon' is one of the sweetest songs that shows how attached Jhilmil has gotten to Barfi. When Barfi leaves her with the woman who worked at her father's house, she runs after him because she cannot live without him. Even though he isn't happy with the development of having a travel companion, Barfi realizes this and takes her with him. 'Kyon' shows Barfi and Jhilmil on their adventurous journey back home.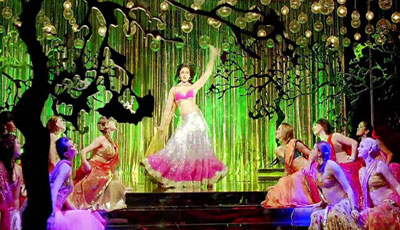 5. 'Radha' – Student of the Year
As one expects from a Karan Johar film, at least one big dance number with an Indian touch needs to be there. Since that was missing from his last film My Name is Khan, he put a huge number in Student of the Year.
'Radha' is one of the most popular songs of the year. The video and music take you back to the times of 'Say Shava Shava', 'Rock N Roll Soniye' and 'Mahi Ve'. None other than Farah Khan, who is the perfect person to realize Karan's vision, has choreographed the lavishly shot song.
This was the first song the three debutants had to shoot. They trained for a month before shooting and made all the dancing look so simple. Its definitely a must for the eyes!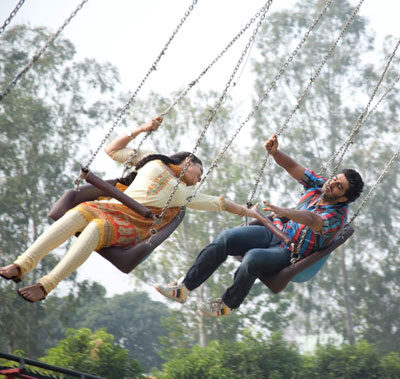 4. 'Pareshaan' – Ishaqzaade
A rock-ballad is not something one hears everyday in Bollywood, especially one like 'Pareshaan'. The video portrays the confusion of a girl who has fallen in love with the wrong person, at least that's what everybody says. While on one hand she is in doubt, on the other hand she is confident that this is the right guy for her. The doubt is seen when she doesn't know how to behave around him, while the confident is seen when she is on the bike and puts her hands around him.
Then there is a point where Parineeti is lip-syncing to the song as a rockstar, with a mic and firecrackers bursting in the background, representing the sweet feeling. This time there are no little butterflies in the stomach, it's fireworks all over!
While you feel the awkwardness of Parineeti's character, you also see the way she gradually gives in to love and starts living.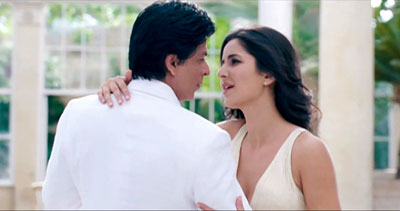 3. 'Saans' – JTHJ
With A.R. Rahman, Gulzar and Chopra working on the soundtrack you cannot expect anything regular. It's a different kind of song, not your regular Yash Chopra love songs like a 'Tujhe Dekha To Yeh Jaana Sanam' or 'Dholna'. But 'Saans' is definitely Yash Chopra for you. While the song itself has a somewhat haunted feeling to it, the video makes love come alive.
Directed by Vaibhavi Merchant, the song basically captures the sweet moments between two people madly in love with each other. The scene in the phone booth, the short meeting outside the restaurant and, of course, the dancing in an apartment.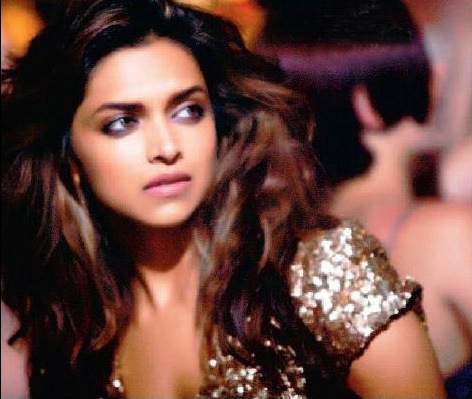 2. 'Tera Naam Japdi Phiran' – Cocktail
Cocktail was a young film with a young mind. This could also be heard in the music. One of the best songs on the album is 'Tera Naam Japdi Phiran' and as soon as you hear the song you want to go clubbing. Deepika shines throughout in this song, which comes at a point in the story where her character totally loses it.
It's not easy to portray the correct feel of a club and making the audience feel that you are present there, but that is exactly what this song achieved to do. Bollywood isn't really known for the picturization of these scenes, but with 'Tera Naam Japdi Phiran', we can't wait for more.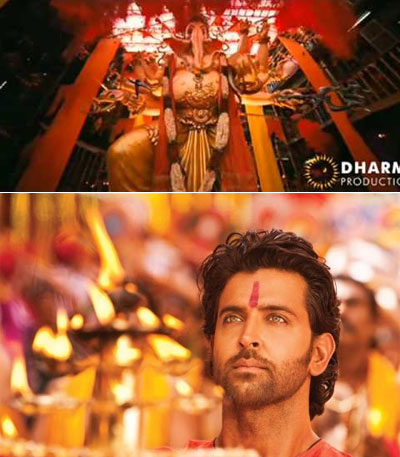 1. 'Deva Shree Ganesha' – Agneepath
Of course our number one of picturazations is 'Deva Shree Ganesha', an aarti song praising Lord Ganesha. The way Ganesh Chaturthi has been shown in his video is extravagant, so one can feel the typical Ganesha Pooja where all devotees gather together to worship the deity. A huge statue of Lord Ganesha gives an indication of the grandeur of the song when it opens. If you have never celebrated Ganesha Chathurti, you get a larger-than-life experience on how much this day means to the people.
Then there is this beautiful large jib-shot where you can see all the devotees with the aarti held up high in the same way when singing 'Deva Shree Ganesha'. If you have noticed the makers have used the color red beautifully.
But the song is not only an aarti song, it is also marks a huge dramatic turning point in the film. This is the song where Hrithik Roshan reveals his full name (Vijay Dinanath Chauhan) for the first time to his enemy.
This is one of the songs that will definitely go in history as one of the most beautifully picturized songs ever.
Special mentions: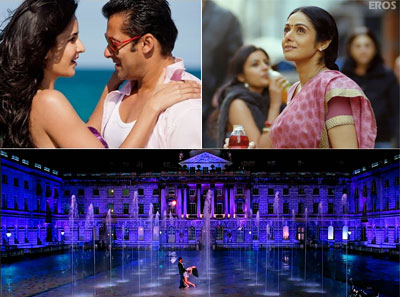 There were two songs that beautifully captured the places where those films were shot. One of them is 'Laapata' (shot in Cuba) from Ek Tha Tiger and the other one is 'Manhattan' from English Vinglish.
Both songs are picturized in a very unique eye catching way that makes you want to stop working and book your vacation immediately.
And last but not least a really special mention goes out to the picturization that stole our heart: 'Jab Tak Hai Jaan'. Even though the makers had something else in mind, as it was supposed to be the typical Yash Chopra song shot in Switzerland with Katrina Kaif wearing a chiffon sari. After Yashji passed away this couldn't have been a more fitting tribute to the King of Romance.
The song came with the end titles and showed images of Yashji while he was directing his last film. A video that made a lot of people tear up and cry in the theatre.
We will always miss you!