In a year that boasted some huge family friendly blockbusters and multiple films from some of the biggest stars, it was pretty easy for smaller films with tiny budgets, no big name stars or controversial subjects to fly a little under the radar. Here are ten of the best films that may have been appreciated by the critics, but failed to catch fire at the box office.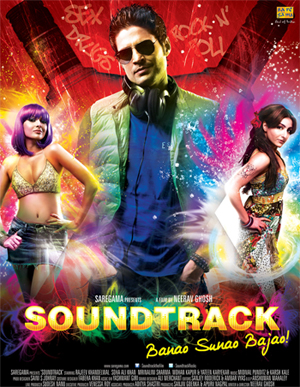 10. Soundtrack
Based on British "mockumentary" It's All Gone Pete Tong, Soundtrack takes a premise that was a source of humour in the original film – a superstar DJ going deaf – and turns it into a touching, surprisingly subtly handled story of a man overcoming his demons and his disability. With a fantastic soundtrack (naturally!), as well as some inventive storytelling, Soundtrack has sex, drugs and rock'n'roll covered, as well as a compelling performance in the lead role from Rajeev Khandelwal.
9. Mujhse Fraaandship Karoge
The second film to come from YRF's youth arm Y-Films, MFK takes just about everyone who sees it by surprise, because it's so good! Who would have thought that casting four unknowns in the lead roles, with no big stars or items as security, could work?
Trust me (and everyone who has seen the film): it works. A truly modern youth romance, reflecting love in the age of social networking, MFK is pure popcorn entertainment, with a soundtrack full of catchy, addictive songs, and a cast of likeable, talented leads: Tara D'Souza, Nishant Dahiya, Saba Azad and Saqib Saleem.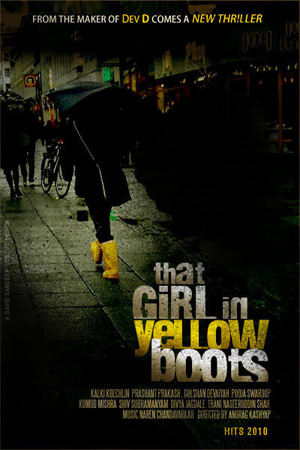 8. That Girl In Yellow Boots
Dark, disturbing, deeply unsettling to say the least, That Girl In Yellow Boots isn't exactly a film you enjoy so much as one you experience. Jointly written by director Anurag Kashyap and star Kalki Koechlin, the film is loosely about a British girl, Ruth, who is illegally overstaying on her visa in India, working at a massage parlour, so she can search for her Indian father. Being a Kashyap project, it's not a surprise that the film approaches some taboo and confronting material. The unsettling beauty of the film is how deeply Koechlin inhabits her character – and that's what this film is really all about: the characters surrounding Ruth in her tawdry, broken world.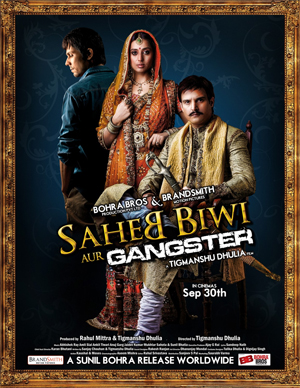 7. Saheb Biwi aur Gangster
An updated take on the classic Sahib Bibi aur Ghulam, Saheb Biwi aur Gangster is anything but a run-of-the-mill remake. Director Tigmanshu Dhulia tweaks the original scenario: the tale of a proud and decadent Saheb, his lonely, neglected wife, and the servant who grows close to her, and creates a whole new beast: a love triangle, struggles for class and power, set among the remains of a decaying mansion. Atmospheric and brooding, peppered with twists and featuring knockout performances from Jimmy Shergill, Mahie Gill and Randeep Hooda, the film was a breath of fresh air that incredibly went largely under the radar.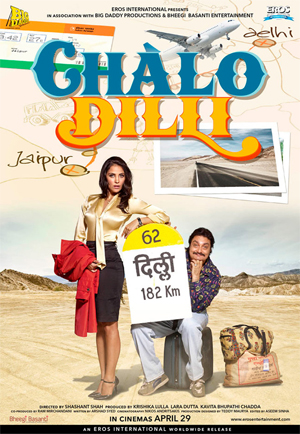 6. Chalo Dilli
Chalo Dilli is all about an unexpected road trip. Stressed-out, no-nonsense business woman Mihika (Lara Dutta) is on a business trip in Mumbai, and misses her flight back to Delhi. Various hurdles pop up, until her only option to get back home is to accept a ride with Manu Gupta (Vinay Pathak), an uncouth, salt of the earth truck driver who is Mihika's opposite in every possible way.
It sounds simple – and that's what is so great about it. No bells or whistles, no tragic special effects: this film is all about the characters and the sweet message at its heart "Don't judge a person before you know them". In a year full of blockbusters, Chalo Dilli may have gone quietly unnoticed but it deserves to be seen, just because sometimes, simple is great.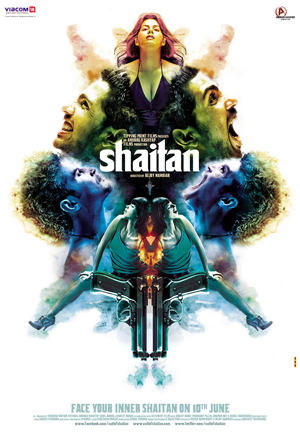 5. Shaitan
Shaitan had the tough luck of going up against Ready at the box office, and still managed to score decent audiences based on the fab word of mouth. Hailed as evidence of the "coming of age" of Hindi cinema, Shaitan is an intense plunge into the dark side of today's youth culture. It's not just the subject matter – sex, drugs, deception – that make this a must watch, it's the technical excellence of how the whole thing is put together by director Bejoy Nambiar. With 7 relative newcomers making up the fantastically talented ensemble cast (including Kalki Koechlin in her 2nd role) Shaitan is all about youthful energy…albeit on a downward spiral.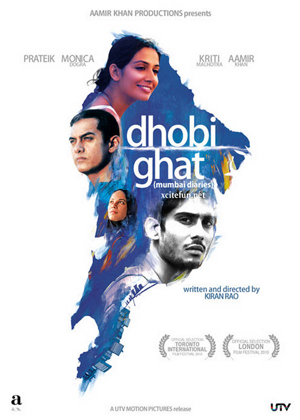 4. Dhobi Ghat (Mumbai Diaries)
Aamir Khan fans bought tickets to Dhobi Ghat expecting a conventional "Bollywood" Aamir Khan vehicle, only to discover that the film, the directorial debut of Khan's wife Kiran Rao, defied Bollywood conventions. The film seemed to split the audience and the critics right down the middle: some love it, some don't get it – a fact that was reflected at the box office.
Obviously we're in favour of the meandering, melancholy tone poem to Mumbai that Rao has woven, a tale of four individuals inhabiting the city, the coincidences that weave their paths together and the deep yearning that pulls them to and from each other. If you don't need car chases and action sequences to keep your attention, try this curiously affecting, sorrowful, hopeful, beautiful film.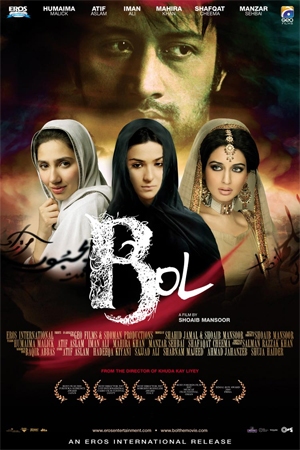 3. Bol
Bol broke box office records in Pakistan; in India it suffered a similar fate to Shaitan – released against Bodyguard, Bol struggled to compete. Bol brings the question of women's rights to the forefront, with a story of a Pakistani woman on death row (Humaima Malik) pleading to tell the tale of how she got there before she is executed. Though not a perfect film, it's a powerful one, ultimately raising some issues rarely talked about in mainstream cinema – ranging from homophobia, gender discrimination, domestic abuse, poverty and the problems of religious orthodoxy.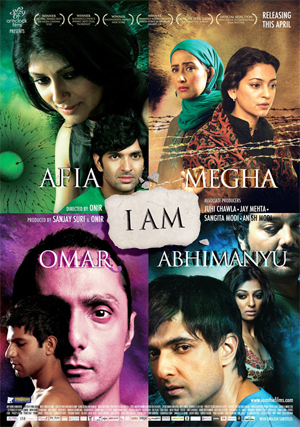 2. I Am
Remember when kissing was a huge taboo in Bollywood? Luckily, it's not such a big deal now, but there are several subjects that remain off limits for most filmmakers. One of the directors not afraid to tackle the taboo subjects is Onir. I Am is comprised of four loosely connected short films tackling four contemporary social issues: homosexuality, child abuse, single motherhood and the displacement of Kashmiri evacuees. Even though each segment only gets 30 or so minutes, the wonder of the film is the complexity and sensitivity afforded to each story, as well as the skilled stellar cast who participated: Rahul Bose, Juhi Chawla, Nandita Das, Anurag Kashyap, and Purab Kohli. Made on a shoestring budget raised from fans (who were made into co-producers) who responded to calls put out on Facebook, I Am is a deeply touching and important piece of cinema, a labour of love that not only deserves but NEEDS to be seen.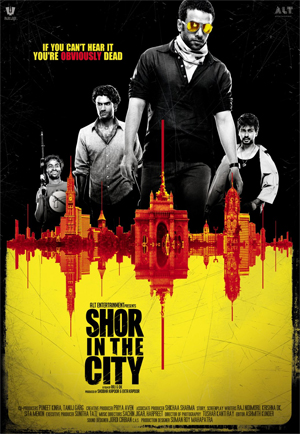 1. Shor In The City
Like Dhobi Ghat, Shor in the City is about Mumbai, and tells the story of the city by weaving multiple narratives around the inhabitants during the chaotic Ganesha Chaturthi festival.
There's Abhay (Sendhil Ramamurthy), a recently returned NRI who expects his return to Mumbai to set up a small business to be something of a homecoming. Instead he finds himself prone to escalating extortion threats. There's Sawan (Sundeep Kishan), a wannabe cricketer who discovers that to be selected as a Mumbai under-22 rep, he'll need to pay a bribe he can't afford. And there's Tilak (Tusshar Kapoor), a small-time criminal and publisher of pirated books who is slowly realising he can be a better person.
If you haven't seen Shor yet, then you need to: it's a revelation. Full throttle, chaotic cacophonous energy from the get-go, the comedic collides with the horrific, the touching with the sinister, characters' free will gets all tangled up with seemingly unavoidable fate, and technically it cannot be faulted. Tusshar Kapoor proved to the world he could act rings around anybody, even up against the likes of Pitobash Tripathy and Nikhil Dwivedi; while directing team Raj Nidimoru and Krishna DK show that they're a force to be reckoned with.