2011 saw its fair share of anticipation and over-hype, as with every other year. However, it seems this was the year that the directors, in particular, got to deliver stories and characters which were far from the norm of typical Indian cinema. The audiences, in turn, were able to see a some hugely entertaining and 'out of the box' films in what could be branded as one of the most ground-breaking years yet. Although many of us are looking forward to such films in the coming year, let's revisit the director's visions of the year as we take a look at the best of the best of 2011…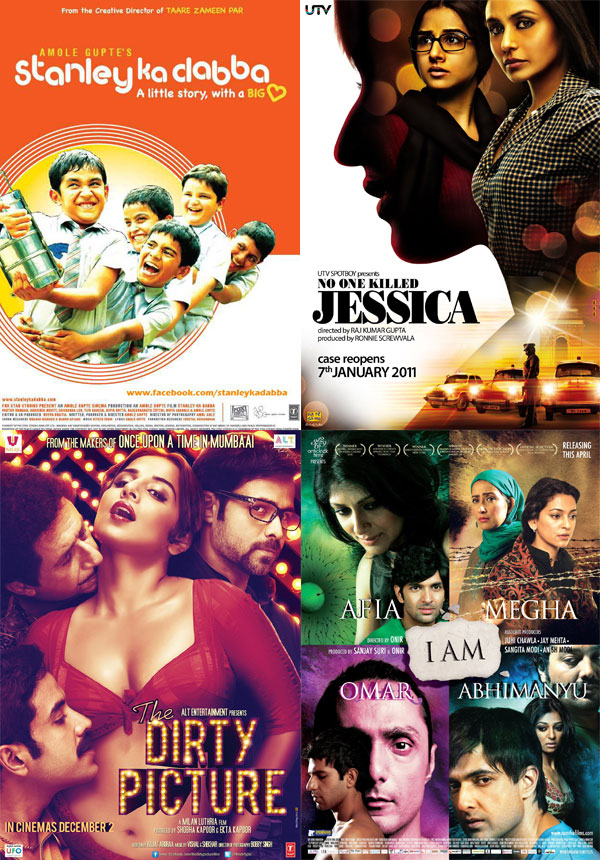 Stanley Ka Dabba's appeal is described quite fittingly in its tagline, 'A little story, with a big heart'. A story centred on a school and the lunch habits of it's pupils and teacher's, it's safe to say that the film's most memorable part was it's carefully etched characters and the attention to detail given within their personalities. Amol Gupte, who adorned many hats for the movie (writer, producer, director), has quite simply outdone himself with this "little" story.
A film that came at the start of the year and gave way to the year's awesome offerings was No One Killed Jessica. Starring Vidya Balan and Rani Mukerjee, this movie was based on a true story and was directed by Raj Kumar Gupta. It has to be said that this movie makes our list purely for the way the story was portrayed. Gupta's vision did wonders for what was a heartrending and history-making story. His portrayal of it not only did justice to the various intricacies of the plot but also to the effect it had on society. It could have proved to be difficult relaying a story which was so close to so many people's hearts but Gupta managed it perfectly.
Another director that undoubtedly makes our list is Milan Luthria for his movie, The Dirty Picture. What is immediately apparent is how Luthria had the story, the subject and the characters so carefully etched in his mind. One can focus on the dialogues, the sensuality of Vidya Balan's character Silk Smitha, or the 80s treatment throughout and in each and every aspect, Luthria should get full marks for what is a stark contrast to his delivery of Once Upon a Time in Mumbai.
Perhaps the most out-of-the-box in our list is I Am directed by the hugely talented Onir. A movie that sees four interlinking stories comes together and a movie for which funds came from donations and crowd-sourcing, I Am almost instantly becomes a pick of the bunch. Onir's representation of somewhat taboo subjects has to be given a special mention as does the way he is unapologetic about the depiction. Tackling topics such as sexual abuse and homosexuality, Onir is perhaps the boldest director of our best list because he doesn't' shy away from what others might deem as controversial or too sensitive.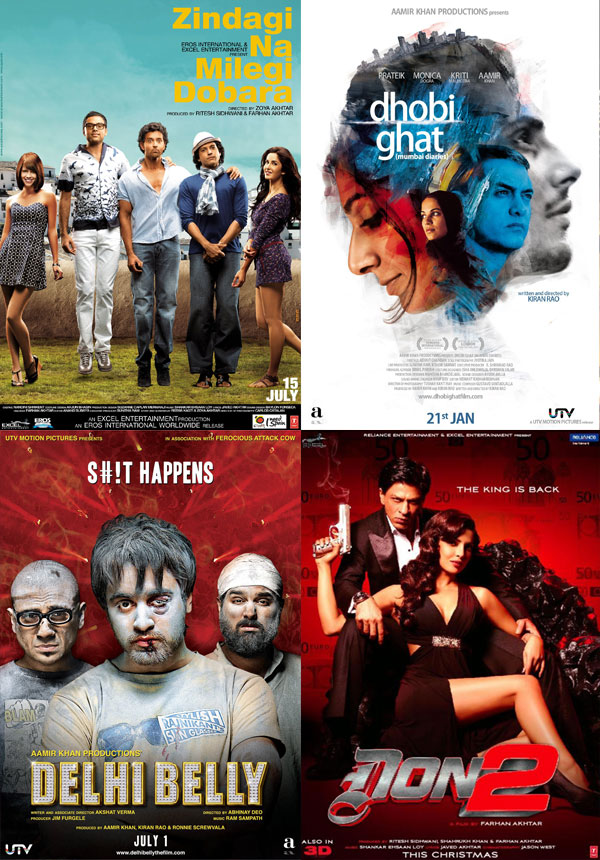 The heavily anticipated Zindagi Na Milegi Dobara was a winner on paper and when released, it won on many different levels. Zoya Akhtar, having made a very colourful directorial debut with Luck By Chance, continued in a bigger and better fashion with ZNMD. Her visualization of three men on a stag holiday which turns out to be life-changing for them all is filled with comedy, emotion and love. It is hard to pinpoint  where Akhtar falls short and it's equally as difficult to suggest what could have made the treatment of ZNMD any different to make is a bigger success. Hats off to the Akhtar clan!
In her directorial debut, Kiran Rao delivers a movie which doesn't boast a obviously complicated plot and neither does she seek to give the audiences that promise. Dhobi Ghat's main appeal lies in the way Mumbai is brought to our screens minus the razzmatazz. Instead what one gets is a raw, rugged and subtle set of visuals and characters that intermingle in the most unassuming way. The experience of Dhobi Ghat remains after you've seen the film, and, in our books, there is no other definition of a fine director in the making.
Aamir Khan produced Delhi Belly was sure to make a mark from the offset but, as with many other films, the director took the mark to an unthinkable level. Abhinay Deo is another director of this list who brings the word "taboo" to mind. The dialogues all in English, the characters all foul-mouthed and the story almost calling out for atmospheric comedy; Deo ticked all those boxes and more. The word 'innovative' would also be perfect for Deo what with his modern outlook and grunge-inspired scenes.
Our list would be incomplete without the dhamakedaar directorial return of the multi-talented Farhan Akhtar with Don 2. A movie which is perhaps one of the most waited for for 2011, Don 2 was all set to take the Don franchise that extra step further. Akhtar doesn't shy away from the freshness and excitement of the newness of the plot and neither does he bring in characters or crowd-pleasing music to have an impact on the masses. Akhtar's purposely fast-moving plot keeps one intrigued and the finely executed scenes are definitely worth a mention.
In a year that has been so successful for new kinds of cinema, our attempt was to give you a ranking of the best of the best in directors. However, as we hope you will be able to judge by the list, there is no way one director is better than another. This linear style had to be adopted because of the various genres Bollywood has given way to in the year and we only hope the next year continues in this fashion.