Munni and Sheila can claim credit for recently bringing item songs out of oblivion in Bollywood films as Malaika Arora Khan and Katrina Kaif set records in 2010. Continuing the trend, 2011 also had its fair share of hot item numbers. From situational songs to promotional videos, various celebrities set the screens ablaze with their matkas and jhatkas to create some truly memorable item numbers. So, who were our top 5 item stars of 2011?
5. Zarine Khan – "Character Dheela" (Ready)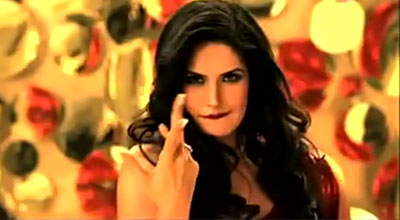 Our favorite Katrina clone, Zarine Khan, proved herself to be an apt item girl with the smash hit "Character Dheela." Even with Salman Khan's presence in the song, Zarine does not allow herself to be overpowered and remains sultry, yet cute, throughout the number. Our favorite part of the song? The countless costumes from various time periods—and how gorgeous Zarine looked in them!
4. Aamir Khan – "I Hate You (Like I Love You)" (Delhi Belly)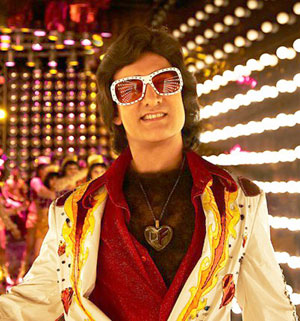 In 2007, Shahrukh Khan showed us that item songs are not only for the ladies, with "Dard-e-Disco." Four years later, that statement rings true as item boys are becoming just as popular as item girls. Aamir Khan's appearance in "I Hate You (Like I Love You)" from the bold film Delhi Belly earns him the fourth spot in our countdown. It's a bit of an odd song, but we see that the peculiarity of it is the best part. Aamir appears in a laughable disco dancer costume and parades around the screen in the goofiest manner. Even though he shows us that great item songs don't always have to be super sexy, we just loved seeing him "shake that biscuit, baby!"
3. Ranbir Kapoor – "Tai Tai Phiss" (Chillar Party)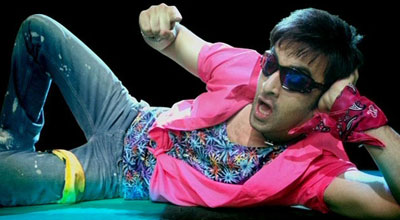 Clearly, we weren't kidding when we said that item boys are becoming just as prominent as item girls. Ranbir Kapoor's item song in Chillar Party was definitely one for the books. The song itself is catchy, upbeat, and danceable—key ingredients for a successful item song. However, Ranbir is the ultimate highlight of the song. Not only is he a skilled dancer in this song, but his facial expressions are to die for. He wasn't afraid to look almost idiotic and it worked perfectly. The wacky dance moves combined with Ranbir's hilarious expressions made us all want to hit that replay button as "Tai Tai Phiss" was one of the most enjoyable songs of the year. The children of Chillar Party may not have been so impressed, but we sure were.
2. Deepika Padukone – "Mit Jaaye Gham" (Dum Maaro Dum)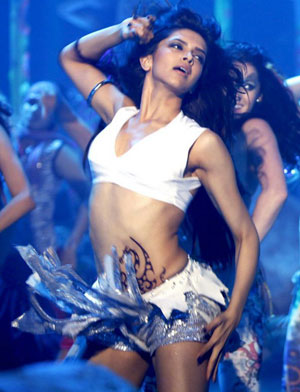 The lyrics of this rather bold song may have caused some controversy, but there's no denying that Deepika shined in "Mit Jaaye Gham." Deepika lets out her bad girl persona and it works brilliantly. While some may argue that this song does not do justice to its original, Deepika executes the revamped style effortlessly. She looks gorgeous and toned, and the choreography suits her well. Her wicked facial expressions are also something we've never seen from Deepika in the past. As our runner up for item star of the year, we hope to see more of Deepika in the item song realm in the coming years.
1. Mallika Sherawat – "Razia" (Thank You) and "Jalebi Bai" (Double Dhamaal)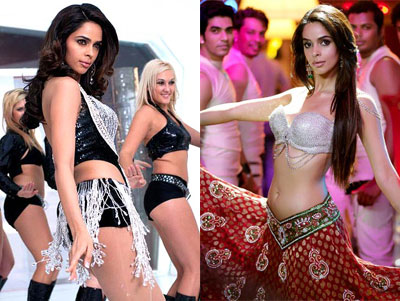 Even through the failed "Shalu Ke Thumkey" from Bin Bulaaye Baraati, Mallika Sherawat is our pick as item star of 2011. With a total of three item numbers in only one year, Mallika shows us exactly why she's Bollywood's reigning item queen. "Razia" from Thank You is a cute, catchy song. Mallika looks gorgeous as usual and meshes well with Akshay Kumar as the pair deliver a hit song. The strongest of Mallika's item songs was definitely "Jalebi Bai" from Double Dhamaal. With stellar choreography, sexy costumes, and fun lyrics, "Jalebi Bai" became one of the biggest songs of the year with Mallika's help—and dancing skills. In a more westernized "Razia" and a more Desi-flavored "Jalebi Bai" Mallika Sherawat is a woman of all trades when it comes to item songs. And she deservingly wins our top spot for item star of the year.
Honorable Mentions
Looking back at 2011, there were more item songs than we initially realized, so narrowing down our list to only five was a difficult task. Here are a few more stars that deserve an honorable mention for their item song efforts.
Shahrukh Khan – "Antenna" (Always Kabhi Kabhi)


Yes, the song is pretty ridiculous. But it was also pretty much the only reason we wanted to see Always Kabhi Kabhi. And even that was because of one man – Shahrukh Khan. Shahrukh pushes through the corny lyrics of this song and delivers a great performance. The fact that he looks amazing (as usual) also helps his case.
Vidya Balan – "Ooh La La" (The Dirty Picture)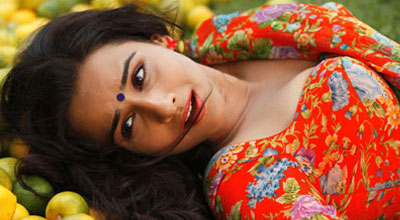 It's a bit debatable whether this would be considered a "true" item number, but Vidya's performance in the song is so enjoyable that it deserves at least a mention. Vidya proves that you don't have to be a size zero to be truly appealing in this fun and colorful song.
Akshay Kumar – "Shera Di Kaum" (Breakaway/Speedy Singhs)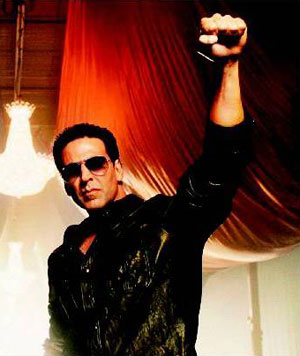 Akshay Kumar's item song in his home production was much talked about this year. A collaboration between both RDB and Ludacris, the song itself was a hit with audiences and the video wasn't any less stellar. Akshay's appearance in the song is simply powerful and had us begging for more.