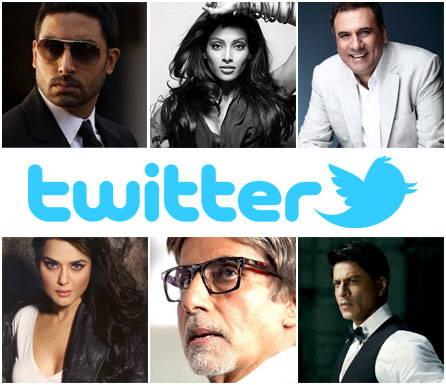 Once again, the Bollywood Twittersphere has been abuzz as it has been the primary medium for breaking news in 2011. Some of the headlining stories have been the birth of "Beti B" to Abhishek Bachchan and Aishwarya Rai-Bachchan and the passing of two Bollywood's veteran actors, Shammi Kapoor and very recently, Dev Anand.
So let's take a look at who has made this years Bollyspice Top Bollywood Tweeters for 2011.
Anupam Kher @AnupamPkher
Typically known for his comedic roles on screen, Anupam Kher takes his followers on his travels around the world. Always tweeting with a smiley face, Kher is one of the more positive tweeters and encourages a healthy outlook on life. He has a good interaction with his followers and often wears his heart on his sleeve. In between his travels, he also finds time to write regular columns and has recently released his first book, "The Best Thing About You is You".
"It doesn't hurt to be optimistic. You can always cry later.:)"
"Want to THANK those very 'few' People who send me horrible and malicious tweets. It shows they love me enough to not like me.:)"
Bipasha Basu @bipsluvurself
This bombshell beauty's tweets are mostly about health, fitness, fashion and beauty. She tries her best to promote a healthy lifestyle and offers her own useful tips to her followers. Basu tweets fondly to and about her co-stars and replies to her fans when she is able to.
"Guys go slow on d sweets!If u eat its fine,dont overeat!Get bck 2 exercising post Diwali!Same goes fr me as I hve a crazy sweet tooth!"
"My secret is tht I ACTUALLY EAT N WORK OUT!N most importantly, I am a HAPPY GIRL who loves to live:)"
Boman Irani @bomanirani
This Bollywood tweeter is someone most people would want to have at their dinner party. His tweets are entertaining, sharp and witty and often include glimpes into his family life. The recent milestone in Irani's personal life was his son's wedding. During this auspicious occasion, he kept his followers up to date about the event, including who was on the celebrity guestlist! Many followers, even industry film folk eagerly partake in his "Chai Garam Chai" film quizzes.
"The wedding euphoria has settled. Sitting back and reflecting on it all and yes, sitting and having chai with my twitter friends!"
Preity Zinta @realpreityzinta
Zinta's personality is reflected strongly in her tweets and comes across as vibrant and loveable. She often starts discussions on various lifestyle topics which many respond to. The actress often retweets (RT) many of her replies and shares what her followers have to say.
"Goodnight my wonderful n crazy Twitterati ! Thanx 4 a happy n entertaining sunday ! Was nice 2 chat & laugh all day. Sweet dreams 🙂 Muaah!"
Shah Rukh Khan @iamsrk
Keeping his spot on our Top Bollywood Tweeters, Shah Rukh Khan continues to prove that he still holds the title of King Khan. Whether he is jetting off to London or rubbing shoulders with Lady Gaga, SRK is as witty and endearing as he has been since joining the Bollywood Twitterati. What probably wins many people's hearts is his open affection for his family.
"The pleasure of seeing my lil ones…studying…sporting…smiling…makes me overcome all the business of life…just the hugs matter."
Rahul Khanna @R_Khanna
While this suave actor has not been very active on Twitter this year, we do, however, feel that he is worth a mention. His witty and clever tweets are the kind that either make you grin or tilt your head to the side and go, "Hmmmm!"
"Hosting the global launch of the new Johnnie Walker Blue Label bottle in Delhi, tonight. My Scotch drinking uncles have never been prouder."
Priyanka Chopra @PriyankaChopra
Affectionately known as "Piggy Chops", this busy actress still finds the time to interact with her many followers. When she has a free moment between shoots, she also replies individual tweets. Tweeting from different locations, this actress loves her music and is also known to throw questions about various topics to her fans – who respond enthusiastically.
"Music dance and other 'items' are on the cards…can't say more…except it's sooooper exciting!"
Sonam Kapoor @sonamakapoor
If there's one Bollywood tweeter who is not afraid to express her emotions openly, it is none other than Sonam Kapoor. This actress uses Twitter as a medium to vent and let's all her frustrations known. At times, she responds to some tweets – even the negative ones!
"Its impossible to live in mumbai. I hate it."
Amitabh Bachchan @SrBachchan
Eloquent tweets from this actor keeps Amitabh Bachchan on our Top Ten list. Always on point about current affairs, he is evidently a family man. He tweets about his family, latest film shoots and continues retweeting particular tweets about important issues.
"T 577 -Going now to spend time with ultimate innocence in human – my two week old granddaughter !!"
Abhishek Bachchan @JuniorBachchan
Arguably the Mr Cool of The Bollywood Twitterati, Abhishek Bachchan tweets as if he is chatting to his buddies. Whether he's supporting his favourite football team, listening to music, or more recently talking about the new love of his life – Beti B, Abhishek certainly comes across as warm, friendly and humourous.
"Brought the girls home today.I hope beti B realizes the joy she has brought with her. The house is bursting with pink and proud grandparents"