In 2014, the total amount earned by just the top 5 films in India netted ₹ 1940 Crore! Quite an impressive number! We thought we would give you a look into those top 5! Bear in mind that this countdown is based on pure fact and figures and what films the audience came out in droves to see! You may have liked some of the films and some of them you may have not – but come what may, these are your top five grossers for 2014.
5. Singham Returns
Starring – Ajay Devgan, Kareena Kapoor Khan, Amol Gupte, Anupam Kher, Dayananad Shetty, Sameer Dharamadhikari, Ashwini Kalsekar, Sharat Saxena, Zakir Hussain, Mahesh Manjrekar
Director – Rohit Shetty
Producer – Rohit Shetty, Ajay Devgan
Music – Jeet Gannguli, Ankit Tiwari, Meet Bros Anjjan, Yo Yo Honey Singh
Release Date – August 15th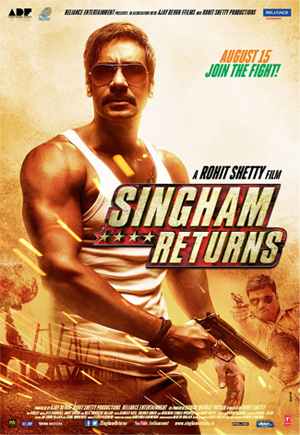 The sequel to the 2011 film Singham, actor Ajay Devgan reprises his role as Bajirao Singham with Kareena Kapoor Khan playing the female lead. This follow up sees Bajirao Singham transferred to Mumbai where he discovers that one of his team members (Mahesh) is found dead with large bags of money. Bajirao decides to unearth the truth behind it and in this process, he collides with a powerful BabaJi, Gurukant Acharya (Amole Gupte) who has high profile connections with politicians.
Earning 100 Crores in 5 days, Singham Returns was one of 2014's most awaited films. Though Singham was inspired by the South version, this film was not a remake. In fact, the South was so impressed with the plotline of this film that they have purchased the rights and plan on remaking the Hindi version as Singham 3.
Singham Returns received mixed reviews from the critics. Taran Adarsh reviewed for Bollywood Hungama and gave the film 4 out of 5 saying, "On the whole, Singham Returns is a complete mass entertainer with power-packed drama, hi-intensity dialogue and towering performances as its aces. The brand value attached to it coupled with a long weekend will help the film reap a harvest and rule the box-office in days to come. A sure-shot WINNER!"
Githa Vanan reviewed the film for BollySpice and gave the film 2 out of 5. Unimpressed with the film, she commented, "You can blow up a million sumos, picturize every fighting scene with real lions and scream 'Now I've lost it' in every language you can muster. At the end of Independence Day, its Bajirao Singham action that will do the Koli dance to the box office tune. Not the critics."
Now for the math – Singham Returns day one collections were ₹ 30.43 Crores Net with total collections for the first weekend reaching ₹ 74.08 Crore (Trade Figure). Following its first week collections dropped nearly 80% and eventually had a 17 day run where it performed exceptionally well in Maharashtra and Gujarat areas.
Eventually making the ₹ 200 crore club, Singham Returns' final figures for its 17 day run were ₹ 205 crore, making this release the 5th highest grossing film of 2014.
4. Bang Bang!
Starring – Hrithik Roshan, Katrina Kaif, Danny Denzongpa, Javed Jaffrey, Jimmy Shergill
Director – Siddharth Anand
Producer – Fox Star Studio
Music – Songs – Vishal and Shekhar, Background Score – Salim and Sulaiman
Release Date – October 2nd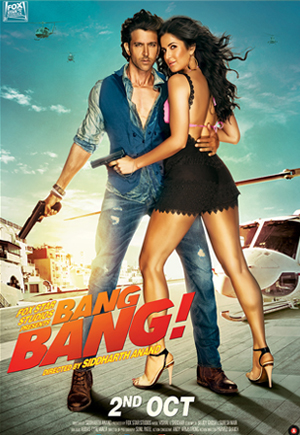 Directed by Siddharth Anand and produced by Fox Star Studios, Bang Bang is an official remake of the Hollywood film Knight and Day which featurs Hrithik Roshan and Katrina Kaif in the lead roles performed by Tom Cruise and Cameron Diaz respectively in the original. The film was originally offered to Shahid Kapoor, but he opted out to avoid comparisons to Cruise. Roshan was confirmed as the lead in 2012 with Kaif confirmed as the female lead soon afterwards. Siddharth Anand, the director, has indicated that there may be a possibility for a sequel, however when this will go to floor has not been confirmed.
Bang Bang received mixed reviews from the critics.
Raja Sen for Rediff reviewed the film and wasn't very complimentary, saying, "Besides the consistently cringe-worthy dialogue, all Bang Bang holds are stunts. He gets into big-budget fixes, sure, with cars and buses and seaplanes, but unlike in the original, where Cruise would actually do something ingenuous to get out of a jam, here conveniently timed coincidences do the job for him. As a result, the stakes never seem significant. This is a stupid, stupid film trying to be slick, a B-grade film made on an A-list budget."
Prathna Tiwari reviewed for BollySpice, and gave the film two out of five saying, "Bang Bang is a string of scenes as unexplainable as the one before it. From the get go you're confused and even once the film concludes you're not quite sure what happened in that final hospital scene. Did he just quit his job, did they betray him or is he just taking a hiatus? By that time your brain is numb and your care factor is zero. I wouldn't call Bang Bang unwatchable but it sure as hell comes pretty close."
Made on a budget of ₹ 140 crore, Bang Bang performed better in the metros than the mass centres – with its opening day collections giving Hrithik Roshan his highest opening day and Katrina her third highest opening day collections. Bang Bang eventually ran for 21 days, taking a fall in collections in its third week, however it did make the entire team ₹ 340 crore.
Ladies and gents our fourth top grossing film… Bang Bang!
3. Kick
Starring – Salman Khan, Jacqueline Fernandez, Randeep Hooda, Nawazuddin Siddiqui
Director – Sajid Nadiadwala
Producer –Sajid Nadiadwala
Music – Himesh Reshammiya, Meet Bros Anjjan, Yo Yo Honey Singh, Julius Packiam
Release Date – July 25th
The story of Kick revolves around a train journey in Warsaw, where psychiatrist Shaina (Jacqueline Fernandez) meets Himanshu (Randeep Hooda), who is a police officer from India, to discuss their prospective marriage. Both, though reluctant to enter into an arranged marriage, become friends. During the trip, the two strike a deep conversation where Shaina reveals her previous relationship with the unconventional Devi (Salman Khan), a man who lived only for his 'Kick' or an adrenaline rush. Despite his unconventional behaviour they embark on a whirlwind romance, until one day he breaks up with her for a new 'Kick' and walks away never to return.
Sarita Tanwar of DNA gave the movie 4 out of 5 and said, "Once you look past the minor hiccups, he delivers a knockout punch. The scale and grandeur of the film is on par with the Dhoom series. The action scenes are brilliantly choreographed. The soul of Kick is Salman Khan – it's like a one man show. He towers above everything else with his persona, style and attitude. Kick is non-stop entertainment and Salman Khan at his best. Don't miss it."
Shalu Dhyani, on the other hand, reviewed for BollySpice and mentioned, "So another Eid, another Robin Hood story. This one may be another blockbuster too. After all, who needs substance when style sells so well. However, a little more respect for your audience won't hurt, would it Bhai?" She awarded the film 1.5 out of 5.
Reviews aside, Kick opened to strong box office collections. On its opening day, Kick earned around ₹ 260 million, making it the second highest non-holiday opening grosser behind Dhoom 3. The film had similar collections on its second day, at around ₹ 260 million and on the first Sunday The collections saw a jump as it went to ₹ 290 million taking its weekend total to ₹ 810 million. On its first Monday, the film went on to make around ₹ 140 million and on Tuesday the film showed a big increase due to Eid, and collected a record total amounting to approximately ₹ 260 million. Kick's ten-day domestic total was ₹ 1.87 billion net. With this, it also became Salman Khan's highest grosser in India, beating Ek Tha Tiger. Kick took its business in two weeks to ₹ 480 million and in week four, taking the final domestic net to ₹ 2.15 billion
Overseas the earnings were ₹ 24.05 crore in the first four days where the US theaters, made ₹ 4.99 crore from 141 screens, Canada made ₹1.17 crore from 22 screens and the film ran on 137 screens in the UK-Ireland region, where it fetched ₹ 2.44 crore. Final takings were eventually ₹ 377 crore kicking this 2014 offering into third place.
2. Happy New Year
Starring – Shah Rukh Khan, Abhishek Bachchan, Deepika Padukone, Boman Irani, Sonu Sood, Vivaan Shah, Jackie Shroff
Director – Farah Khan
Producer – Gauri Khan
Music –  Vishal and Shekhar
Release Date – October 24th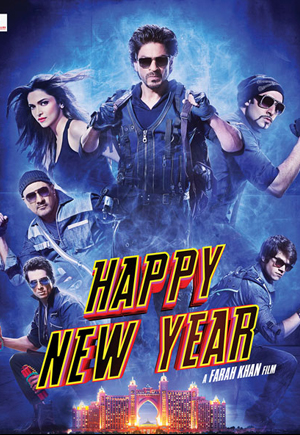 A storyline which sees a team of losers attempt to pull off mass revenge against a past traitor; required to win a dance competition as part of the plan, they get entangled with the presence of a somewhat unintelligent local dance performer who cannot learn the backstory of the betrayal.
Happy New Year opened to mixed to negative reviews. Shalu Dhyani, reviewing for BollySpice, gave the film 3.5 out of five stars and said, "All said and done, Tees Maar Khan can now be forgiven as one-off mistake. Farah Khan is back with a bang! If her earlier films haven't appealed to you, stay away. If they have, go have a rollicking time this festive season."
Raja Sen from Rediff said, "It's all about Indiawaale, and while Sonu Sood stays consistent and Deepika inevitably dazzles, it is Shah Rukh himself who appears the most out of place — in a movie made to rest on his shoulders. Perhaps they piled too much onto him; perhaps the decades of raising those arms into that iconic pose have taken their toll… Either way, Happy New Year never gets to soar."
Despite the reviews, Happy New Year had a strong opening across India on its first day, reaching ₹ 450 million, making it the first Bollywood film to reach the figure for a single day. The film witnessed a drop on Saturday when it earned ₹ 285 million net and collections on Sunday were in the same range, taking the opening weekend to a record ₹ 1.08 million net. The film grossed around ₹ 1.75 billion in its first weekend worldwide.
Happy New Year went on to run for 5 weeks and at the end of its run made over ₹ 1.78 billion net.
Reports are already abound for a Happy New Year 2, with Shah Rukh Khan and Abhishek Bachchan talking about the possibilities of a sequel, but for the time being it is the Happy New Year team that is sitting pretty at number 2 in this year's chart.
1. P.K.
Starring – Aamir Khan, Anushka Shama, Sushant Singh Rajput, Boman Irani, Saurabh Shukla, Sanjay Dutt
Director – Raj Kumar Hirani
Producer – Vidhu Vinod Chopra
Music – Shantanu Moitra, Ajay Atul, Ankit Tiwari
Release Date – December 19th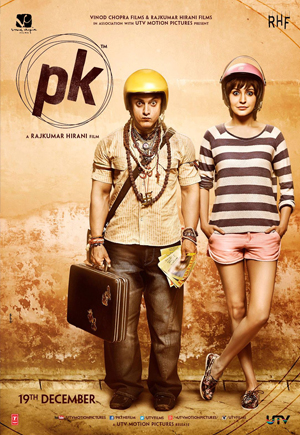 P.K. is a comedy of ideas about a stranger in the city, who asks innocent questions that no one has asked before, but bring about calamitous answers. People who are set in their ways for generations, are forced to reappraise their world when they see it from PK's innocent eyes. In the process PK makes loyal friends and powerful foes, mends broken lives and angers the establishment.
P.K. was the 200th film to release in the Hindi film industry in 2014, releasing in 6000 screens worldwide to mixed and largely positive reviews from the critics. Raja Sen reviewed the film for Rediff and gave the film 4 out of 5, saying "PK is no satire — it's a bit too toothless for that — but it is a rollicking mainstream entertainer with ambition to evoke some introspection, one with compelling moments and some genuine surprises. Including a humdinger of a last scene. Make one more, Mr Hirani, make a sequel and take us to the planet of the naked. (We promise not to stare that hard)."
Shalu Dhyani reviewed for BollySpice, stating the film was, "not a bad film at all. In fact it is a good film. However 'good' is not what one expects from Rajkumar Hirani. When one walks into a cinema hall expecting brilliance and gets only good, there is bound to be disappointment. However, there is no denying that Hirani's weakest film is still better than 95 percent of the films released this year. Don't miss it but do keep your expectations low."
And now the figures. P.K. earned ₹ 260 million net on its opening day. The film showed growth on its second day, earning ₹ 290 million net. On its third day, the film brought in ₹ 370 million net, one of the highest single day collections ever, taking its weekend to ₹ 925 million net, again among the highest ever. P.K. had the highest collections for a Hindi film on its first Monday, earning around ₹ 210 million net, taking its eventual first week total to ₹ 1.80 billion net.
On its second Friday, P.K. brought in around ₹ 140 million net, and kept growing in its second weekend, earning ₹ 170 million on Saturday and ₹ 220 million on Sunday, taking the weekend total to ₹ 532.5 million net. By its second Wednesday, the film took its total to around ₹ 2.63 billion net and became the highest grossing film in India in just thirteen days. The film set a record second week figure of ₹ 945 million, taking its total to ₹ 2.76 billion net. P.K. made an all-time record in the Mumbai circuit by grossing more than ₹ 1 billion net. P.K. netted around ₹ 275 million in its third weekend, reaching ₹ 3.05 billion net in seventeen in the domestic markets.
Internationally the film opened in 22 markets during its opening weekend (December 19–21) and grossed $28.7 million, placing it at #3 at the worldwide box office behind The Hobbit: The Battle of the Five Armies and Gone with the Bullets.
The performance of the film has been such that it has become the highest grossing film worldwide and in India, grossing a total of ₹ 635 crore making Mr Hirani a very happy man while he sits at the number 1 spot in the top 5 grossing films of 2014.
So there you have it! We wonder what 2015's biggest hits will be!