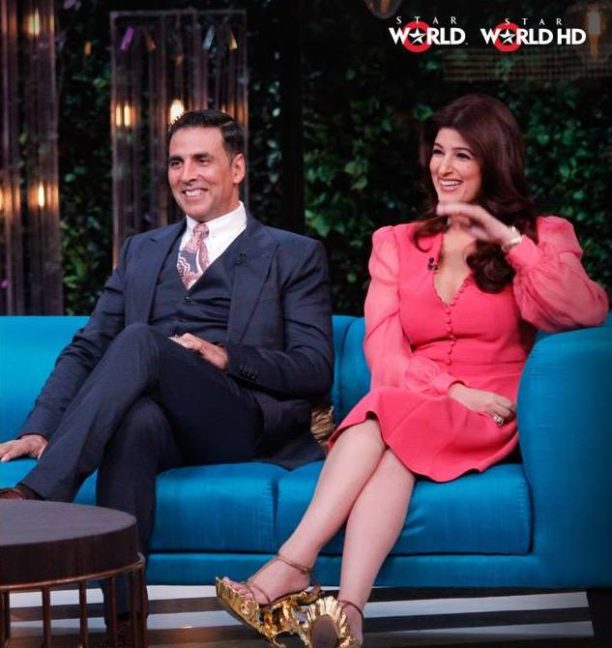 There is no doubt that Mrs. Funnybones is the perfect moniker for Twinkle Khanna. Looking radiant in pink, Twinkle was accompanied by her husband and mega Bollywood star, Akshay Kumar on this Sunday's episode of Koffee with Karan that aired on Star World and Star World HD.
The conversations were candid and unfiltered making this one of the most shocking, hilarious, awkward and romantic episode the show has ever seen. Not one to mince her words, Twinkle turned the tables on Karan as she puts into play her personal camaraderie with him leaving the later shocked and speechless throughout most parts of the show. Akshay's expressions were priceless and conveyed a thousand words.
For those of you that missed the last episode, worry not because we have the most memorable moments lined up for you.
You can also catch up on all the fun in the repeat telecast of Koffee with Karan Season 5 on Star World and Star World HD, weekdays at 1 PM and Monday – Saturdays at 7 PM.
AKSHAY KUMAR IS THE PERFECT MAN!
Twinkle opened up about why she chose to marry Akshay and there were some surprises there! Even though she intended for the relationship to just be a fling, she stated in her own words that Akshay was six feet of chocolate ice cream standing in front of her at an outdoor shoot and she just couldn't resist him! According to her Akshay is built to last and is 'Mazboot Tikao' as Akshay put it!
THE KHILADI REVEALED HIS ROMANTIC SIDE!
Akshay surprised Twinkle by singing Frank Sinatra's 'Strangers in the Night', accompanied by noted musician Raghav on the saxophone, which is the couple's favourite song. A perfect dream come true for any girl, Twinkle was left speechless for once, as Akshay slow danced with her in his arms making for an adorable moment between the two!
WHEN TWINKLE CONFESSED TO KICKSTARTING RANI MUKHERJEE'S CAREER!
Twinkle unknowingly played an important role in shaping Rani's career. Not many know that Tina's role in Kuch Kuch Hota Hai was written by Karan keeping Twinkle in mind. But turns out, it went to Rani because Twinkle declined the offer and the rest is history. As Twinkle put it, 'She delivered one hit – Kuch Kuch Hota Hai – by not starring in it!'
RAPID QUESTIONS FROM TWINKLE THAT SPARKED A LOT OF FIRE FOR KARAN
Karan had obviously met his match in Twinkle tonight and had not anticipated what was about to hit him when he invited her to be his guest. Because not only did she counter question the quizmaster, she also left him at a loss for words with some rather tricky questions. When Karan asked her to rank the Khans in order of preference in the Rapid Fire Round, Twinkle turned the question over to Karan and added Fawad Khan to the list. Karan managed to skirt around the question.
DO YOU KNOW WHO WAS KARAN JOHAR'S FIRST CRUSH?
During the episode the quizmaster confessed to having a crush on Twinkle at one point of time when they were kids. But it is Twinkle's answer that left us stumped. Twinkle revealed the secret behind this brief crush – it's her high testosterone levels; at 11 they are almost at par of a man's and her 'moustache' that attracted Karan to her!
TURNS OUT, UNBOTTONNING YOUR HUSBAND'S PANTS IS ACTUALLY A CRIME!
"Eh, what?!"
So, it is a known fact that Twinkle had an arrest warrant in her name for unbuttoning Akshay's pants on the ramp during a fashion show because someone had filed a complaint about public obscenity. But that's not where the case ended. Being a couple, Twinkle and Akshay had the same lawyer, who said he had to get atleast one of them out of it immediately. So while Akshay walked away with a clean chit, in spite of it being his idea for Twinkle to unbutton his pants, Twinkle got fined!
Up next Varun Dhawan and Arjun Kapoor hit the hot seat and once again hilarity ensues! Be sure to check it out Sunday at 9pm on Star World!