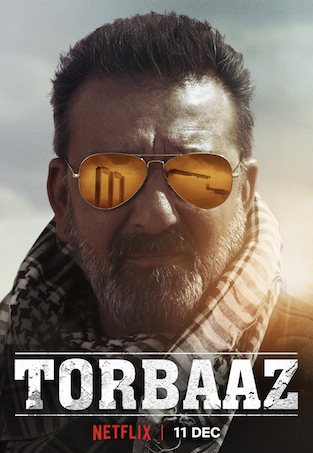 Torbaaz, directed by Girish Malik and starring Sanjay Dutt, is currently streaming on Netflix.
Synopsis:
A refugee camp, young kids and a determined cricket coach.
Torbaaz is the story of one man who rises above his personal tragedy and decides to take matters in his own hands. He's determined to coach refugee camp kids in cricket, who are otherwise destined to become suicide bombers. Will he succeed in straying them away from the path of destruction?
With his expertise in bringing out strong and impactful stories, director Girish Malik's art of storytelling is well known in the Indian film industry. Standing testimonial to this was his first directorial film, Jal, produced with Puneet Singh, which won many accolades in various film festivals. And now, adding another feather to his hat, his second film Torbaaz too, has left a mark.
Torbaaz opened to rave responses from audiences and masses worldwide. Infact, not only did the film occupy the top spot in India, upon its release, it also didn't waste any time in taking space in the Top 10 Movies Trending section in various countries across the globe and opened to rave responses from audiences worldwide.
The film's strong storyline, meticulous direction and impeccable acting caught the attention of audiences in countries such as UAE, Dubai, Oman, Malaysia, Bangladesh, Pakistan, Morocco, Greece, Sri Lanka, Qatar, Saudi Arabia, Hong Kong and others.
Sending out a clear message that love and peace have no language, Girish Malik's directorial has surpassed boundaries and reached the hearts of many who also believe in this message.
Talking about the film, producers Puneet Singh and Girish Malik say, "It is amazing to see that Torbaaz has got so much love not just in India but in other countries too. The aim of this film was to spread the message of love and peace and I feel it has done that. I hope that people view the film and see what goes on in the innocent lives, which are caught in the crossfire. It is a moving story, a tale which will be loved by everyone."