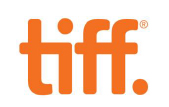 Cameron Bailey, Artistic Director of the Toronto International Film Festival, announced today that the 2012 Festival's City to City programme will focus on Mumbai.
"Past editions of City to City explored how filmmakers represented their urban landscape. This year we'll shift the scope of the
programme to showcase filmmakers living and working in Mumbai, regardless of where their films are set," said Bailey, who is currently in Mumbai participating in FICCI FRAMES, the global media and entertainment convention. "There's been an exciting evolution recently that's seen local independent films emerge to contrast with Bollywood's dazzling commercial movies. Whether you call it Mumbai or Bombay, this city is a massive player in the global film world, and a place I've grown to love in all its diversity. Toronto audiences are in for a thrill this September."
This is the fourth year for the City to City series; cities featured in past programmes include Tel Aviv, Istanbul and Buenos Aires. The announcement of the City to City lineup will be made in August. The 37th Toronto International Film Festival runs from September 6 to 16, 2012.