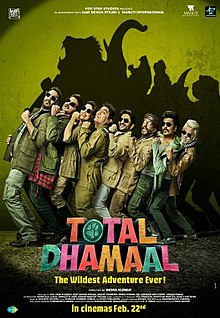 Total Dhamaal
Starring Ajay Devgan,Anil Kapoor, Madhuri Dixit,Arshad Warsi, Javed Jaffry,Sanjai Mishra
Directed by Indra Kumar
Is there any polite way of saying this? Total Dhamaal is the worst most undesirable brand of filmmaking obtainable to mankind. Crass, corny, lowbrow and utterly non-intellectualized, it boils down to watching a bizarre burlesque of line and situations borrowed from lowbrow Gujarati theatre.
This is the kind of comedy that attempts to make us laugh at the exploitative and cheesy treatment of the comic genre by a bunch of actors and technicians who ought to know better, if for no other reason, then only because they have had years of experience.
Some people never learn. Indra Kumar is stuck in a time warp. He seems to think comedy in Hindi has not grown beyond the theatre of the absurd that he has been translocating to cinema from the time he made Dil in 1991 wherein he made actors like Aamir Khan and Kajol do the silliest of things.
Here in Total Dhamaal which claims to be a sequel to Dhamaal and Double Dhamaal (I have no recollection of what these monsterpieces were about) actors of the stature of Anil Kapoor, Ajay Devgan and Madhuri Dixit are seen getting down to the basics of broad humour.They may think they are letting their hair down. But they are actually letting something far more serious down.
Do you really want to know what this piece of junk masquerading as cinema is all about? About 80 percent of the plot is on the road with characters in pairs(Anil with Madhuri, Ajay with Sanjay Mishra, Arshad with Javed Jaffery, Ritesh Deshmukh with Pitobash Tripathy) hurling across planes trains and automobiles in search of a 50-crore treasure. The special effects are not as bad as the jokes. And one sequence where Anil and Madhuri exchange barbed insults in front of a bewildered judge, is mildly funny.
But that's it.
Indra Kumar has always enjoyed making his characters dangle from vertiginous heights, by the scruff of their life. Here it is not just the whole cast that's put in a spot. The entire creaky framework of the situational comedy threatens to collapse under the burden of its anxiety to somehow elicit guffaws.
Sadly I did hear audiences roaring in laughter and they continued to laugh as they came out of the theatre.
For me it is tragic beyond measure to see such redoubtable talent on a treasure hunt that ends, aptly in a zoo, filled with fake animals who need to be saved from an avaricious plunderer.
Even Maneka Gandhi would find it hard to wade through the slush of corny laughter to reach the pro-animal finale. Cruelty to animals is unpardonable. But what about cruelty to the audience?