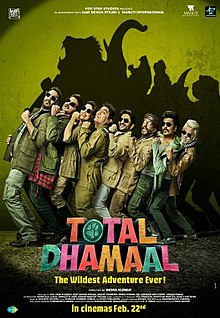 When it comes to action films in Bollywood audiences are not going to be disappointed by an Ajay Devgn movie. Whether its Shivaay or Raid, the quality of the action is never in doubt. In recent years there's been a shift for Ajay to show off his more character-based side such as Indra Kumar's latest Total Dhamaal. A strong cast is along for this fun but action-packed ride with even the return of Anil Kapoor and Madhuri Dixit Nene. Experience is also found in the music department with Gourov-Roshin taking the reins on a short but dance based album.
"Paisa yeh paisa, kaisa yeh paisa, yeh ho musibat, na ho musibat" lip-synched Rishi Kapoor in the opening song of 1975's Karz. The music team bring this song up-to-date with his own take on Paisa Yeh Paisa using Dev Negi, Subhro J Ganguly and Arpita Chakraborty. Along with the lyrics there is also little deviation from the 1975 song itself and the addition of heavy synth and bass drums for the club effect is more of an affectation then having any effect on the feel of the sound. So, in the end the modernisation does bring it into a club but otherwise fails to deliver.
Mungda is a colloquial name for an ant often used on the streets of Mumbai. It was made famous by one of Helen's best-known item numbers with the immortal line "Mungda, mungda mein gud ki dali, mangta hai to aaja rasiya nahin to mein yeh chali". Consider Helen at the height of her powers dancing in a provactive dress (a sari style worn by washer women and those who live by the sea) telling audiences that they are ants but she is a ball of sweet that they can't resist while carrying around a machete which she occasionally throws around the room. In today's version both have disappeared for Sonakshi Sinha in a club sans knife, a few new lyrics, a DAB radio and generally more space for her to get her moves on but musically still just a club beat added to an existing sound.
Speaker Phat Jaaye could be a title song except that there is a separate song for this function already. All the characters are involved so likely an ending tune. Still this is a love song particularly aimed at Ajay and Anil to let their lady loves know and a bit of chance for us to marvel at Madhuri's smooth moves. The club beat is dropped for a more standard bass drum and some synth sounds makes up the rhythm. Almost because this isn't an obvious remake of a classic it really fails to do anything at all but all the singers Harrdy, Abuzar, Aditi and Jonita Gandhi all find a little chance to shine in this short number.
Since the theme of this film is the hunt for the money, Dev Negi delivers a Theme Song about exactly that. This also has the club feel but it stays behind Dev's voice and a male chorus who drive home the paisa motif. This is fun, but definitely has no point which makes it hard to pay enough attention to it, forget make it memorable. The male chorus is a nice touch in this though as in drowning out the club music to a larger extent, the singer gets to shine bright.
Technically speaking this is a sequel to Double Dhamaal of a few years back. Both follow Ajay Devgn through a series of improbable mishaps with which he can have some fun within the action and dialogue. This is where the comparisons fall short however as there really isn't any more to be had. Thus, the music director has a fairly open playing field to work with, not tied to motifs or particular sound styles coming from the previous film. However, what they produced was a couple of remakes that barely brought the songs to the modern age, a group love song that didn't do anything and a title song that has no remarkable qualities.