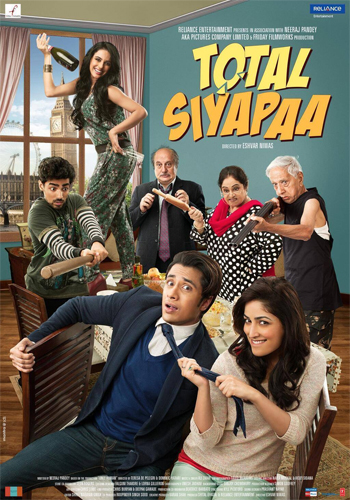 Watch it for: Kirron Kher and Ali Zafar's performances
Don't watch it for: Romantically moving, thought provoking moments
Total Siyapaa, a "meet the parents" type film with a political undertone, tells the tale of when Pakistani rock star Aman (Ali Zafar) meets British-Indian girlfriend Asha's (Yami Gautam) family.
From the start of the film, it is made clear that their respective countries of origin will cause a problem for this couple – a problem spurred by the question of family acceptance.
So, let's briefly begin with the issue.
To say that Pakistan and India, since the time of the tragic Partition of India, 1947, have seriously been at odds with one another is an understatement.
Beyond geographical boundaries, ongoing wars, the Partition has caused emotional and psychological scars for both "Pakistanis" and "Indians" – aspects that clearly still have consequences for a generation that did not "witness" the Partition first hand, but may do so through racism and bitterness.
The Partition sparked (still sparks) the question of identity, of "where" an individual belongs and "what" makes one belong. Total Siyapaa highlights that the conflict is not a religious Hindu Vs Muslim struggle, but one of India Vs Pakistan.
With "identity" and belonging in mind, one perhaps expects some insight or exploration into these questions as the film opens up through a birds-eye, "touristy" view of London. However, the film fails to move the viewer either emotively or thought provokingly.
108 minutes of waiting for the film to "improve" leaves one anticipating with bated breath for a slight tug at the heart string or a moment of intellectual stimulation.
Sadly, don't hold your breath.
Taken on board that Total Siyapaa is meant to be a light hearted rom-com and perhaps not intended to delve into murky questions of Partition and identity, the film still fails to stir as an entertainer exploring a couple's relationship. There is simply very little chemistry between the lead pair and the plot is overloaded with too many characters – many of whom that are simply irritating and do not leave a profound impression.
Stereotypical racist jokes and cheap sexual humour lets down a film that could have had the potential to effectively highlight a sensitive subject. Instead, the film turns into a rollercoaster of mindless manoranjan, "entertainment", that is mostly charmless and trying too hard to impress.
True, a sense of humour can be a powerful, light hearted means of exploring sensitive issues. However, Total Siyapaa's sense of humour becomes lost as the script becomes increasingly clichéd, predictable and at times, very cringe-worthy.
Nevertheless, the good news is the strength of two performers: Kiron Kher and Ali Zafar. Independently, the two deliver a great performance and make the film somewhat bearable: Kiron Kher is fantastic as the Indian mother who is fed up yet still trying, whilst Ali Zafar is purely charming through the Urdu he speaks. Together, the two have great comic timing and compliment one another's performance.
Yet their characters are underdeveloped and remain half baked. For instance, the viewer craves to know more on Kiron Kher's character – how does she see love? How does she see life? Although the film touches on her fears towards her daughter marrying Aman, these do not feel as convincing as they could have been, but mechanical.
Furthermore, the film does not gauge Yami Gautam's potential. Yami Gautam can act. We have seen her deliver a spectacular performance in Vicky Donor. However, we do not see Yami Gautam shine like she can – once again, perhaps an under developed character rather than performance?
Anupam Kher does not have much screen time or a substantial script to work from. His character is a strange intervention in the plot that unfortunately makes the viewer sigh disappointingly. The film has once again missed the opportunity to tap into the potential of a hugely talented performer such as Kher.
Infact, the final song "Total Siyapaa", performed amongst the rolling credits is charged with more chemistry, energy and "oomph" than the entire film. Reminiscent of "Maa Da Laadla-Remix" (Dostana), the song sums up the entire film in a matter of minutes and provides as much insight into the issues.
Total Siyapaa does not work as emotional intelligence seems completely missing from the awkwardly racist threats and jokes. There is no clear explanation of any emotional transitions and a plot overload irritates the viewer. Not to mention, the character of the English policeman feels patronising, over the top and too artificial.
Racism, stereotypes and discrimination are serious issues that can indeed be dealt with through sense of humour. Nevertheless, the sense of humour also needs to resonate emotively and bring the audience closer to understanding the message of the film.
Total Siyapaa is a film with good intentions no doubt, but is missing that special "oomph" required to stir an audience's heart towards asking questions which can lead to positive social change.