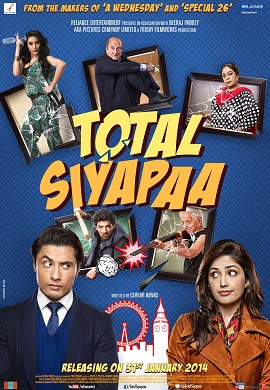 After London Paris New York, the forthcoming Total Siyapaa sees Ali Zafar (Mere Brother Ki Dulhan and Tere Bin Laden) take up the task of being singer, composer, lyricist and lead actor again. London Paris New York, while a little rough around the edges, was a well composed album with some endearing tracks. Naturally, there are reasonable expectations from the music of Total Siyapaa. The album is made up of 5 tracks, all featuring Ali Zafar, save for the duet which also features the vocal styling of Fariha Parvez. Lyrics have been penned by Zafar, Aqeel Rubi and Kumaar.
The album kicks off with the title track, Total Siyapaa, a quirky number with humorous lyrics intermingled with snippets of dialogue between the films' characters. It is a relatively fun track with a bit of a retro vibe and touches of Punjabi which are quite catchy. It undoubtedly serves as a promotional number to compliment the trailer and therefore also aims to highlight the plot of the film and the punch lines of its comedic take on meeting-the-parents. Needless to say, it succeeds in doing so but that being said, the track is nothing to write home about.
The next track, Palat Meri Jaan is written, composed and sung by Ali Zafar. While he more than excels in its composition and lyrics, he falters somewhat in the rendition of it as his vocals are arguably at odds with the music in some portions. The ballad has a lot more depth than its predecessor, both lyrically and musically. It gets off to soft and melodious start but quickly emerges as a soft-rock ballad. It could have been a stellar track if a more seasoned vocal artist had sung it.
Nahi Maloom Hai employs a basic Arabic styling and while it does not get Zafar points for innovation; the popularity and familiarity of the music wins you over. Further, the spirited rendition from Parves and Ali coupled with well-penned lyrics makes the track worth your while. Even though we get a limited appearance from Parves, a popular Pakistani singer hailing from Lahore, her dynamic vocals captivate you in that limited span of time.
Asha's beauty lies in the conversational lyrics and a very candid rendition from Zafar, something which was missing in the previous tracks to some extent. He emphasises the emotions behind the words and creates an almost interactive track. The reggae-ish composition just adds to the easy/lazy aura of the track. It is definitely one of the more engaging tracks of the album. It is slightly reminiscent of 'Woh Dekhne Mein' from London Paris New York. So if you liked that track, it is likely you'll enjoy this one as much if not more.
The album concludes with Baba Bulleh Shah's, Chal Buleyah. It is a very sombre track that holds great meaning. Therefore, Zafar's deserves applause for aptly letting the music take a back seat and allowing the lyrics to dominate the track. However, like 'Palat Meri Jaan,' his rendition left much to be desired and the lyrics were not given the standard of rendition commanded.
In summary, Total Siyapaa is another decent effort on Ali Zafar's part. Juggling acting, singing, composing and writing could not be simple. And there are definite hits and misses in the album that attempt to qualify that statement, the hits being his commendable writing and composing skills and the misses being miscalculating his vocal prowess. The misses could have easily been avoided if he engaged singers other than himself, particularly where 'Chal Buleyah' is concerned. The listenable but arguably mediocre title track may appeal to the masses but, it is 'Asha,' 'Nahi Maloom' and 'Palat Meri Jaan' that are the stronger tracks of the album. In any event, Ali Zafar continues to be a name to be keenly followed and while this album may not be a chartbuster, it is not a complete write-off either, meaning listeners can only hope he fares better in the future.
Total Siyappa also stars Yami Gautam (Vicky Donor), Kiron Kher and Anupum Kher in pivotal roles and hits cinemas on 7 March 2014.