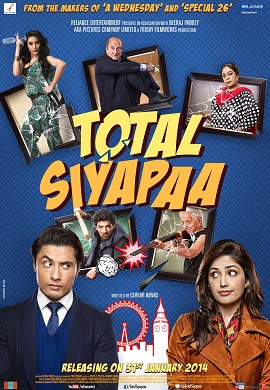 Total Siyapaa, which has garnered audience's attention with only its trailer, is currently working on the film's tagline. The makers of the film, who have come up with an abstract title like Total Siyapaa are working on a tag line which conveys the feel of the film. The makers have however come up with the tagline, "Full Chaos".
As the backdrop of the film portrays a complete chaotic situation wherein a Pakistani boy falls in love with an Indian girl. This in turn gives a rise to this entire commotion which takes place at the girl's house.
Keeping this backdrop in mind, the makers have come up with the tagline, "Full Chaos" which also explains the title of the film Total Siyapaa.
The film which brings an interesting star-cast together, with Anupam Kher, Kirron Kher in supporting roles and Ali Zafar and Yami Gautam in lead roles. The film is all set to release on 7th March'14.