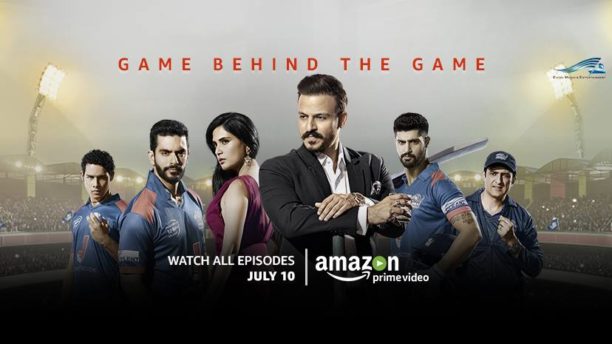 Amazon Prime Video and Excel Media & Entertainment today released the trailer of India's first Amazon Original Series – Inside Edge. This move marks Prime Video India's foray into creating original content for Indian audiences. Set to launch on July 10, Inside Edge is the first ever series from India that will be launched worldwide across 200+ countries and territories. Created by Karan Anshuman, Inside Edge, is a 10-episode series that combines the worlds of cricket and entertainment.
Nitesh Kripalani, Director and Country Head, Amazon Video India, said "Our 1st Original, Inside Edge is a landmark moment for Amazon Prime Video in India as we begin our journey of creating original shows. Our goal is to change the way Indian customers consume premium entertainment in India; and to change the way content creators create content for Indian and worldwide customers. For Amazon, this series will be the beginning of new, bold original content in India, made with leading Indian content creators, talent and writers."
Farhan Akhtar, Excel Media & Entertainment said, "We are happy to collaborate with Amazon Prime Video, to bring to life content that is not confined. Inside Edge marks a great step, in an endeavor that we feel will revolutionize the entertainment industry. The scale at which Inside Edge is produced is tremendous and something India has not seen before."
Ritesh Sidhwani, Excel Media & Entertainment added, "These are exciting times, not just for audiences but also for storytellers, artists, writers and filmmakers. For Excel Media & Entertainment, making this original series for Amazon gave us the opportunity to think freely in making a show for a global audience. Together, we are taking the first step towards creating history. Inside Edge is high drama, great production value and we're certain that audiences are going to enjoy it as much as we enjoyed creating it."
Added Karan Anshuman, "Inside Edge is the result of Amazon's pioneering effort to bring back quality video content to the mainstream. The freedom afforded to me has been the most liberating experience as a director/creator. Creating a story that is as ambitious, unrestrained and of a quality no less than international standards that reaches out to new audiences is now possible, thanks to coming together of Amazon and Excel."
Inside Edge synopsis
Set your heart racing with Inside Edge as it takes you on a wild journey in a never-before-seen fictional series that follows the ups and downs of a cricket team. Inside Edge is a pacy tale that captures the world of cricket and entertainment as we know it… and as we don't. This exhilarating series follows the twists and turns in the lives of powerful characters as they reveal the game behind the game. Set within a season of the Powerplay League, a cricketing event, the central characters are the Mumbai Mavericks team that weave you into their complex stories, their challenges and triumphs, their sub-plots into a vortex of manipulation, love, ambition, voyeurism, deceit, greed, lust and betrayal.
Inside Edge is a story that pulls no punches, minces no words, and takes no prisoners. And beneath it all, it is a story of passion, courage, and love.
It brings together some of the best talent from Bollywood with Vivek Oberoi as a menacing mastermind; team owner and film star played by Richa Chadha, team captain played by Angad Bedi and team coach by Sanjay Suri. Tanuj Virwani, Sarah Jane Dias, Amit Sial, Siddhant Chaturvedi and Sayani Gupta will also be seen in prominent roles in the series.
Executive Producers: Farhan Akhtar & Ritesh Sidhwani; Created by: Karan Anshuman; Cast: Vivek Oberoi, Richa Chadha, Angad Bedi, Sarah Jane Dias, Sanjay Suri, Sayani Gupta, Tanuj Virwani, Siddhanth Chaturvedi and Amit Sial
Talking about his character Vikrant Dhawan, Vivek Oberoi said, "I think Vikrant Dhawan's character allowed me to explore a much darker side of the human psyche. A master manipulator; he's cold, he's ruthless, he gets high on power, that is the ultimate rush for him. Also, what is cool is that he's the prime mover, every one of his actions has far reaching consequences. He's playing the game too, just on a whole different level."
Richa Chadha plays Zarina Malik who she says is a very talented and powerful character. Going on to say, "She is a woman in the man's world as cricket here is considered a gentlemen's game. Zarina is caught between ambitions and desires, as she fights the power of men, players, and politicians. This would be the first time I'll be playing an actor on screen and it has been an enriching experience. I've used my experience as an actor for this role, qualities like being competitive, having insecurities etc. I've used all these emotions to get into the skin of the character." 
Stay tunes we will have much more!
Twitter: InsideEdgeAMZN; Instagram: insideedgeamazon; Facebook: InsideEdgeAmazon