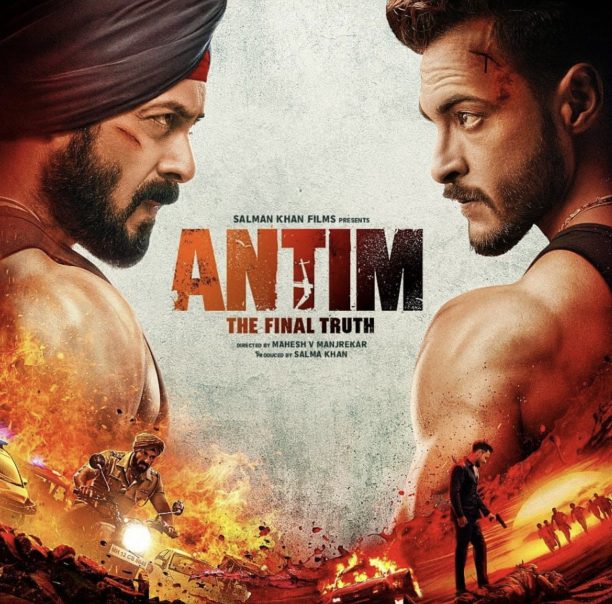 Mahesh Manjrekar's films on gangsterism, specially Vaastav, have always been special. Antim: The Final Truth, a film that Salman Khan has ostensibly produced to launch his brother-in-law Ayush Sharma as a leading man, actually features Sharma as the antagonist.
But here is the thing. The actual hero of the film seems to be Salman Khan. What was touted as a special guest appearance appears to be a full-fledged leading man's role in the trailer. Khan plays a Sikh cop out to nab a boorish gangster from Pune played by Ayush Sharma who has obviously given his best shot to the character, scruffy looks, glazed eyes, loopy Grin and all.
This is how a gangster from Pune is supposed to look. Though we have no way of knowing. We just have to take director Manjrekar's word for it.
Cop Salman Khan is not impressed. When the goon-bro brags to cop bro-in-law that he is the new Bhai of Pune, Salman brags back, "Tu Pune ka naya bhai hai. Main pehlse se hi Hindustan ka bhai hoon."
At the beginning of the trailer Salman Khan's cop hero drawls, "Jiss din yeh sardar ki hategi.Sab ke phategi." So impressed is our Sikh Bhai by his powers of dialogue-baazi that he repeats the same dialogue at the end of the trailer making this the only trailer in the history of Indian cinema where the hero gets to mouth the same dialogue twice.
So make a guess. Who gets the taalis and ceetis when the film opens on 26 November?