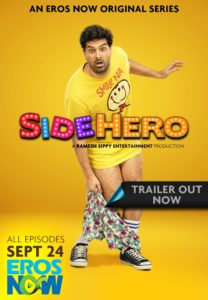 He has been a part of blockbusters like Yeh Jawaani Hai Deewani and Delhi Belly – an actor supremely fine at his art. Hailing from the famous Roy Kapur family, he is often recalled as 'oh that guy?' by the audience. Imagine how difficult would it be to be 'almost' famous in real and reel life. Based on the premise of this everyday struggle, Eros Now, India's premiere video OTT platform, today announced the launch of its first original show Side Hero directed by Rohan Sippy. A unique binge-worthy show based on the life of and starring Kunaal Roy Kapur, all episodes start streaming 24th September exclusively on Eros Now.
The eight-episode show is a humorous take on Kunaal's life, juggling between the willingness to get a lead role but always ending up being the 'Side Hero'. The story of the show revolves around Kunaal trying to strike the perfect chance to make it big in Bollywood but failing every time. With an unsuccessful marriage and career, the only solace in his life comes from the time he spends with his ex-wife Sarika (Gauhar Khan) and son Rumi. Hilarious situations that compel him to settle for being the greatest 'Side Hero', form the crux of the story.
Taking a dig at Kunaal, the tagline of the web-series makes a remark 'Isko Kaun Dekhega', truly capturing the essence of the show. Translated to screen through the lens of Rohan Sippy, the web-series also stars popular actors like Gauhar Khan, Arjun Kanungo & Gopal Dutt.
Commenting on the launch of the show, Ridhima Lulla, Chief Content Officer, Eros Group said, "Coming from the biggest house of Bollywood, Side Hero is a show about Bollywood, making fun of Bollywood. There could not have been a more fitting subject to mark the commencement of our original slate. Comedy is one of the most watched genres across formats in India and with the launch of Side Hero, we are excited to present humour in a fresh form. The story and narrative of the show is something that is first-of-its kind and makes for a differentiated offering. It has been a fulfilling experience collaborating with Rohan, Kunaal, Gauhar, Abhishek, Arjun, Gopal sir and Shakti sir."
Director Rohan Sippy added, "It's always been great working with Kunaal, so I thought he would be an ideal collaborator – and subject- for this show. In each episode, Kunaal earnestly tries to navigate his career through nepotism, awkward paid appearances, misogyny and many other showbiz 'institutions'- and fails! Kunaal's self-deprecating persona allows us to make fun of him, and ourselves, and capture the madness 'behind the scenes' of an actor's life. The filmy nature of the show fits in seamlessly with what Eros Now stands for, which made them perfect partners".
Commenting on the web-series, Kunaal Roy Kapur said, "I'm thrilled to be part of Side Hero, couldn't have asked for a more apt show that resembles my own filmy journey. Side Hero is a witty web-series and a fresh take on comedy that takes a dig on Bollywood, and an actor's wild journey through it. Something not attempted before. Hope the audience has as much fun as we had making it".
Side Hero will be Rohan Sippy and Kunaal Roy Kapur's third outing together post Kunaal's directorial debut The President Is Coming, produced by Rohan, and the 2013 film Nautanki Saala. The show will be available for streaming starting 24th September for binge viewing for INR 49 and INR 99 per month on Eros Now.