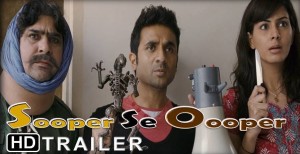 The trailer for Vir Das's next Sooper Se Ooper, a rib-tickling comedy, has been released. The film features Vir Das who plays Ranvir, whose fortune is in the dumps and selling his ancestral land in Mumbai is the only way to survive. What follows, is a series of comical mishaps.
Presented by Reliance Entertainment, Sooper Se Ooper is a comic film, produced by Rajinish Lall. The film stars Gulshan Grover, Vir Das, Kirti Kulhari and Deepak Dhobiwal in pivotal roles. Written and directed by Shekhar Ghosh, the film  is slated to release on the 25th of October.
Synopsis:
A quirky family entertainer for 8 to 80 years, pan India. Ranvir's fortune is in dumps and selling his ancestral land in Mumbai is the only way to survive & Kukreja who has put all on stake has to get this land to stay away from the wrath of a 'bhai' and also achieve his dream of becoming a builder eventually! For both Ravir & Kukreja this plot of land means everything and has to be got any which way. But the key to the land is Ranvir's mama Madho Singh Rathore, in Mandawa. Since the will wasn't made in Ranvir's name, so Mama has to give the NOC. Ranvir has to get his Mama to Mumbai within a month & Kukreja has to stop him from reaching Mumbai. We see the transformation of our protagonist Ranvir from a materialistic city youth to someone who is all for family & values & antagonist Kukreja from a 'dalla' to a gangster through this journey, which has some other real & funny characters as well. In the 1st half the city goes to a village and in the 2nd the village comes to the city.