Flower power now exceeds beyond the confines of spring and summer wardrobes. Our Bollywood celebs have been embracing the floral trend letting the theme translate into their evening, casual, desi & western attires. Be it a Priyanka's quirky ASOS floral suit for International Girl Child Day or Deepika's rich Sabyasachi floral embroidery lehenga saree for the Ram-leela audio launch, the trend has crossed boundaries of seasons and has a landed a spot in every celeb wardrobe.
While floral prints are something that we're accustomed to, Indian designers' enthusiasm for Indian textiles and artistry has taken this latest style statement to a new level. One of Masaba's 2013 collection saw pink rose embroideries accompany black/white rose prints. The designer took floral prints to a new level with this incorporation of print and embrodiery. Designers like Payal Pratap and Anupama Dayal brought together the trend of pastels and florals together in Indian attire. Then there were those who pushed the boundaries who took florals from the casual/chic arena to top end Indian couture. Bhairavi Jaikishen and Sabyasachi dared to make florals a part of bridal wear and struck gold with this leap.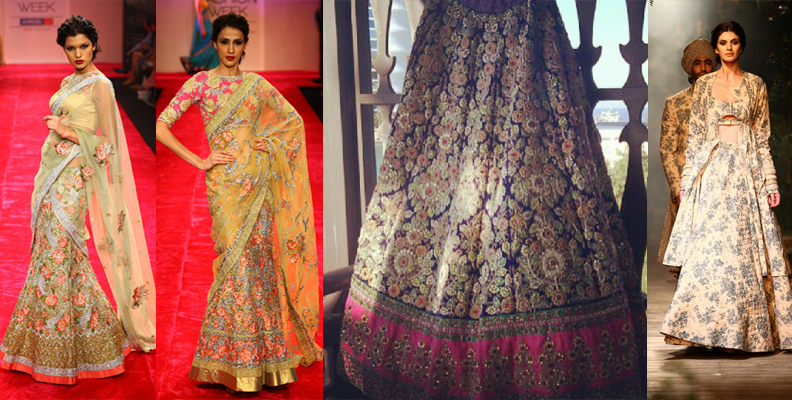 This year we've seen our celebrities embrace flower power in all its glory. The 90s divas jumped on board as we saw multiple sightings of Madhuri in florals on Jhalak Dikhla Ja, while Juhi made a appearance on the ramp for Yash Chopra's Anniversary fashion show in a floral lehenga. Sridevi opted for floral prints for her b'day bash and Karishma continued her love affair with chiffon blouses in a floral print Dolce & Gabbana blouse. The one that came as the biggest surprise was Kajol's Shantanu & Nikhil floral saree, which became an instant favourite for fashion columns across the platform.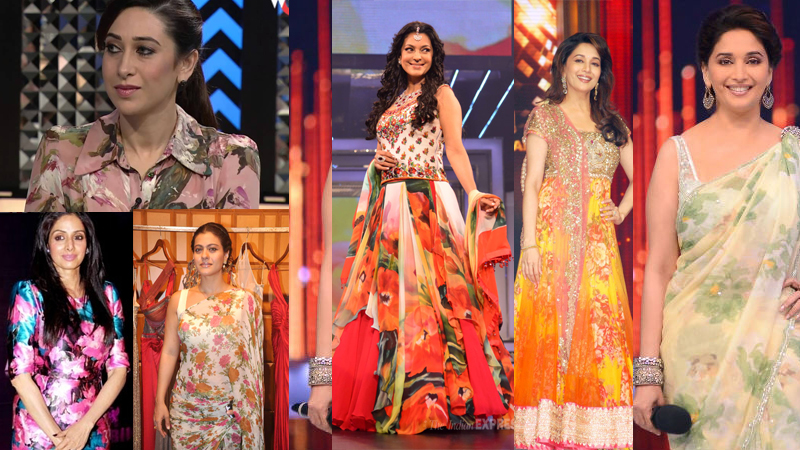 Film promotion events saw both Deepika and Kareena opting for florals at multiple occasions. While Kareena opted for the pop of floral color on black dresses, Deepika mixed it up with floral pencil skirts, summer dresses and then a rich Sabyasachi floral embroidery saree.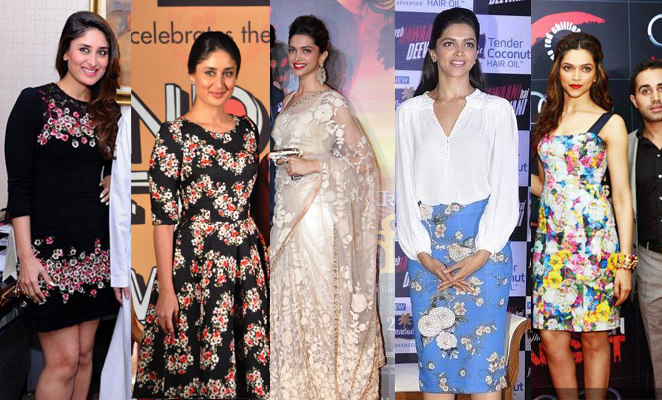 Sabyasachi's floral print saree that Shraddha opted for for LFW came as a refreshing change to the ultra formal dos the designer's muses tend to opt for. And whilst Taani, Parineeti & Bipasha's choices weren't much to write home about, they easily illustrated how adaptable the floral trend is for any event or occasion. The lady to really catch our attention was Priyanka Chopra who did an all-floral suit for a recent event. Not only was it eye catchy but it some how also kept in tact the formal/business feel that suits generally have despite the floral print.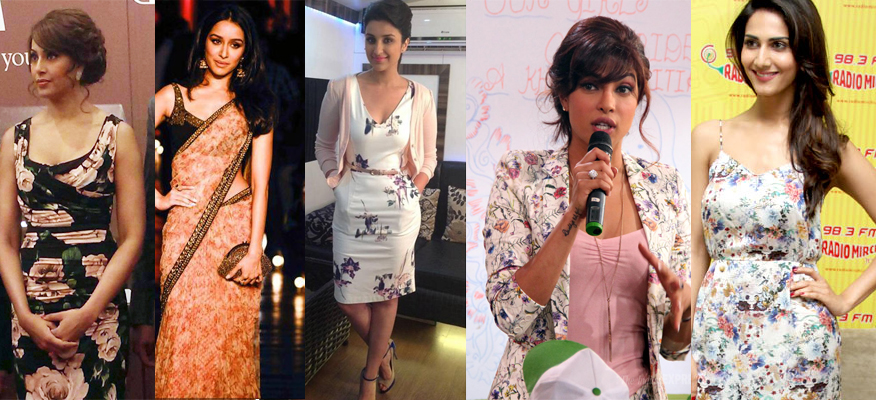 The lady to have gone completely ga-ga over the fact that florals are taking over the many facets of fashion was Sonam Kapoor. From her appearance on the Cannes red carpet to small town movie promotion events, she seems to have ensured that her love for florals doesn't go amiss anywhere. Sarees to anarkalis to ball gowns, it was florals all around for Sonam in 2013.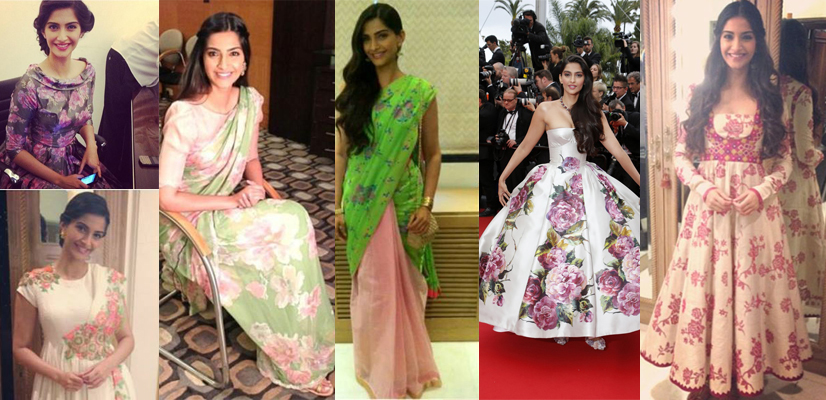 What we'd like to see happening now is the men of B-town getting their florals right. This year we had only one winning sighting courtesy of Farhan Akhtar at a magazine launch. The man wowed us and how with his floral shirt and army green jacket. Sadly in the previous sightings of our men in florals has been the complete opposite to Farhan's grand success. Adhyanan's borrowing of Dad's shirt for a festival in Goa was not a pretty sight for our poor eyes neither was Abhishek's appearance in a floral shirt at an airport.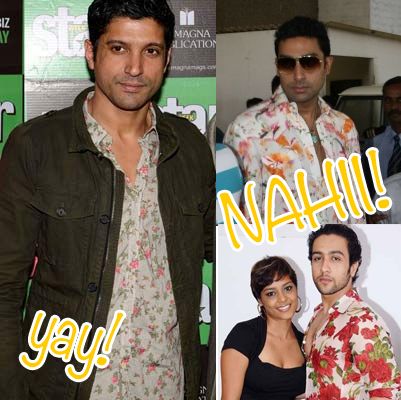 On our wish list now is for some of our other ladies to dabble in florals in their coming appearances i.e. we'd love to see Katrina give the boring solid colors a break and have some fun with floral prints. Perhaps we'll get lucky during her Dhoom 3 promotion appearances. And while many of B-town guys have gotten the hang of mixing pastels with their attire, we'd love for some to take the next bold step and dare to wear florals. Farhan pulled his off effortlessly so there's no doubt it can be done right. Salman Khan's stylists on Bigg Boss 7 seem to be favouring bold prints so here's hoping they give a winning floral look some time later this season. For now a word of advice for the guys who do want to dabble in florals, stay away from the big prints, go for the pastel and delicate/small prints and wisely pair it up with appropriate jackets/blazers.
Leave your comments on which celebrity you think has made the most of this latest fashion fad and which celebrities you wish to hop on the floral-bandwagon. Also don't forget to share your thoughts on what you think of men who dare to be bold with florals.