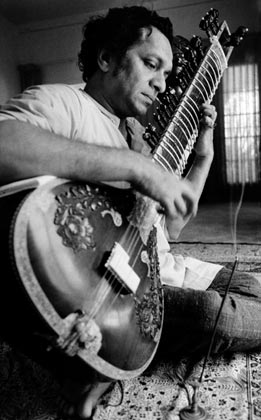 Many people from all around the world have paid tribute to Pandit Ravi Shankar, who sadly died on Tuesday at the age of 92. Pt. Ravi Shankar contributed significantly towards the popularity of classical Indian music on a global scale and has even inspired Western musicians such as The Beatles. George Harrison, who collaborated with Pt. Ravi Shankar many times, once described him as "the godfather of world music." He was an expert at playing the sitar and the combination of this with other Indian instruments such as the tabla gave his music the flavour that it needed. Here are just some of the tributes which the Indian Prime Minister and the Bollywood fraternity have written about Pandit Ravi Shankar on social networking sites and the inimitable legacy which he has left behind.
Prime Minister Manmohan Singh – "An era has passed away with Pt. Ravi Shankar. The nation joins me to pay tributes to his unsurpassable genius, his art and his humility." "A national treasure and global ambassador of India's cultural heritage."
Amitabh Bachchan – "Traumatised by the sad news of the passing away of Pt Ravi Shankar, the maestro, legend and icon of Indian Classical music!" "I had written how he had called me up a few days back just before going into surgery .. just wished to speak to me .. now gone!!"
Shehkar Kapur – "Pt. Ravi Shankar's music will live with us forever. Amazing man, Amazing artist. Amazing life, amazingly lived. Amazing creative force." "Pt Ravi Shankar. Showed us what India's soft power really is. Not business, but Art. Remember him playing at Chetan Anand's home. Bliss"
Mahesh Bhatt – "Pandit Ravi Shanker a national treasure has "left us forever". But his music will resonate in the consciousness of the world forever!!"
Madhuri Dixit – "Sorry to hear that Pandit Ravi Shankar-ji passed away. He was A tremendous influence on introducing Indian music to the West."
BBC Asian Network DJ Noreen Khan – "When the word sitar is mentioned you only think Ravi Shankar. May he RIP, another musical legend passes away."
Anupam Kher – "Pt. Ravi Shankar's Sitar played for our souls. His music helped us sooth our nerves. His smile was like his music- DIVINE. RIP."
A.R. Rahman – "Indian Classical Music has lost its chief ambassador & India its Bharat Ratna..May God bless his soul!"
Karan Johar – "RIP #Ravishankar…the man who made classical…eternal….."
You only have to listen to Pandit Ravi Shankar's beautifully composed music to know that they will indeed live on forever! RIP!