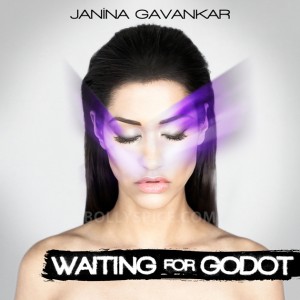 South Asian American artistic chameleon, Janina Gavankar, is busting out with new colors! If starring on TV's hottest show, True Blood, wasn't enough, Janina is on her way to take control of the music world! Her debut single, "Waiting For Godot" hits digital platforms August 28th.
Lyrically, Janina references the famous play, of the same title, by Samuel Beckett, on "Waiting for Godot," over a haunting, ambient foundation, that later progresses into dub-step, then into a choir—yes, a choir, of 25 moving parts. The mix of experimental, quirky, electro-pop, on her debut single is just a taste of what to expect on her not-yet-titled, upcoming EP, which drops later this year via Randy Jackson's Friendship Collective label. "One day Randy Jackson [of American Idol fame] called," Janina explains of their musical union. "He said 'You're weird! I like it! I think you're going to make great music!' Now I'm releasing those works on his label."
What's the secret to her success? Largely, her roots and upbringing. Three quarters Indian and one quarter Dutch, Janina's parents, both from India, exposed her to the world at a young age. It was through her travels and interaction with people from all walks of life that gave her a passion for – well – everything. Janina's mélange of sound is a reflection of her experience as a child of immigrants. Hold on to the classical training she experienced as a child. But embrace the new world of electronic music.
"Waiting For Godot" is a collaborative creation with German tastemaker Apparat and producer Cory Enemy (Peaches, Ellie Goulding). Gavankar has recently enlisted electronic musician, Trifonic (BT, Hecq, Hybrid), to help her create her EP.
"I don't give a s*** about who's 'cool'," says Gavankar. "I'm only interested in working with people I already know and love, or people I've been salivating over for years."
In 2010, Janina reworked Kanye West's "Love Lockdown" (listen HERE) to much acclaim from fans and fellow artists, including West and ?uestlove. Later that year she released the dub-step banger "Kali Ma." Gavankar's acting credit includes "Papi" from The L Word, "Leigh" from ABC's The Gates, "Shiva" on The League.
Coming up from Janina will be a remix of "Waiting For Godot" from South Asian powerhouse, Karsh Kale, and more tracks from her forthcoming EP.
Website:  www.janinagavankar.com
Twitter:  http://twitter.com/janina
Listen:  soundcloud.com/janinagavankar
Instagram Handle:  janinagavankar