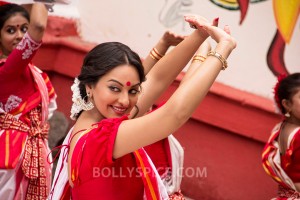 Sonakshi Sinha is undoubtedly at the peak of her Bollywood career. After delivering a sensational performance in Lootera, Sonakshi returns with the action-packed Bullett Raja. The film will see Sonakshi paired for the very first time opposite Saif Ali Khan and also has Jimmy Shergill, Gulshan Grover, Chunkey Pandey and Vidyut Jamwal in supporting roles. The beautiful and graceful Sonakshi recently took part in a Q&A session where she talked about Bullett Raja, as well as her recent successes.
When asked about her pairing with Saif Ali Khan; Sonakshi gave the following response. "I think we make a very fresh pairing. I have wanted to work with Saif for a while now and was very excited to get the chance in Bullett Raja. Saif is a great actor and is so committed to his roles. I am very happy with how we look together on screen and I would love the opportunity to work with him again."
Speaking about playing the role of a modern-day Bengali woman and her appearance in the film; Sonakshi had this to say. "This is the second time I am playing a Bengali girl. But my character in Lootera was drastically different; I was playing a girl from the '50s, who is a Zamindar's daughter. In Bullett Raja, I am playing a contemporary Bengali girl. I loved my look for this role; it has a very traditional feel and there was a certain grace to it. Once I was in the costume, everyone was shocked to see how Bengali I looked. I wish the sequence we shot in that costume was a little longer, because I did not want to get out of it."
Sonakshi was also asked if she suffers from any kind of pressure when she has a new film releasing. "There's no pressure actually," said the 26 year old actress. "I really like what I do and if I think of it as pressure it would really bog me down. I feel I'm in the right place at the right time because there are a lot of films right now where, for me as an actor, there's something I can give to them. So I truly believe I'm in the right place at the right time."
Also asked if she ever had to fight for a role, Sonakshi says that it is fate that has resulted in her success, rather than her trying to create fate. "I've never had to fight for a role. Call it my ego or my self-respect, but I won't pick up the phone and call a producer and fight or ask for a role. That's not me. I've always got the best and my work speaks for itself."
Finally, Sonakshi responded to her labeling as the typical Indian woman and whether or not she wants to break this image. People see me like that. I may play an Indian girl, but each role is different. If I'm offered a film where I need to play an urban character, I will. But these roles work for me. "I'm not stuck in a rut and neither do I feel the need to break the norm. When a female star plays western roles only, no one asks her these questions. At 25, I can proudly say that I'm successful."
You can catch Sonakshi Sinha in Bullett Raja when it releases in cinemas on 29 November!