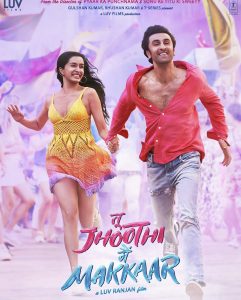 Tum Jhoothi Main Makkar
Staring Ranbir Kapoor and Shraddha Kapoor
Directed by Luv Ranjan
Let's get this straight. Tu Jhoothi Main Makkar(TJMM) is one of the most entertaining rom-coms in recent times. And why just recent? It is probably one of the finest films in the from-com space blending pizzas with a punch-filled plot which is relevant and redhot. And the spoken lines are on the dot.
So should I spill out what Ranjan and his co-writer Rahul Mody finally have to say on familial ties? Or should I just take you through the bumper journey of Micky and Tinni, two goodlooking people , who are meant to be together. But , sigh, inhe kaun samjhaye?
Ranjan's ebullient adrenaline-pumped ambrosial rom-com is irresistibly stylish and smart. It knows its mind and how to say what it has to say without falling prey to the tropes of the genre. In essence, TJMM tells us that those who dig ditches for others may drown in one of them eventually.
Or, if you prefer, as you sow, so you shall reap.
Reap reminds me of beep. Why has the mild expletive 'chutiya' been beeped out every time it occurs? It is annoying and incongruous especially when the 'F' word has been allowed for Ranbir Kapoor in a neatly written emotionally messy confrontational sequence.
Luv Ranjan has never shied away from looking at the darker side of love relationships, why should he do now, when he has such skilled actors at his disposal who make the written words sound like colloquial conversations?
Ranbir Kapoor has never been seen having so much fun rattling off his dialogues with a mischievous gusto. It's good to see him play an extrovert for a change. He shares a rapport replete with repartees and ruminations, not only with the trying-hard-to-be-sexy-and-sassy Shraddha Kapoor but also his bestie Dabbas, played with uncorrupted naturalness by Anubhav Singh Bassi.
Bassi's Dabbas has a love story of his own which starts with desperate attempts to break up and the settles into a marital groove. His girl(played by Monica Choudhary) reminded me of that poor girl who chased Saif Ali Khan down to his holiday with his pals in Goa in Dil Chahta Hai. Nothing "poor" about this girl,though.
There is an endearing absence of bleeding-heart social concerns in TJMM. Everyone is prosperous enough to be bothered about non-priority issues like breakups and commitments . The traditional dynamics of a joint family are spun around with vertiginous vibrancy. Some moments between Ranbir and Shraddha are lensed in magical intimacy. Not afraid of tight close-ups, Ranbir lets his character's emotional vulnerability spill out all across the screen.This is arguably his most emotionally fertile performance to date.
Shraddha is a good for the bikinis but is seen trying too hard in the emotional moments. Being emotionally stripped-down is not that easy. First rule of skilled acting: it shouldn't show.
By the way how many bikinis did Tinni carry on her holiday to Spain where she begins her "holiday " with Micky to the accompaniment of some contagiously colourful songs and dances that are shot with delightful immediacy.
One point about the joint family that needs some attention: every member of Ranbir's family including the infinitely precocious little Inayat Verma, gets ample space, except the "outsider" son-in-law who barely gets two sentences.
After being convinced that Tinni has a place in Micky's family I hope she, as the daughter-in-law has more of a voice in the family than the son-in-law. For more on that, a sequel to this insanely engaging film that proves Luv Ranjan to be one of the most original and interesting contemporary filmmakers in Bollywood .