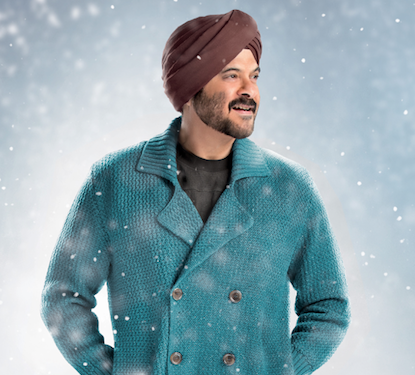 Mubarakan is all set to represent the perfect Punjabi family setting. The movie which will be witnessing many of the firsts, from the first time the Chacha Bhatija jodi (Uncle-Nephew pairing), Anil Kapoor and Arjun Kapoor to be seen on the silver screen together to Arjun playing a Sikh.
The Chacha Bhathija jodi in the film will be seen looking suave, donning the paghdi. A paghdi is a sacred part of the attire for the Punjabis, which symbolizes respect and honour and the cast wanted to make sure that they do not go wrong with it, as religious sentiments are attached to it.
Hence, the makers hired a pagdhi tying specialist, who was on sets at all times, to tie the pagdhi for Arjun and Anil Kapoor and the rest of the cast.
Mubarakan tells the story of Karan (Arjun) and Charan (Arjun), who are identical twin brothers but their personalities are completely diverse. Karan has grown up in London while Charan in Punjab. Karan is street-smart, calculative and flamboyant while Charan is simple, idealistic and honest in his approach! Karan is in love with Sweety (Illeana D'cruz) while Charan is in a relationship with Nafisa (Neha Sharma). Karan's family fixes Karan's wedding with Binkle (Athiya Shetty), daughter of one of the wealthiest families in London. He convinces his family to fix the match with Charan instead. The respective families are happy with this development except Charan because he wants to marry Nafisa.
There's only one man who can save him out of his misery – his uncle Kartar Singh Bajwa (Anil Kapoor). Now eccentric Kartar Singh (Anil Kapoor) makes a plan to save the nephews and keeps coming up with innovative ideas leading to a bundle of confusion and comedy between all the parents and lovers. Mubarakan is a laugh riot directed by Anees Bazmee slated to release in cinemas on 28th July 2017.