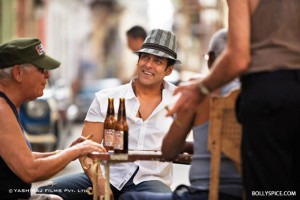 It will come as a surprise to many tourists and Bollywood fan who visit Turkey to find a café named after the most loved actor Salman Khan. The reason… while shooting for the soon to release Ek Tha Tiger Salman Khan and the film crew regularly visited a Café Del-Mar as it was close to their shooting location in Mardin, Turkey. Salman noticed with a few tweaks the place could be spruced up for tourists and locals alike. so he set on suggesting some changes starting with the sound system.
Director Kabir Khan added, "In Mardin, this café was our only hangout. The music system wasn't very good, so Salman sent someone to get a better one. He installed it at the café, played new music and, after the shoot, left the sound system there."
After the actor bought in the new sound system he, with the consultation of the cafe manager and staff members, got the decor, food and beverages revamped. The cast and crew was soo well acquainted with the staff of the café that even Salman's stylish Angela Rebello would be allowed in the kitchen to whip up some dishes for the cast. A source from the unit said, "He (Salman) started with the decor and music and went on to the food and beverage menu. Towards the end of our stay, Café Del-Mar was a completely new place!"
Therefore, as a gesture of gratitude the owner of the café changed the name from Café Del-Mar to Salman Khan Café.
A Yash Raj Films spokesperson confirmed, "Café Del-Mar is now referred to as Salman Khan Café as its identity has changed. They used to look forward to having Salman and the entire gang visit every day."
So whenever you visit Turkey dont forget to check out the place.
Ek Tha Tiger will be released on 15 August.