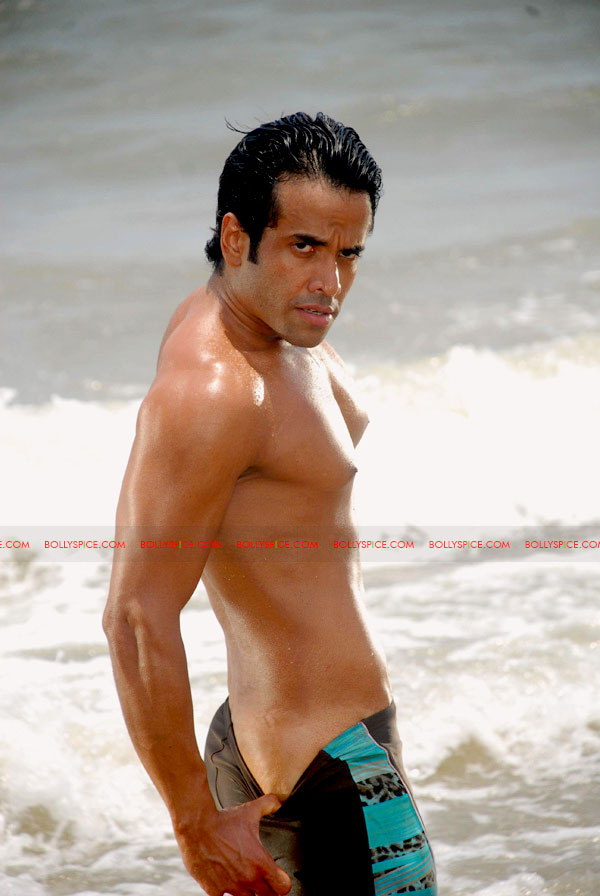 Tusshar Kapoor is back in his comedy avatar with Kyaa Super Kool Hain Hum, which is set to release on July 27th. Partnering once again with Riteish Deshmukh, the funnymen revisit the world of the original hit Kyaa Kool Hain Hum from 2005. In what is being called a "sex comedy", the like of something India has never seen before, this time the boys are off to Goa to find true love. Of course, mayhem, mistaken identities and madcap adventures ensue. Check out what Tusshar told us about this funny film!
What made you decide to take on this role again?
I took on this role only because I was part of the brand even when the film came out in 2005 – the first part of the series. I had to be a part of the sequel. When they narrated the entire script to me I was completely overjoyed by it. I mean there was no question, I had to take it up.
So what is the story this time for these two guys?
Well this time, like the first part, they both are trying to make it big in the world of the profession that they aspire to be in. They also try to find true love. Both are basically trying to live the happy Mumbai life. They are on a quest to find that right girl, the chick that they want to have in their life and the money that they want to have in their life. This quest takes them to Goa. The madness that happens in Goa is presented in a very naughty and raunchy fashion. It's a fun sex comedy. That should not really deter people from watching it because it's very, very cute and it's a good film at the end of the day.
Do you think Hindi film audiences are ready for a full on sex comedy like this?
I think now they are much more ready. I think they were ready earlier, but that was only a section of the audience. I think now, more and more people are ready to watch this kind of a film. I think the Indian audience is pretty mature now after Kyaa Kool Hai Hum came in 2005, Delhi Belly came in 2011. Things have changed. We are open-minded. We are kool! We are super kool, in fact! (Laughs)
Tell us about your comedy chemistry with Riteish. How do you guys feed off each other to be these two characters?
There is a camaraderie between us and I think that comes through onscreen. We don't really have to work hard on our scenes. We just enjoy it. I think it comes with sharing a good vibe. It is a friendly feeling. Even if you are not the best of friends, it is a friendly feeling and that is what I think has worked for us together.
Did you and Riteish ever improvise the scenes?
Well, we used to sometimes improvise and add more masala to the scene, but we also stuck to a lot of things that the director wanted and he didn't want them changed. So it was his clarity that we stuck by also. But at times we would have fun with the scenes.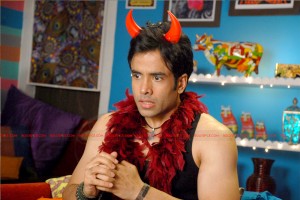 They say comedy is one of the hardest things to do. Do you find that to be true?
Well, everything is hard or easy as how much you would like it to be. I think it all depends on how you approach the role, the character, and your work in general. If you take it seriously then everything is serious. Comedy is also serious business. Even a serious film with a serious character can be complex and complicated so there's nothing that really especially hard about comedy, but it's just about how you approach it. There has to be an innate sense of humor, innate quality about you that people should find funny and that comes just from within.
So how do you get yourself into a space to do the funny scenes?
You just have to convince yourself and you believe the situations are happening in reality. You have to make yourself believe that you are actually going through these situations. What would you do if you had to experience these wild wacky situations? That's the bottom line of acting. There are so many things that don't really happen to us in reality, but we have to imagine them, we have to convince ourselves and that's my job.
Tell us about working with Neha Sharma and Sarah-Jane Dias.
I loved it. They are young, they are youthful, they are fun, and they are enthusiastic. They don't have tantrums because they are newcomers. So, yeah it was nice.
What about working with Director Sachin Yardi?
Sachin is a director who I've worked with in C Kkompany. So I've worked with him the second time in this film and he's also written the first Kyaa Kool Hai Hum. I would say he's over-enthusiastic to put it mildly. Very hardworking, over-enthusiastic, anal to the point of you can really get tired of him, but he's really just doing his job. He can be a pest, because he's so demanding but at the end of the day the output is amazing.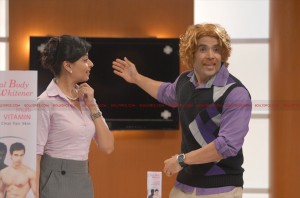 The film has some great and surprising music. Everyone loved 'Dil Garden Garden Ho Gaya'…
The music is climbing the popularity charts. And though 'Garden Garden' has worked with the youth, I think 'Shirt da Button' is another song, which I think is much more universal and it's reached a wide variety of audiences. It's your quintessential, classic, conventional Hindi movie romantic song, which has a lot of melody. It works through all ages and through all age groups. So we have these two aces. Then there is also the 'Hum Hai Cappuccino' song, which is a very tapori song if you would understand what I mean by tapori. Very rustic, very rough and tough, very mad and wild song, which I think the heartland of India, would be able to relate to because it kind of has that UP, Bihar flavor in it.
So how much fun was it to make this film?
I would say it was super kool. Goa was a blast.
You have played such a varied range of roles, from The Dirty Picture, to the Golmaal series, to this one and the upcoming Shootout at Wadala. How do you decide which films you want to do?
I think it's the script first of all and then it's the makers who are behind it – the directors, the producers. I think the entire package is what matters.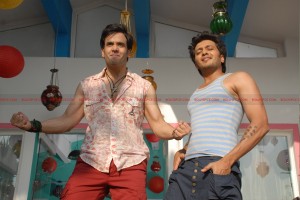 How do go from playing the character in The Dirty Picture, to this comedy and then Shootout at Wadala?
Well, it's difficult when you are starting a new film. Every new film has these different characters, they have different characteristics, they have a different understanding, a different zone all together, so it's difficult getting into the zone. Once you are into the film then unless you break out of it and do something else for a long time you can really switch off and switch on. But films that you are not shooting continuously that's when the problem starts, because you have to really get into the whole mindset all over again. You just have to read the script and I try to kind of recollect everything that I had worked out for the character. It's tough, but sometimes you have to go through that.
What can audiences expect from Kyaa Super Kool Hain Hum?
I think they can expect entertainment. They can expect a lot of surprises. Kyaa Super Kool Hain Hum is novelty because the kind of humor you don't really see that often. They can expect good music. It is just a good stress buster.
Get ready because this 'Kool' road-trip hit theaters Friday!