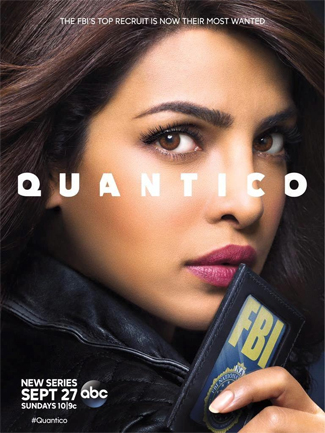 After tons of buzz and media attention, the wait for ABC's new thriller Quantico finally ended on Sunday night. With our very own Priyanka Chopra as the lead of this series, we at Bollyspice were beyond eager to finally check out Miss World in action as a feisty FBI recruit. And we were not disappointed.
Described as a cross between Homeland and Grey's Anatomy, Quantico follows Alex Parrish (Priyanka) and a group of young FBI recruits as they endure a training camp in Quantico, Virginia. Fast forward nine months, and the U.S. suffers the biggest terrorist attack since 9/11. The kicker? Alex is the main suspect – and has clearly been framed.
It's pretty impressive how much Quantico was able to squeeze into just one episode. We got plenty of scandal, romance, violence, mystery and plot twists in the action-packed pilot. Naturally, there was so much happening that unless you were paying close attention, things could get a little confusing and important details and clues could be easily missed.
There's also the plausibility factor. Certain unrealistic scenarios were, funnily enough, reminiscent of a Bollywood movie (think 2006's Don). But for viewers who like to think of TV as an escape from reality, this won't be an issue. Think of Quantico simply as a fun, mysterious thriller and versus an accurate depiction of the American FBI and you're in for an intriguing ride.
As for Priyanka herself, she proves that she can, so far, carry an entire show on her shoulders. Her portrayal of a cool, confident and modern woman is believable. Yes, her struggle with the American accent is real and evident but makes sense with her character who spent 10 years in Mumbai. Priyanka is also, of course, gorgeous as Alex Parrish but perhaps a little too glammed up in terms of hair and makeup while she goes through a rigorous training camp. We'll also need to see more character development before we can truly judge PC's performance but, so far so good.
Anjanue Ellis (playing Miranda Shaw) and Yasmin Al Masri (playing Nimah Anwar) also stand out in this early juncture as strong, mysterious characters. Johanna Braddy (playing Shelby Wyatt) is likeable as well. Jake McLaughlin (playing Ryan Booth) is clear eye candy but fails to make an impact beyond that at this point.
Overall, Quantico shows great promise and after this first episode, we're eagerly anticipating the next. To truly succeed Quantico will need to focus on keeping storylines straight, developing characters and keeping things fast-paced without getting too confusing.
Quantico airs on Sundays at 10 p.m. on ABC in the U.S. and will premiere on October 3 at 9 p.m. on Star World in India.