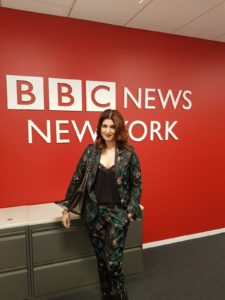 Twinkle Khanna, a vocal women empowerment champion, interior design entrepreneur, best-selling author, newspaper columnist and producer of PADMAN – the world's first feature film on menstrual hygiene releasing 26th January 2018 – was invited by BBC World News, live from New York, to discuss the making of the film as well as the importance of raising the issue of female menstrual hygiene and dignity around the world.
Speaking to BBC presenter Philippa Thomas, Twinkle Khanna discussed the origination of the idea to make a film based on the real 'padman'. She said: "I came across the story of Arunachalam Muruganantham when researching him for Times of India. I knew I had to make a film on his story and after weeks of trying to contact him, we finally agreed to make the film." She later outlined the extraordinary story of Arunachalam Muruganantham: "He decided that he would test the sanitary pad himself by putting it between his legs whilst he had a plastic sachet of blood also placed there. He then began to cycle everywhere to see if the blood would be absorbed by the pad. He was ostracised by his friends and family and his wife left him, but this didn't stop him. He went on to create a machine which till this day is used to dispense sanitary pads at an affordable price."
The story of PADMAN was first featured in Twinkle Khanna's best-selling book of short-stories, The Legend of Lakshmi Prasad. Responding to the question of why Twinkle Khanna felt the story had to be made into a film, she said: "I wrote a book on his story, but I think modern day consumers are viewers not readers, so it was important to have a film on this as well as his story which needs to be heard."
Issues relating to menstruation and menstrual hygiene are not just limited to developing nations but are a global phenomenon. For instance, whilst 12% of women have access to sanitary pads in India, the figures are just as startling in the UK with only 1 in 10 girls being able to afford sanitary items. The film, which will be shown in Indian and worldwide cinemas has sent shock waves around the world, with its bold endeavours to detach the stigma from female menstrual hygiene and to promote menstrual dignity, gaining plaudits from sources far and wide. Speaking about the ambition to ensure the film reaches and resonates with a global audience Twinkle Khanna said: "I thought his story should reach every household in India as well as around the globe because this really is a worldwide issue. The Inability to buy affordable sanitary pads and the issues around 'Menstrual Tax' are not just problems in India but are global." She added: "20% of children drop out of school once they start menstruating and this must change. We hope this film can contribute to this."
PADMAN, starring Akshay Kumar releases internationally on 26th January 2018 through Sony Pictures.