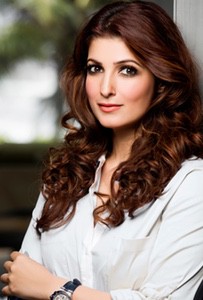 She began her career on screen as an actress but Twinkle Khanna found many other paths for her work and for her life. Khanna has gone on to create outstanding and entertaining work as a writer both in her columns and best selling books (Mrs. Funnybones, The Legend of Lakshmi Prasad), beautiful interior designs, as a producer of incredible films, and one of the things that is most important to her is being an advocate in women's rights.
It is through research for her column and her second book that she came across the story of her newest film Pad Man. Set to hit theaters today, the socially conscious Pad Man is the world's first feature film on menstrual hygiene inspired by the story of TIME Magazine's 100 Most Influential entrants Arunachalam Muruganantham, a rural welder from India with a unique, eccentrically mad edge who turned incredible inventor by providing women with access to high-quality and affordable sanitary pads 20 years ago. The film traces Muruganantham's international journey from an outcast exiled from society for his endeavors to delve into such a taboo subject, to becoming a super-hero of India's modern history, as he followed his dream to bring a revolution to menstrual hygiene in India. Pad Man refused to give up in the wake of scrutiny and ridicule, using his resilience and initiative to invent India's low cost sanitary napkin making machine. An extreme enigma in his hometown, Arunachalam Muruganantham's super-heroic efforts led to a business that today employs hundreds of women across India.
In a very special interview, Twinkie Khanna gives incredibly thoughtful and insightful answers about developing the story and then going on to produce the movie of Pad Man. She also discusses Akshay's work in the film as well as how important she feels this story and the film is – especially the message and the conversation they hope to begin in India and throughout the world.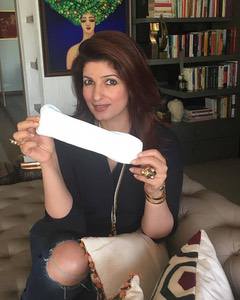 With both your successful column and wonderful books, was writing both something you always wanted to do?
Deep down yes – it just took me 20+ years to realise it as I was thrown into a family business – a career in acting! Acting for me, lacked any form of creative fulfilment and my heart was never truly in it.
Writing on the other hand has given me a platform for creativity that I am very thankful for. It has been moulded by my life experiences, growing up around strong women. It's like Yoga, letting me be mindful, and allowing me to see the world on multiple levels.
My philosophy is to leave the world better off than when I found it, whilst entertaining myself in the process. I believe that the key to life is finding an occupation which you enjoy – do this and you'll never work a day in your life! I felt I was far more likely to create impact and change in the world through my writing than I would through acting from another person's script.
When you came across the story of Arunachalam Muruganantham, what were your first thoughts? And what made you not only write about him but then go on to develop the film about his story?
I first came across Arunachalam Muruganantham when I was researching for my column in The Times of India. I was instantly gripped by his story – a man who wanted to do something as simple yet important as creating a low cost sanitary pad for his wife, and was ostracised for it.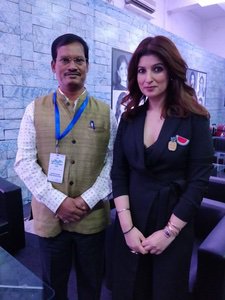 Here was a real life tale of a man who risked everything he had – including his wife and marriage – for the empowerment and comfort of hundreds of thousands of women.  He went to the ends of the earth to provide an affordable sanitary pad for his wife to make her life better, more comfortable & disease free, even though the pursuit cost him his matrimony.
He was relentlessly trying to develop a low cost, high quality sanitary pad and in the process even decided to test the pad himself, since no woman would, by putting it between his legs whilst cycling with a plastic packet of blood and a pipe connected to it. He was cycling with blood dripping between his legs to see whether the pad would leak or not. I just thought his story was remarkable.
He disregarded the risks of isolation and ridicule to go out and get what he wanted which is something I found so inspiring. He must have been the only man to know how women felt on their periods.
Pad Man was a story that I felt needed to be told in every household, to start a conversation about menstruation and whether we like it or not, most people in the modern era are comprised of viewers rather than readers. His story inspired me to write an anthology but even though that book, The Legend of Lakshmi Prasad, was a success I was still determined to spread the message and the story as far and wide as possible. I believe that film really is the best vehicle to propel this story to the forefront to educate the world. I even chased Arunachalam until he said yes to the project!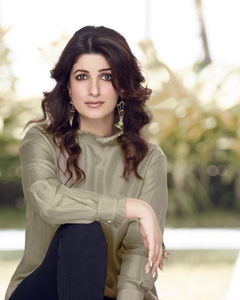 How involved are you as a producer from scripting to casting to music to filming; especially for a film like this?
As far as this film is concerned, my job began with persuading Arunachalam to make a movie, which was probably the hardest part of the whole process. After that we had to sort the production, and I was working on the scripting. We also went to the location of the film which is largely shot in Maheshwar in the State of Madhya Pradesh. So going there for about 8 days, location hunting and figuring out what we're going to do there were all tasks I had to do. Once the movie was shot, my work turned to post production and marketing. I would say my favourite part is without doubt seeing the final product – it acts as a reminder that all of the late nights, early mornings and travelling was all worth it. It's a wonderful feeling.
Was Mr Kumar your first choice for the film and now that the film is on the cusp of release what do you think of his performance?
I initially wanted to make a small film but soon realised that we could make a powerful statement against the taboos around menstruation if we had Akshay in the film, someone who is idolised by millions. By having him in the film holding a sanitary pad in his hand we thought we could inspire others to at least have a conversation about menstruation. I want to break that stigma more than anything else.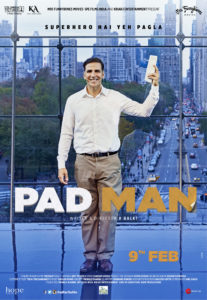 Akshay embraced the subject like a duck to water. It would have been easy for a respected actor of his calibre to shy away from a subject such as this, but he jumped at the chance to play his role in empowering women and championing equality. Having a male role model with the international following of Akshay in a film like this was bound to initiate discussion.

It seems to me that one of the things the entire cast and crew kept in mind while making Pad Man was that not only are you are telling this important story but you are telling it in an entertaining way, what went into that decision to make the film that way?
I firmly believe that any form of art has to be able to hold the viewers. Documentaries are made but how many people will watch them? The benefit of making this into a film is that the canvas is much larger and we have the creative bandwidth to make the narrative entertaining, entwining comedy, emotion, drama all into one, whilst inspiring and educating audiences all at the same time.
By presenting the audience with something that has a bit of substance, excitement and entertainment, you are of course going to attract more people. In fact Pad Man is essentially a love story about a man who against all odds wanted to bring dignity to his wife…. even at the expense of his marriage!
More people means more eyes, and more eyes means that more are going to be hearing our voices. Above all else, it's the attitudes of the public which is important – and change will only happen once we educate them. This is why we opted to make a film, to incorporate our message into the magic of cinema.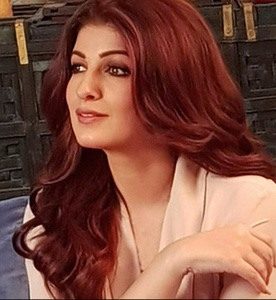 It is being recognized the world over as an important film even before release, what does that mean to you? What do you hope this film will do for India and the world?
The response has been overwhelmingly positive so far. I have not heard a single woman question the subject, and I hope that men see the importance behind the film as well.
You can only really fight for your rights and the rights of others if you know what those rights are and I feel one of our biggest accomplishments have been to spotlight the issues relating to menstruation – be it period poverty or period taboo – so people are more aware of the issues.
Whether people are speaking positively or negatively, advocating for change or dismissing it, whatever it is, a conversation has begun. Of course there will always be skeptics, who are stuck in their ways and will object to this sort of taboo being thrust into mainstream cinema, but the majority will always win – and as I say, the majority have responded positively.
We want to see all of the members of the family watching it – from grandfathers and fathers to sons, brothers and uncles! We hope that Akshay's presence in the film will make it more relatable for men, because he is an idol to so many. I think with time, as the film begins to get people talking at their desks, on the commute to work, on social media – those who were initially reluctant to go and watch the movie will come around. That's the aim – to change attitudes and opinions.
That's why Pad Man is such an important film for whole families to see as it impacts everyone.
Pad Man, directed by R. Balki and starring Akshay Kumar, Sonam Kapoor and Radhika Apte releases worldwide today!
Be sure to also check out our interview with Akshay Kumar and composer Amit Trivedi!