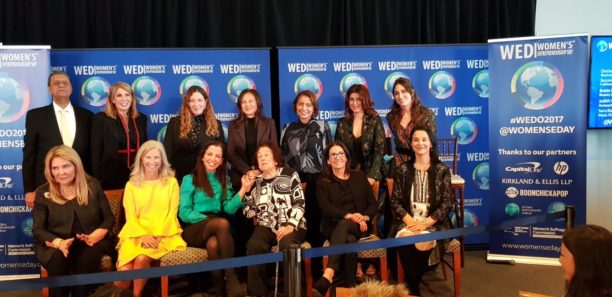 Best-Selling Author, Film Producer and vocal female empowerment champion, Twinkle Khanna took part of prestigious panel of "girl power" change-makers at the annual international Women's Entrepreneurship Day [WED] event, which convened at the United Nations in New York City on Friday, 17th November 2017.
Held to empower women and girls globally to help alleviate poverty, WED curated the Sparking Confidence in Girls with Stars of Today panel, which saw Twinkle Khanna join discussions with other eminent personalities including Sara Bareilles, Singer, Songwriter, 6-time Grammy Nominee, Broadway Musical Writer/ Composer "Waitress", Mikaila Ulmer, 12 Years Old, Founder Me & the Bees Lemonade & Successful ABC Shark Tank Contestant, Angela Simmons, Founder/Designer Foofi and Bella, Editor Angela's Rundown, Star WE TV's Growing Up Hip Hop and MTV's Run House, Philanthropist. The panel was moderated by Veronica Dagher, 'Secrets of Wealthy Women' @WSJPodcasts and Wall Street Journal Wealth Adviser Reporter.
In an event replete with a host of high-profile attendees such as the CEO of Beauty Evolution, Bobbi Brown, the First Woman Television Producer in the US Lucy Jarvis and one of the Board of Directors of UN Women For Peace Association Muna Rihani Al-Nasser, Twinkle Khanna shared her inspirational thoughts on the key aspects to overcoming female oppression in industries far and wide to ensure that all have the equal opportunity to become successful.
"There are two things needed to be successful. One is a genuine interest in what you are doing, and the other is aptitude. If you have high interest and low aptitude – you have a hobby. If you have high aptitude but low interest – you have a job. If you have high interest and high aptitude – then you have yourself a career!'
"Secondly, trust your instinct! Your instinct is an amalgamation of all your experiences and information you have gathered which sit in your subconscious; they're neurons rapidly firing together acting on the knowledge you have accumulated that is speaking to you" she added Twinkle Khanna.
A serial entrepreneur, Twinkle Khanna's latest role is that of Producer for 'PADMAN' – the world's first feature film on menstrual hygiene releasing in cinema's around the world on the 26th of January 2016. PADMAN stars one of India most high-profile stars and renowned change-innovators, Akshay Kumar, who plays Arunachalam Muruganantham – the man who created the sanitary napkin revolution in India by inventing a machine to make low-cost sanitary pads. The film, which is sending shock waves around the globe as a result of its bold endeavours to banish the stigma attached to female menstruation, is the latest of Twinkle Khanna's hard work to raise awareness of female oppression.
Speaking on the importance of raising the issue of menstrual hygiene not just in India, but around the world, Twinkle Khanna said: "In my country we have a huge issue in that only 20% of women use tampons and sanitary pads, the rest do not have access or simply cannot afford to buy them. There is a global taboo and I wanted to detach the stigma attached to menstrual hygiene as it is such a natural part of the female body."
Twinkle was also keen to express the need to experience failures and setbacks in order to grow, learn and be successful. "We teach our children to strive hard and to succeed but we don't talk to them about failure. Failure is a learning tool, a cornerstone of success with hurdles being a necessity. The adventure lies in climbing up the mountain and not in walking on plain ground."