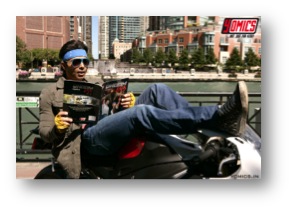 Shooting for an action movie is a gruelling task. The stunts, fights and races can be quite exhausting. Uday Chopra has found an innovative way to relax between takes, all the stunts and action.
Recently, Uday was spotted on the set of Dhoom:3 engrossed in reading Dhoom, not the script but his own YOMICS graphic novel, 'Dhoom Redux 893'!
Ever since its launch in July early this year, Uday Chopra's passion project YOMICS has been the talk of the town. YOMICS has already launched graphic novel titles such as Dhoom Redux, Ek Tha Tiger (With two issues: Saving the High Seas & Caught in the Web) while also reintroducing readers to the ever popular Hum Tum. Uday has also launched a brand new title, Daya Prochu, which has quickly become a favourite amongst readers. He is extremely passionate about the medium of comics and endeavours to bring this art and form of entertainment back to the mainstream to help excite and entice existing and a new generation of readers.
Earlier during the launch of YOMICS, Uday talked about his interest in being part of a comic convention. He had exclaimed, "I would love to take YOMICS to the Comic Con soon. It's a great platform. I will not be there in India but we will figure a way out to have some kind of presence at the India Comic-Con."
He has kept his word by participating this year at the Mumbai Comic Con being held on 20th and 21st October at the World Trade Centre. YOMICS will showcase their work and all the titles released so far will be available along with some great collectibles.
YOMICS is now gearing to launch many more titles. Soon!