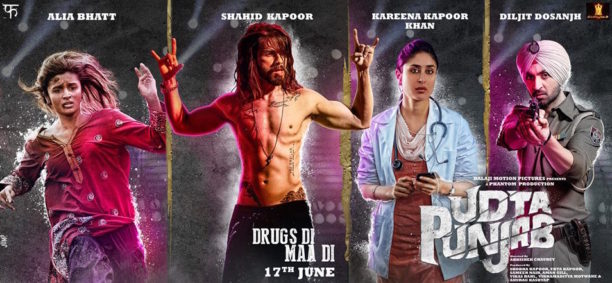 Half of the appeal for Abhishek Chaubey's Udta Punjab is how the music would capture the trippy sounds of most drug movies. He won us over with the snippets of the hypnotic "Chitta Ve" and brash "Udd da Punjab" in the trailer. He's in safe hands with Amit Trivedi, who brought a diverse mix of Punjabi and electro sounds in Dev D. Udta Punjab is a pretty fabulous and edgy album with music that matches the highs of its film.
From the fizzy opening hook to Babu Haabi's gritty "Dekho dekho," Chitta Ve is an addictive song. Starting the album with a pulsating track is the right move, because Trivedi arranges the catchy drop of the film title so seamlessly amidst the electro beats. Babu Haabi's rap delivery is raw and fast, but it works against Shahid Mallya's earthy tones. The lyrics by Shellee steep you in the drug user's frame of mind, with Trivedi matching the highs and lows with the meandering tempo. Keep this one on repeat.
With Da Da Dasse, Amit Trivedi delivers a fabulous track that gives Kanika Kapoor a chance to show off her versatility than the 'Chittiyan Kalaiyan' and 'Baby Doll' songs have. Since the song is laid back with its arrangement, Kapoor has fun with the chorus and the drop is perfect timed with Babu Haabi's verses. Haabi and Kapoor do a commendable job here, both of them showcasing their alternative side.
I loved that Trivedi used a song by Punjabi poet, whose original 'Ik Kudi Jide Naam Mohabbat' was an elegiac lament on heartbreak. The first version of Ikk Kudi sung by Shahid Mallya is nice but it sounds as if he pitched it wrong with his staid melancholic sound. The reprised version by Diljit Dosanjh is much better because it's got the grungy bass sound and Dosanjh infuses a bit more passion into his rendition. Pick your favourite, since both singers make it their own.
Varun Grover is quickly becoming one of the best lyricists around, and he uses that cheeky humour in Ud Daa Punjab. The lyrics take a caustic look at drug users, and Vishal Dadlani raps the edgy verses quite well. The arrangement is addictive with the tumbi and dhol lining the chorus, and the chorus completely stays with you after. Trivedi and Dadlani are their grizzled best, growling that opening, "Ander da kutta ajj kadhiye hai/Agg duniya petrol chal suttiye hai" that you can't help but be impressed.
The low key song of the album, Hass Nach Le, is a welcome respite from the heady vibe of the album. The opening strums remind you a bit of 'Rabba Toh Main Margaye Oye' from Mausam, but the harmonium melody by Akhlak Varsi leads the way. With minimal arrangement, Shahid Mallya is soulful and dreamy with his vocals. It's a nice track that'll probably be used as the sole romantic number in the film.
Closing the album with a bang, Vadiya, finds Amit Trivedi going on an intoxicating trip with his airy and spaced out vocals. Getting into the drug-users POV with Shellee's lyrics, "Chali jad hawa.. main udd gaya/Na puch kya hua.. main udd gaya." It's an effective song, and you'll soon be chanting the title, because it's such fun track.
Udta Punjab is another career high for Amit Trivedi as he's using new sounds and original lyricists who push the album to that edgy level. He also pushes his singers into new territory which is an added bonus.