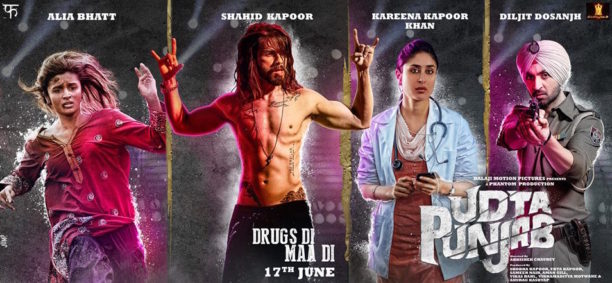 Udta Punjab
Starring Shahid Kapoor, Kareena Kapoor Khan, Alia Bhatt, Diljit Dosanjh
Directed by Abhishek Choubey
Who thinks of such a story to tell?! Only a mind that is either supremely screwed-up or stunningly sorted. In director Abhishek Choubey's case, I'd go with the latter.
Udta Punjab is a work of contemporary art so audaciously unprecedented in its vision and execution of a subject that is topical and timeless, you wonder if Bollywood, as we love and hate it, is finally growing up.
On the other hand lest we forget, filmmakers in the past like Bimal Roy, Guru Dutt and Gulzar constantly prodded and pushed mainstream Hindi cinema into areas of darkness, not fearful of the unlit interiors of the human heart.
Abhishek Choubey takes this forward to an altogether new high, the politically empowered human drama of Bimal Roy's Do Bigha Zameen (the migrant's plight in the city,as played out by Alia Bhatt's character) and Gulzar's Maachis (Punjab, bloodied battered and wounded, not more romanticized).
I use the term 'high' quite deliberately. At least one of the film's four protagonists, the subversive rock star Tommy Singh is zonked out of his mind most of the time. So is the hauntingly persecuted Bihari migrant Pinky, the reluctant drug addict pumping her veins with dubious drugs to numb herself against constant violation.
Shahid Kapoor and Alia Bhatt are born again as they play the two traumatized characters (at one point he stares at his ravaged reflection in a toilet bowl, she bawls her messed-up head into a well) journeying from the opposite directions of the moral scale. And yet their pained lives converge at one point in a strange unexpected and life-changing encounter. Both actors bleed brilliancy into their roles, bringing to the screen an electrifying authenticity with their sheer understanding of the complexities that define the drug politics of Punjab.
No actor in Udta Punjab plays his or her part in isolation. Everyone contributes persuasively and comprehensively to the director's grand design whereby "reality" is transmuted into a kind of cinematic language which we have never experienced before. And I don't mean the profane dialogues, of which there is no dearth. Sure, the characters barring Kareena Kapoor Khan's doctor Preet Sahani who is immunized against the filth of moral debasement, talk dirty. Somehow their language is so much in keeping with their characters, we stop flinching to their ma-bahen fussilade 15 minutes into the film.
There is so much to appreciate in this amazing film, the unparliamentary language becomes the least of the take-aways. Specially impressive are the Punjab locations and the way they are shot and fitted in with incidental music and sounds that appear to demolish and break down the distance between the director's vision and the audiences' perception. Meghna Sen's editing is razor-sharp. It allows the depraved disoriented people in Choubey's film to open up their minds and emotions just enough for us to get a vivid glimpse into their troubled lives.
Though the playing-time clocks at 2 ½ hours, the burden of the duration is never felt by audience.
This time, the creator of the chaotic world of moral compromises takes full responsibility for his actions. Director Abhishek Choubey looks at the wound-up characters in all their emotional nakedness, staring at their exposed lived without pity anger or revulsion.
For the audience it is hard to look away from the realm of brutal self-interest built around the renegade characters. It's specially heartbreaking to see what the script has in store of Alia Bhatt's character. But then, this is no country for the week and infirm. Udta Punjab is not only about Punjab and its drugged youth. It is also communicates with furious fluency a far-reaching statement on our wounded civilization which thrives on inequality, injustice and exploitation.
The complete breakdown of the moral order and the subversion of law and order, are issues that govern the characters' lives, twisting and changing their destiny in cruel ways.
Amongst all the devastation and decimation of humanism Udta Punjab gives us flash-moments of redemption and enlightenment. For the debauched rock star Tommy Singh it comes when thrown into jail for his obscene antics. There, he meets his fans, one of whom has just killed his mother when she refuses him money for drugs. The incident awakens Tommy's conscience. He is ready for the change.
For the corrupt cop Sartaj Singh (played with persuasive sardonicism by Diljit Dosanjh) the moment of awakening comes when he meets the spiritually and well, just, literally beautiful Dr Preet Sahani. Kareena is perfectly cast in the part and so at home playing the seductive saviour-angel that when Diljit looks at her adoringly and says she is perfect, we know exactly what he means.
Two love stories, one redemptive, the other tragic, grow out of the desperate crisis in the plot, leading the screenplay through a maze of haunting and hilarious incidents that leave us exhilarated and exhausted.
Udta Punjab is replete with encounters where strangers meet and strike up a rapport that changes their lives.
Understandably this is a film that changes the audiences' life too. No sensitive rational viewer can come away from this experience without in some way feeling transformed.
Feral Frenetic, riveting, hypnotic, hallucinogenic and altogether incredible we've never seen anything quite like Udta Punjab before.