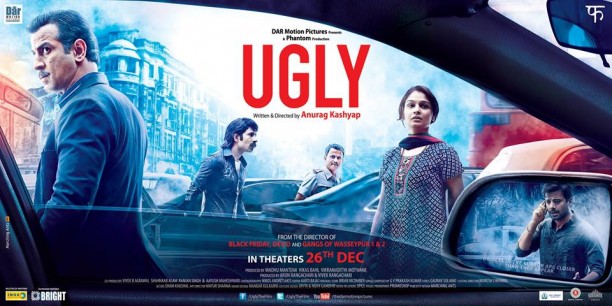 Ugly ugly hai biwi, ugly ugly hai husband, ugly ugly hai friends U G L Y, ugly ugly hai rishety, ugly ugly hai kishtey, ugly ugly hai duniya U G L Y. These lines penned by Vineet Singh for the title track summarise the world Anurag Kashyap brings to screen with his latest release. However, as always the world he puts on the screen sadly has very little to do with the fact the writer/director is a creative genius, but more to do with the fact that he observes life very closely. The ugly characters, the ugly situations and the ugly relationships are almost too confrontational because they remind you of things in your lives, your friends' lives or something you've read or heard. After all, truth is stranger than fiction. 
It is not very often that you watch a crime thriller and where the "who done it" question is actually the last thing on your mind. The kidnapping of Kali is nothing but a deeply disturbing event in the lives of characters who are perhaps more disturbing than the event itself. It create a window into the lives of all those who are supposedly meant to love and protect a beautiful young girl but instead are too busy in their own worlds to do either. Her mother (Tejaswani Kolhapuri) uses the incident as a means to siphon money from Kali's grandfather. Her step-father's (Ronit Roy) motives in searching for her is also debatable, is it guilt, is it love or is the need to once again prove his superiority. The father (Rahul Bhat) is too busy fighting his insecurities to think straightly. What to speak of the others in their lives be it Kali's uncle, Dad's best friend or Mum's best friend, all of whom think this is a great way to earn some money without having to have done anything. And if you don't think all these character's make Kali's world dark enough wait till you discover the prologue of the film. 
Ugly is immacutely conceptualised and executed. Despite being dark and gritty it is entertaining throughout with moments that even let you indulge in a spurt of laughter such as the initial police station scene or the "Nana" poster very cleverly placed in the background in a scene. The execution credit largely also lies with cinematograper Nikos Andretsakis and background music composer Brian McOmber who bring to life Kashyap's writing in the most powerful of ways.
The films boasts of no heroes except for Kashyap himself. The writing is one of his best work. There are no important scenes or moments in Ugly. Every scene is as powerful as the next. More importantly, no scene is inserted without a point – a feat which a film very rarely achieves. Take a bow editor Aarti Bajaj.
The music of Ugly doesn't prompt audiences to react in a certain way but rather adds to the world Kashyap is bringing to life onscreen. It is loud, gritty and raw. Money, sung by Christopher Stanley has one of the most interesting uses a song has had onscreen. Papa comes in at a heart sinking moment where all you are left to hold onto is Shilpa Rao's breathtaking vocals. Ni Chod De is extremely hilarious and serves the purpose of creating the world in which Suveen Chawla's character resides. Suraj Hai Kahan sung by composer and legend G V Prakash himself is another keeper track. 
All the characters of Ugly are as complex as they come. In one scene Kashyap makes you think you've figured them out but in the very next the conclusion you'd just come to is completely wronged. Whilst Kashyap may not have constructed this film to have 'one' star, some how or another the star of the film came out to be Ronit Roy. The man commands your utmost attention when he walks into the frame. He plays a character which is perhaps the hardest to decipher and firmly lies in the 'grey' zone, tipping over to the dark side every other scene. Roy portrays this with flawless conviction. Up next for accolades is Rahul Bhatt who delivers a perfectly raw performance. We need to see more of this guy! Tejaswini Kolhapuri is first grade in yet another very complex character. Surveen Chawla is down right hilarious and stunningly bad ass! Vineet Kumar Singh grabs the opportunity of quite a major role with both hands and delivers a stella performance. Siddhant Kapoor deserves all the bows for exercising pure inhibition, literally, with his role. Of course you cannot also forget Girish Kulkarni for being one of the most hilarious scumbag cop characters we've seen onscreen. His understated comedy scenes are one of the highlights of the film.
Ugly is not your cheerful holiday movie but the kind of film that must be seen. Its serves as a brutal mirror to society and is likely to do more so for parents. It will act as a wake up call and stir up realisations that perhaps you've been ignoring. Not everyone has a taste for an Anurag Kashyap film but if there is one Anurag Kashyap film you're to watch, it should be Ugly.