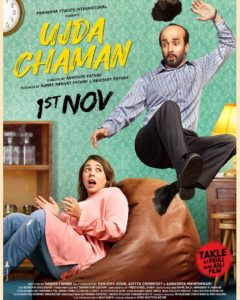 Ujda Chaman
Starring Sunny Singh, Maanvi Gagroo
Directed by Abhishek Pathak
Fate is a strange bird. It brings good fortune most randomly to souls. Why else did Kartik Aryan become a star after Sonu Ke Titu Ki Sweety while the equally talented Sunny Singh who played Tutu got left behind?
Hopefully Sunny will catch up with Ujda Chaman, a stinging and partially sharp and always blunt satire which takes potshots at the Adonis-Venus stereotype of Male and Female perfection that our cinema has propagated ever since Madhubala was wooed and won by Dilip Kumar. Ujda Chaman tells us how heroic it is to be flawed so long as we accept our shortcomings.
We all know that there is nothing perfect about life, not the relationships and certainly not the pulls and pressures that bring couples together in a conflicted embrace. One such couple is the 30-year old bald but undefeated virgin Chaman (Sunny Singh) and the overweight girl ironically named Apsara (Maanvi Gagroo, warm and nurturing).
Both Sunny and Gagroo bring such identifiable warmth to their roles of social misfits, they are enough reason to watch this sincere and endearing rom-com about a receding hairline and a spirit of optimism that just won't recede with the hairline.
Gagroo's Apsara and Sunny's Chaman meet on Tinder. And …well…it is not love at first sight. "Who goes to Tinder to get married?" Apsara asks us loudly and scornfully. While they dislike one another at first sight their parents, given up on the idea of their respective progenies ever getting married, suddenly see a spark of hope….
That Chaman's parents are played by the wonderfully over-the-top Grusha Kapoor and Atul Kumar is just a lucky happenstance. The two veterans bring a flood of fervor to Chaman's desperate search for a partner. Every actor even in the smallest parts is effective. Note the young boy who plays Chaman's heckling student.
The performances never let the script down. The background music does. Loud, intrusive, it tries to lead us through the characters' emotions by painting big garish signposts to those emotions. When will Indian cinema learn to keep the background soundtrack uncluttered?
Debutant director Abhishek Pathak handles his cast well. Most of the actors leave a lasting impression. The film says a lot about body shaming without diving into the deep-end. Pathak keep the proceedings equanimous and agreeable even while letting us know that there is more to a marriage than meets the aisle.