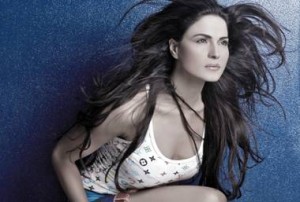 We can confirm that actress/model Veena Malik has been missing for the past 36 hours. She was shooting for a Bollywood movie, Mumbai 125 kilometers, at Film City in Goregaon innorthwest Mumbai where Malik left in a car after pack-up Friday morning and has not been reachable since.
''We have tried to contact Veena since yesterday morning, this is not like Veena to turn her phone off. We are usually constantly in touch via Blackberry messenger and phone calls. we hope and pray she is safe, I would also like to add this is not a PR hoax, police complaints have been filed from our Mumbai team and we are trying our very best to trace her,'' said Nisha Sahdev CEO, Sahdev Media, Veena's UK Publicist.
Veena has been under severe depression and stress for the past few weeks with the FHM and Family issues alongside a very busy work schedule.
We will inform press and media as soon as we know more.