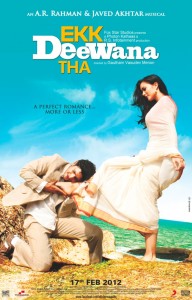 Hailing from the new age genre of Hindi cinema that presents a fresh and youth-targeted perspective, Ekk Deewana Tha retells the classic, intense love story with fresh impetus for a new generation of cinemagoers, releasing through Twentieth Century Fox on 17th February 2012.
Ekk Deewana Tha weaves an emotive and powerful tale of how the path to true love never runs smoothly and that following your dreams comes at a price as it explores the highs and lows of being in love and the pleasures and pains associated with it.
The soundtrack to Ekk Deewana Tha' is has memorable compositions by multi-Oscar winner AR Rahman (Slumdog Millionaire). Lyrics have been penned by India's most popular and sought-after lyricist, Javed Akhtar.
The music has received rave reviews from critics and fans alike, with the track 'Hosana', already populating the radio airwaves. In speaking about the music, A.R. Rahman said: "This is my favourite romantic album in recent times, while I have been doing music for many fresh actors, I hadn't composed a fully romantic album in quite a while". His fans have been eagerly awaiting the music launch after listening to the background score in the film's First Look trailer.
Speaking about the film, Rahman added, "This movie is nothing but romance and humor, with a very soothing kind of narration. People will love it. Music is the expression of love and with this movie, I am trying to bring that romance back."
Making her Bollywood debut in the female lead after a successful run in Tamil Cinema is British actress and model Amy Jackson, who is also former Miss Liverpool, Miss Teen World, Miss Teen Great Britain, and Miss England runner up. The English starlet, who is making waves with her film career in India, stars opposite Bollywood heartthrob and youth icon Prateik Babbar ('Dhobi Ghat', 'Dum Maaro Dum', 'Aarakshan').
To celebrate the release of Ekk Deewana Tha in cinemas, we are giving away 2 CDs for the film's music soundtrack. For your chance to win, simply answer the following question and send your answer along with your name and address to editors@bollyspice.com:
Q. Who is the music composer for Ekk Deewana Tha?
Ekk Deewana Tha is released through Twentieth Century Fox on 17th February 2012.