Yes, you read that right! Shanatics and Pcmanics in the UK you can win a chance to meet your favorite stars and see Teri Meri Kahaani a day before it releases. As we told you earlier to celebrate the release, leading stars Shahid Kapoor and Priyanka Chopra as well as director/producer Kunal Kohli and producer Vicky Bahri will be attending a red carpet premiere on June 21st and if you enter this cool contest you can meet Shahid and Priyanka!
Now take a deep breathe and check out the details below! Click on the image to see details.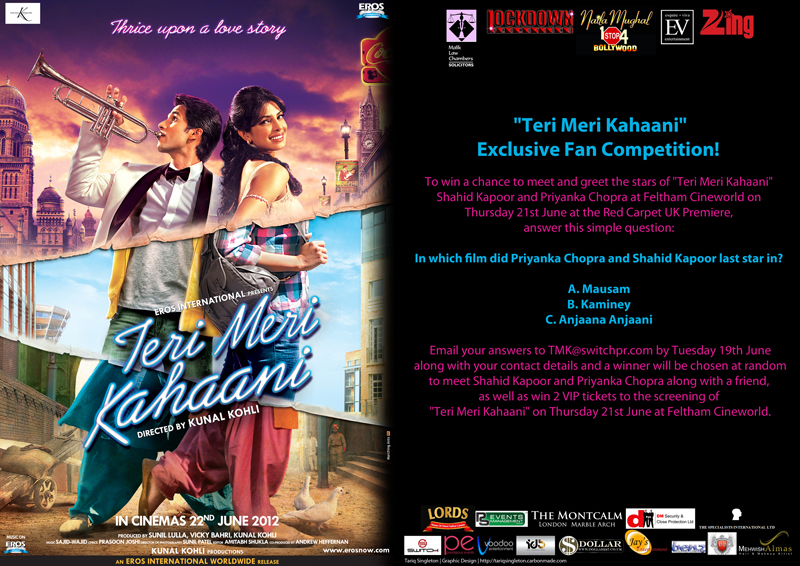 Be sure and have your entries in on June 19th!
Now after you have entered you can start screaming!
Tere Meri Kahaani's kahaani
Can we truly love one person throughout our life and hope that fate makes us meet with the same person in every life of ours?
This story takes us through a journey of eternal love between a couple who have vowed to love each other not only in this life but in every life to follow. Their love is so strong that even destiny wants to bring them together. The story starts in 1960 Bombay with Govind and Ruksar, then moves ahead to present times, 2012 England with Radha and Krish and then goes back in time to Punjab, 1910 with Aradhana and Javed.
Can Javed and Aradhana still be together? Will Ruksar realize that Govind's feelings for her were genuine? Will Krish be able to clear the misunderstandings?
Will true love prevail? Or will destiny take its course!!!