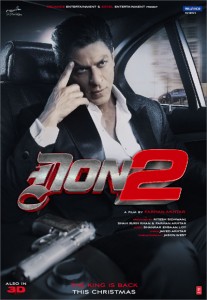 Seeing 2011 out with a bang, the most cutting edge Indian film of all time raises the bar higher than ever before as Bollywood superstar Shahrukh Khan, reclaims his elusive avatar in Don 2, releasing in cinemas in UK on 21st December 2011 and in India on the 23rd by Reliance Entertainment. The buzz continues to build across international territories in anticipation of Don 2, Indian cinema's most awaited sequel, which is set to dominate box offices globally.
Farhan Akhtar once again directs the world's biggest Bollywood star Shah Rukh Khan alongside Bollywood beauties Priyanka Chopra along with Lara Dutta, Boman Irani and Kunal Kapoor who will be seen playing pivotal roles in the film.
The edge-of-the-seat narrative is complimented by a musical soundtrack courtesy of maverick composing trio, Shankar Ehsan Loy, who have crafted a hypnotic score including their futuristic reinterpretation of the original film's iconic background theme.
About the OST Ehsaan told us, "The Don 2 CD is completely "Don Centric"; there are no songs like 'Khaike Paan' etc. The album is completely influenced and guided by the script of the film and there is a lot of reference to themes, which have been used in the last 2 Don films."
Adding, "It was totally script inspired. We have also used a lot of retro kind of sounds, some old soul like sounds. The soundtrack is a very cloak and dagger, spy like soundtrack and when you see it in the film it will make a lot of sense."
To celebrate the release of DON 2 in cinemas, we are giving away two CDs for the music soundtrack for DON 2. For your chance to win, simply answer the following question and send your answers as well as your Name, address and phone number to editors@bollyspice.com
Q. Who composed the music of DON 2 soundtrack?
Don 2 will set screens ablaze in UK on Wednesday 21st December 2011, 2 days ahead of its India release. The film is in 2D and 3D and from what we hear SRK rocks even more if that can be imagined as Don this time around!
Watch this space for interviews!