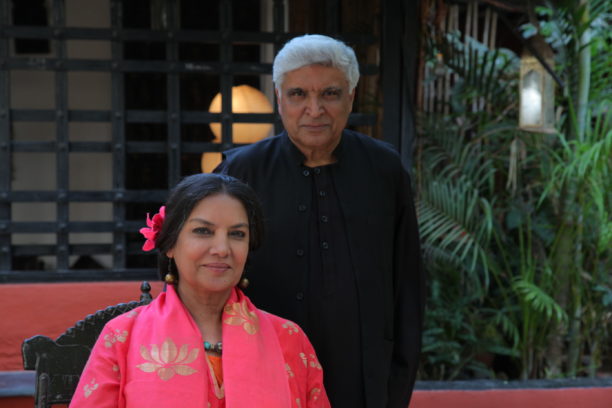 Starring Shabana Azmi and Javed Akhtar, the stage play Kaifi Aur Main is a tribute to the life of the renowned Urdu poet Kaifi Azmi. After, tremendous success in the US, this exciting show is coming to the UK. On Saturday the 3rd of September at Symphony Hall, Birmingham and on Sunday September 4th at the O2 in London, audiences will get the chance to experience the magic of seeing esteemed actors Shabana Azmi and Javed Akhtar live. To celebrate Kafi Aur Main, we have a pair of tickets you can win to the show in Birmingham!
The stage production pays tribute to Kaifi Azmi, and recounts the beautiful, real-life love story shared by Kaifi and his wife, Shaukat Azmi, seamlessly juxtaposing romance, humour and tragedy through a theatrical experience that combines live music and stage drama.
The sweeping, romantic saga recounts the journey and struggles of Kaifi's life set against the socio-political backdrop of pre-independent India, simultaneously exploring his celebrated works and love story that has inspired generations. The production is brought to life by luminaries of Indian cinema, veteran actress, Shabana Azmi, and renowned poet, lyricist and screenwriter, Javed Akhtar, interwoven with ghazals and evergreen Bollywood film songs rendered by ghazal maestro, Jaswinder Singh, complimented by a live orchestra.
Widely regarded as one of India's finest actresses, Shabana Azmi has championed multiple genres across both mainstream and independent cinema, as well as the mediums of theatre and television. Garnering an impressive list of awards along her career journey, she is the recipient of a record five, National Film Awards for Best Actress and the coveted Padma Bhushan from the Indian government among other accolades.
Poet, lyricist and screenwriter, Javed Akhtar, is one of India's most lauded artistic talents, with some of his most successful works attributed to the period 1971 – 1982, as one half of screenwriting duo, Salim-Javed. Together, they penned some of the most seminal films in the history of Indian cinema. Among his accomplished list of honours is the Padma Bhushan award, the Padma Shri award and 18 Filmfare awards.
Having previously performed over 300 live concerts globally, Jaswinder Singh renders the ghazals of popular poets such as Mirza Ghalib, Daag, Faiz Ahmed Faiz and Kaifi Azmi, having previously trained under the tutelage of Dr Sushila Pohankar, Pt. Ajay Pohankar and the world-renowned Jagjit Singh.
So how can you win the pair of tickets to the show in Birmingham? Just answer the following question:
Who stars in Kaifi Aur Main?
Email your answer along with your name and address to editors@bollyspice.com
This contest is only open for UK readers and is for the Birmingham show. Get your entry in quickly, the show is on Saturday 3rd September. Good Luck!
The show takes place at Symphony Hall
The ICC, Broad Street, Birmingham B1 2EA
Doors open 6.30pm; Show starts 7.00pm