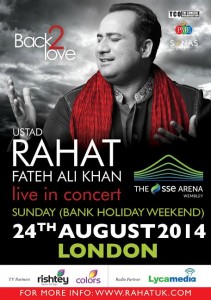 As we told you earlier, the illustrious singer Ustad Rahat Fateh Ali Khan returns to the UK for his 'Back 2 Love Tour' 2014. The tour commences with a sensational live concert at The SSE Arena, Wembley in London on Sunday 24th August 2014 and we have a pair of tickets to give away!
The 'Back to Love' Tour promises an electrifying performance by Ustad Rahat Fateh Ali Khan who will mesmerize his audience with his Qawwalis, Bollywood songs and heartfelt melodious tunes from his new album Back 2 Love.
Talking about the album, the singer told us in an earlier interview, "Back 2 Love is based on 10 romantic love songs. Every kind of atmosphere of love has been addressed in the lyrics of these songs, all shades of love. There are many kinds of boundaries in film music. I am singing for a music director where the beat has already been made, but with this album and for my other individual projects I have more freedom and a blank canvas to create on."
About his UK fans he said recently, "I Love my UK fans. They are in for a real treat." Adding about the concert, "It can be labelled as the world premiere of the album live."
He promises that this performance will be 'sheer musical magic'.
Now to win this exclusive pair of tickets, you just have to answer one very simple question!
What is the name of his new album?
Along with your answer you must send your name, address and phone number to editors@bollyspice.com. Deadline is Monday, August 18th so get your entry in early!
To find out more about the tour check out!
http://www.ssearena.co.uk/events/detail/rahat-fateh-ali-khan